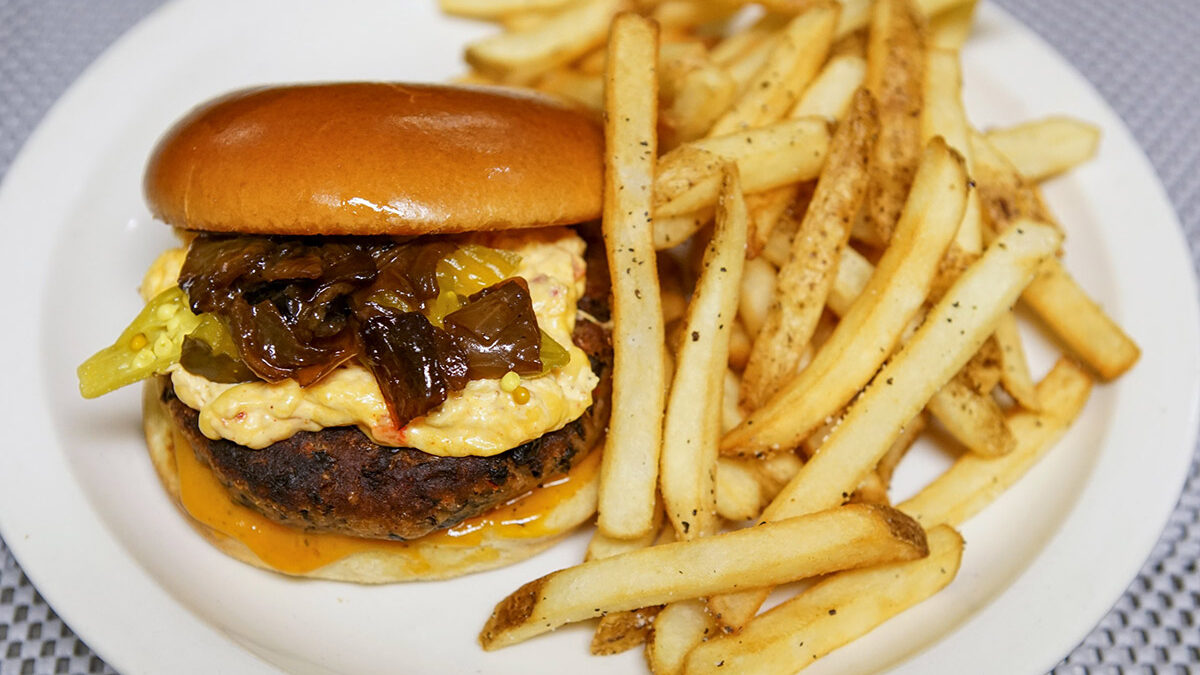 Black Bean Palmetto Cheeseburger – As Seen on Restaurant: Impossible
From the episode, "Marriage on the Rocks"
SERVES 4
YOU'LL NEED
FOR THE BLACK BEAN BURGER
16 oz cooked black beans
1 green bell pepper, diced
1 red bell pepper, diced
1 white onion, diced
1 tbsp chili powder
1 tbsp Cajun spice
1 tbsp cumin
3 cloves garlic, minced
2 eggs
¼ cup all-purpose flour
¼ cup breadcrumbs
FOR THE PALMETTO CHEESE
2 cups cheddar cheese, shredded
1 white onion, diced
1 cup pickled red peppers, diced
1 cup mayonnaise
½ cup cream cheese
SWEET POTATO MUSTARD
1 sweet potato, peeled and diced
1 cup Dijon mustard
1 cup mustard BBQ sauce
FOR PLATING
1 white onion, thinly sliced
3 tbsp grapeseed oil
2 tbsp butter
1 tbsp molasses
4 brioche buns
½ cup bread and butter pickles, sliced
½ cup pickled okra, sliced
1 lb French fries
MAKE IT
BLACK BEAN BURGER
1) Pre-heat oven to 350 degrees.
2) Place diced vegetables on a baking sheet and season them with salt, pepper, chili powder, Cajun spice, and cumin.
3) Cook vegetables for 6 minutes, remove from oven and set aside.
4) Place black beans in a mixing bowl. Using a fork, mash the beans to form a paste.
5) Fold cooked vegetables into the bean mixture.
6) Add eggs, garlic, flour, and breadcrumbs.
7) Form bean mixture into four burger patties.
PALMETTO CHEESE
1) Place all ingredients in mixing bowl. Using a hand blender puree all ingredients until smooth.
2) Season with salt and pepper.
SWEET POTATO MUSTARD
1) Place sweet potatoes in a pot with salted water and bring to a boil.
2) Cook sweet potatoes until they are cooked through, about 20 minutes. Strain into a colander.
3) Place cooked sweet potatoes, Dijon mustard, and mustard BBQ in a blender, blend until smooth.
PLATING
1) In a sauté pan over medium heat add 2 tbsp grapeseed oil and sliced onions.
2) Cook onions for about 8 minutes. Onions should be translucent and soft.
3) Drop the temperature to low. Keep cooking and stirring for about 15 minutes. Onions should be very tender and dark brown in color.
4) Deglaze the pan with molasses. Season with salt and pepper and set aside.
5) In a separate sauté pan over medium-high heat add 1 tbsp grapeseed oil and butter.
6) Add brioche bun, and toast until golden brown.
7) Next add black bean burger and sear on both sides.
8) Top the black bean burger with palmetto cheese, caramelized onions, bread and butter pickles, and pickled okra.
9) Place French fries in 350-degree fryer or air fryer and cook until golden brown.
10) Dress the brioche bun with sweet potato mustard and the black bean burger.
11) Serve the burger with French fries.