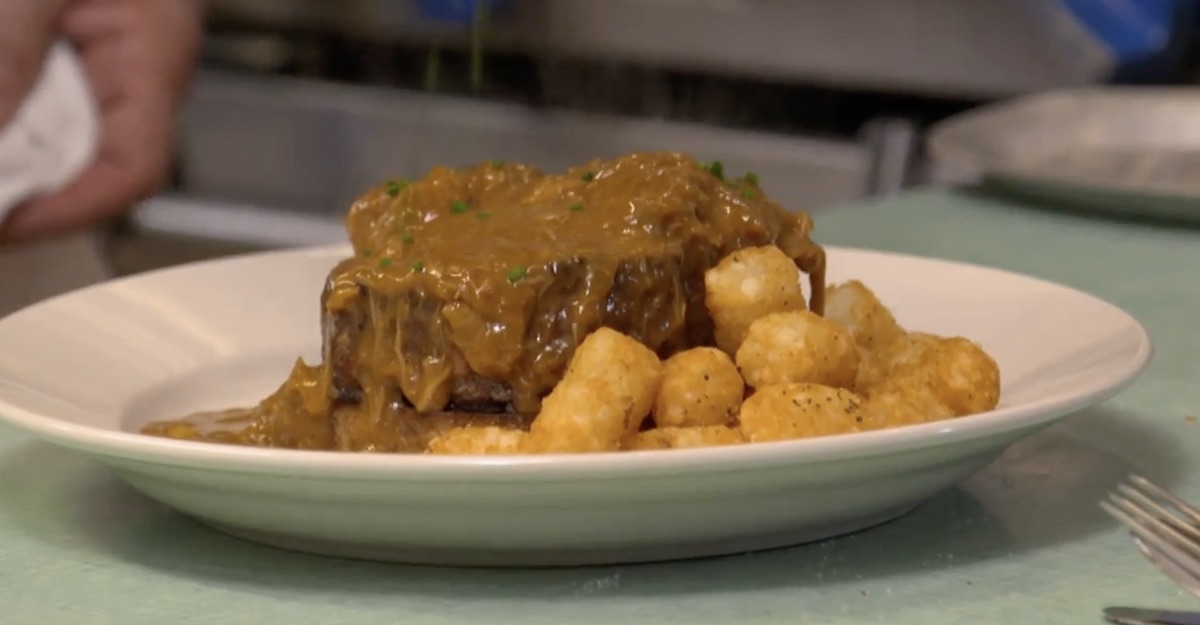 Open-Faced Meatloaf Sandwich – As Seen on Restaurant: Impossible
From the episode, "Destination: Hawk Springs"
SERVES 10
YOU'LL NEED
FOR THE MEATLOAF
6 large eggs
3 lbs ground elk (or substitute with ground beef)
3 lbs ground pork
3 cups panko breadcrumbs
2 tbsp grapeseed oil
1 cup white onion, diced
2 cloves garlic, minced
1 cup celery, diced
2 carrots, peeled and diced
1 tbsp onion powder
1 tbsp garlic powder
2 tbsp chili powder
1 tbsp Worcestershire sauce
1 tbsp kosher salt
1 tbsp ground black pepper
4 oz any sweet style BBQ sauce
10 slices rye bread
1 lb potato barrels (tater tots)
FOR THE BEER ONION GRAVY
3 tbsp butter
1 white onion, thinly sliced
2 cloves garlic, sliced
1 tbsp tomato paste
½ cup dark beer
3 tbsp all-purpose flour
¾ cup beef stock
3 tbsp whole grain mustard
1 tbsp Worcestershire sauce
1 tbsp heavy cream
½ cup prepared pulled pork (favorite brand)
MEATLOAF & POTATOES
1) Pre-heat oven to 350 F degrees.
2) In a large mixing bowl, add eggs and whisk. Next, add the ground elk, ground pork, and breadcrumbs and set aside.
3) In a large sauté pan over medium heat, add the oil and then the onions, garlic, celery, and carrots and sauté while stirring for about 3 minutes.
4) Allow the sauteed vegetables to cool and then add to meat loaf mixture.
5) Season meatloaf mixture with onion powder, garlic powder, chili powder, Worcestershire sauce, salt, pepper, and sweet style BBQ.
6) Using a rubber spatula, mix all the ingredients together well.
7) Place meatloaf mixture in a 9×5 inch loaf pan and place in a 350-F degree oven and allow to cook for approximately 50 minutes or until it reaches an internal temperature 160 F degrees
8) For the potato barrels (tater tots), place on a sheet pan and bake in a 350-F degree oven for 25 minutes until golden brown.
BEER ONION GRAVY
1) While Meatloaf is cooking, prepare the gravy.
2) In a large sauce pot add butter onions, and garlic.
3) Allow to cook over medium heat until onions are translucent, about 4 minutes.
4) Next, add tomato paste and allow to cook for another 3 minutes while stirring.
5) Add the flour and continue to stir for 30 seconds.
6) Deglaze with the dark beer and cook for another 3 minutes.
7) Add the beef stock, mustard, and heavy cream and stir well. Bring mixture to a simmer. Fold the pulled pork into the gravy and continue to cook until gravy simmers and then set aside.
8) Heat a nonstick pan over medium high heat, add 1 tsp of grapeseed oil and a portioned of sliced meatloaf and sear the meatloaf on both sides until golden brown.
9) Toast bread with a small amount of butter or oil in hot pan.
10) Place meatloaf on top of a slice of rye toast and cover with beer onion gravy.
11) Serve the dish with the roasted potato barrels.