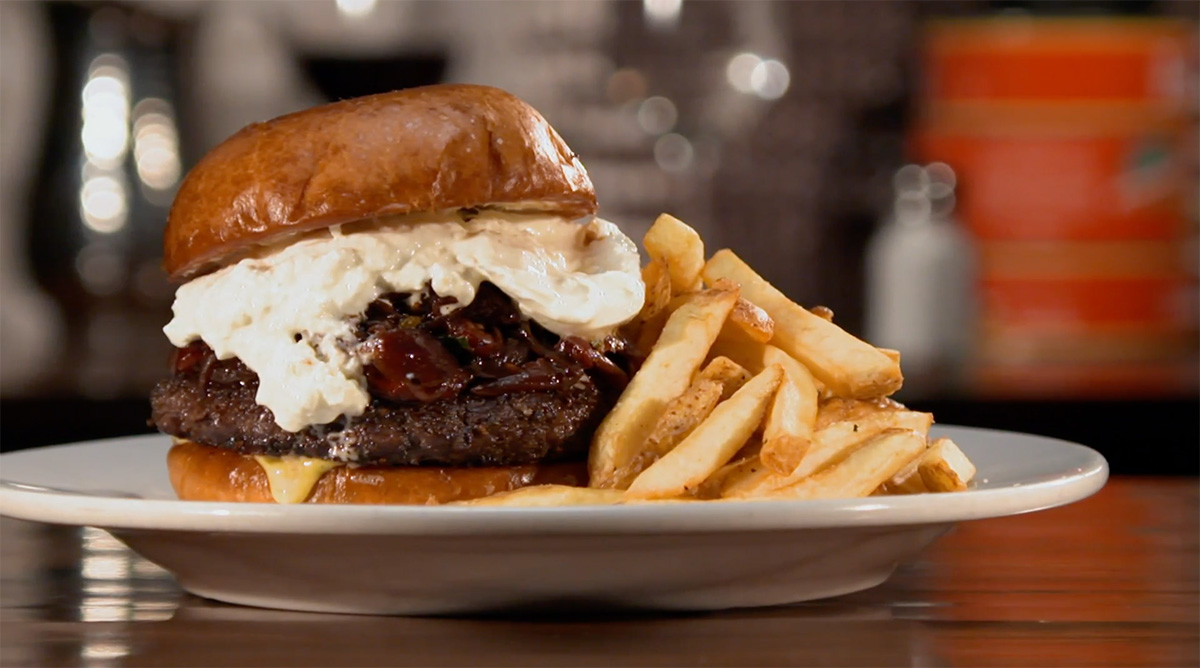 BURRATA BURGER – As Seen on Restaurant: Impossible
From the episode, "Colorado Couple in Crisis"
SERVES 4
YOU'LL NEED
FOR THE SUNDRIED TOMATO AIOLI
1 cup mayonnaise
4 tbsp sundried tomatoes, chopped
2 cloves garlic
1 bunch fresh basil, leaves only
Salt and pepper
FOR THE BURGERS
4 brioche buns
4 burger patties, about 8 oz each
1 red onion, sliced
6 tbsp grapeseed oil
1 cup balsamic vinegar
2 balls of burrata mozzarella (2 oz) cut in half
French fries
Salt and pepper
MAKE IT
SUNDRIED TOMATO AIOLI
1) In a medium mixing bowl, add the mayonnaise, sundried tomatoes, garlic and basil.
2) Using a hand blender, blend all ingredients together. Season with salt and pepper.
BURGERS
1) In a medium sauté pan over medium-high heat, add 4 tbsp of grapeseed oil. Add the sliced red onions and allow to cook for about 5 minutes.
2) Add the balsamic vinegar and allow to come to a simmer, then reduce the heat to low and simmer for about 12 minutes or until the mixture is consistency of an onion jam.
3) In a separate large sauté pan over medium high heat, add the other 2 tbsp. of grapeseed oil and toast the buns until golden brown.
4) Remove the buns from pan and add burger patties. Allow to cook for 4 to 5 minutes on each side until medium rare (or desired temperature).
5) Place the cooked burgers on buns and top with sundried tomato aioli. Top burgers with balsamic onions and half a ball of burrata on each.
6) Serve burgers with French fries.