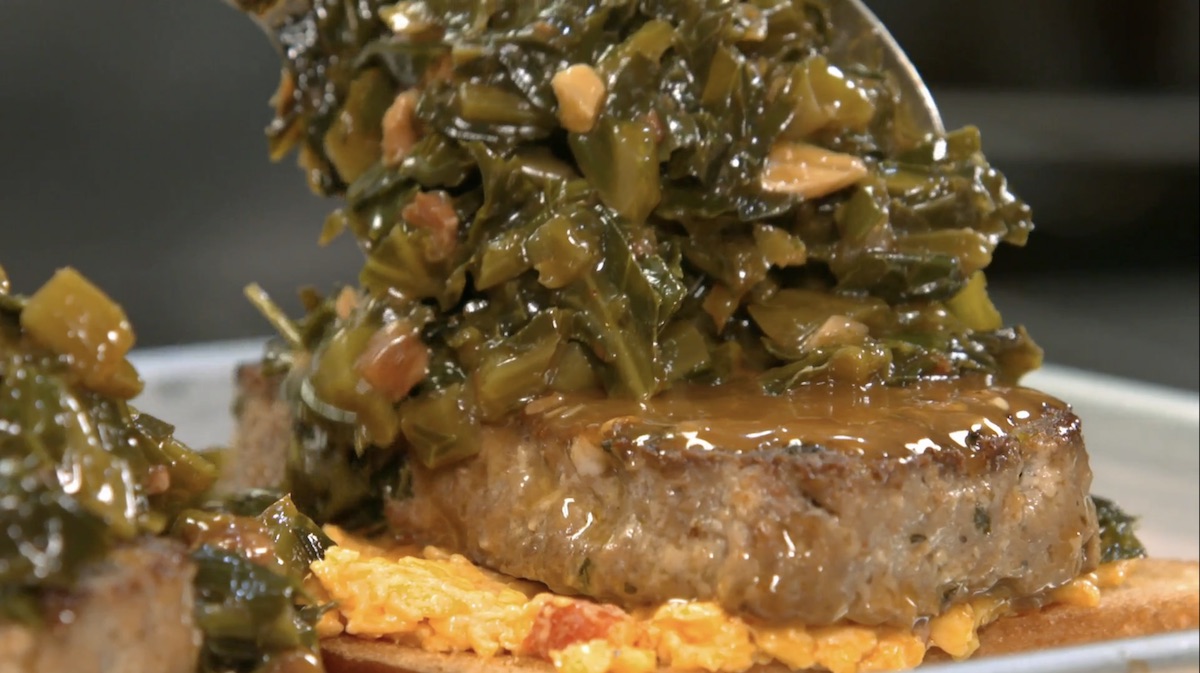 Open Faced Cajun Meat Loaf Sandwich with Collard Greens – As Seen on "Restaurant: Impossible"
From the episode "Big Ego. Big Trouble."
SERVES 4
FOR THE MEAT LOAF
1 cup BBQ sauce – store bought
2 eggs
1 cup canned roasted red peppers
5 cloves garlic, minced
18 oz. ground beef
18 oz. ground pork
1 each yellow onion, small diced
½ tsp cayenne pepper
1 tsp. chili powder
1 tsp. Cajun seasoning
2 tsp. kosher salt
1 tsp. ground black pepper
8 slices Texas toast
1 tbsp. butter
FOR THE COLLARD GREENS
1 tbsp. grapeseed oil
½ cup diced raw bacon
1 lb. fresh collard greens, chopped into large ribbon cuts
2 cups chicken stock
2 tbsp. apple cider vinegar
2 tbsp. sugar
Kosher salt & ground black pepper, to taste
FOR THE GRAVY
2 tbsp. butter
½ cup yellow onion small diced
½ cup red wine
2 cups beef broth
4 tbsp. water
2 tbsp. cornstarch
Kosher salt & ground black pepper, to taste
FOR THE PIMENTO CHEESE
2 cups cheddar cheese shredded
8 oz. cream cheese softened
½ cup mayonnaise
1 clove garlic minced
1 tsp. ground cayenne pepper
4 oz. diced pimento
salt and pepper to taste
1 cup heavy cream
MAKE IT
MEAT LOAF
1. Pre-heat oven to 325°.
2. In a food processor or blender add BBQ sauce, eggs, roasted red peppers, and garlic. Puree on high until smooth.
3. In a large mixing bowl, combine the pureed mixture, ground beef, ground pork, onion, cayenne pepper, chili powder, Cajun seasoning, and salt and pepper.
4. Pack the mixture into a greased 10-inch loaf pan. Place meat loaf in the oven and cook for approximately 45 minutes or until meat loaf has reached an internal temperature of 155° F. Remove from the oven and set aside to rest.
COLLARD GREENS
1. In a large sauce pot over medium heat, add grapeseed oil and bacon. Cook the bacon over medium heat and allow bacon to render for approximately 5 minutes. The bacon should be crispy.
2. Next, add collard greens and stir. Cook the collard greens for 5 minutes.
3. Add chicken stock, vinegar, sugar and bring to a simmer. Turn down the heat to low and cover. Continue to cook collard greens for 25 to 30 minutes until tender. Season with salt and pepper to taste.
GRAVY
1. In a small saucepan over medium heat, add the butter and onions and allow to sweat for 3 minutes until onions are tender and translucent.
2. Next, add red wine. Stir and allow to reduce by half.
3. Add the beef stock and bring to a simmer.
4. In a small mixing bowl, add cold water and mix in corn starch to create a slurry.
5. Using a whisk, stir the corn starch slurry into the beef gravy and allow to come to a simmer and thicken. Season with salt and pepper to taste.
PIMENTO CHEESE
1. In a bowl place cheddar cheese, cream cheese, mayonnaise, garlic, cayenne pepper, pimentos, salt, and pepper.
2. Using a hand blender slowly incorporate heavy cream. The sauce should be thick but able to be spread easily.
PLATING
1. In a medium sauté pan place Texas toast and butter over medium heat and toast on both sides until golden brown.
2. Place toasted Texas toast on plate.
3. Spread pimento cheese on both sides of bread, then top with seared meat loaf.
4. Next, place collard greens on top of the meat loaf.
5. Finish the dish by saucing the meat loaf with gravy.