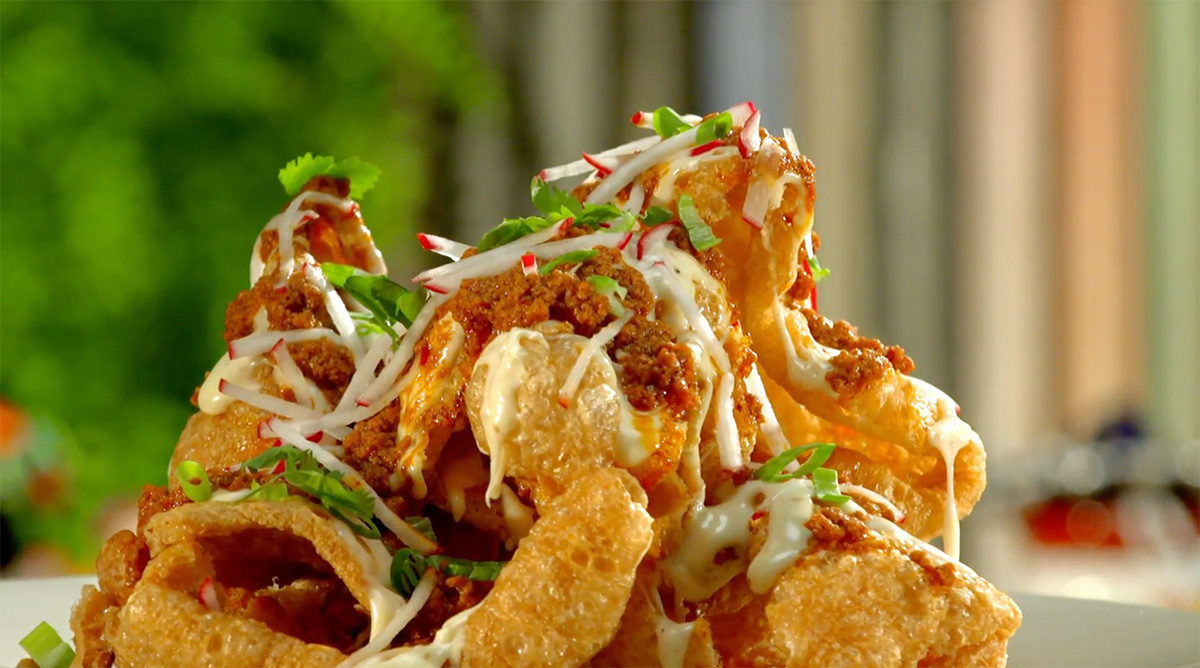 Chicharron Nachos – As Seen on Restaurant: Impossible
From the episode, "Dirtiest. Kitchen. Ever."
SERVES 4
YOU'LL NEED
FOR THE SPICY CHEESE SAUCE
1 cup heavy cream
1 cup shredded white cheddar cheese
½ cup pepper jack cheese
½ tsp chili powder
1 dash cayenne pepper
Kosher salt and ground black pepper, to taste
FOR THE SPICY GROUND CHORIZO
12 oz ground raw chorizo
½ white onion, diced
1 jalapeno seeded and minced
1 garlic clove, minced
1 tbsp fresh cilantro, chopped
Kosher salt and ground black pepper, to taste
FOR THE NACHOS
1 large bag of chicharrons – store bought
2 each red radish, thin sliced
1 bunch scallions, thin sliced
½ bunch fresh cilantro, chopped
MAKE IT
SPICY CHEESE SAUCE
1) In a medium sauce pot over medium heat, add heavy cream and bring to a simmer.
2) Using a whisk, slowly incorporate shredded cheddar cheese, pepper jack cheese, chili powder, and cayenne pepper. Remove from the heat. Season with salt and pepper, to taste.
SPICY GROUND CHORIZO
1) In a large sauce pot over medium high heat, add the chorizo sausage and allow to cook for 2 minutes, stirring continuously.
2) Add the onion, jalapeno, and garlic. Allow to cook for another 3 minutes until onions, jalapenos, and garlic are cooked through.
3) Finish with the chopped cilantro and season to taste with salt and pepper.
PLATING
1) Place a dollop of cheese sauce on the bottom of plate
2) Arrange the chicharrons on the plate. Top with the spicy ground chorizo. Then top with more spicy cheese sauce.
3) Garnish with the sliced radishes, cilantro, and scallions.