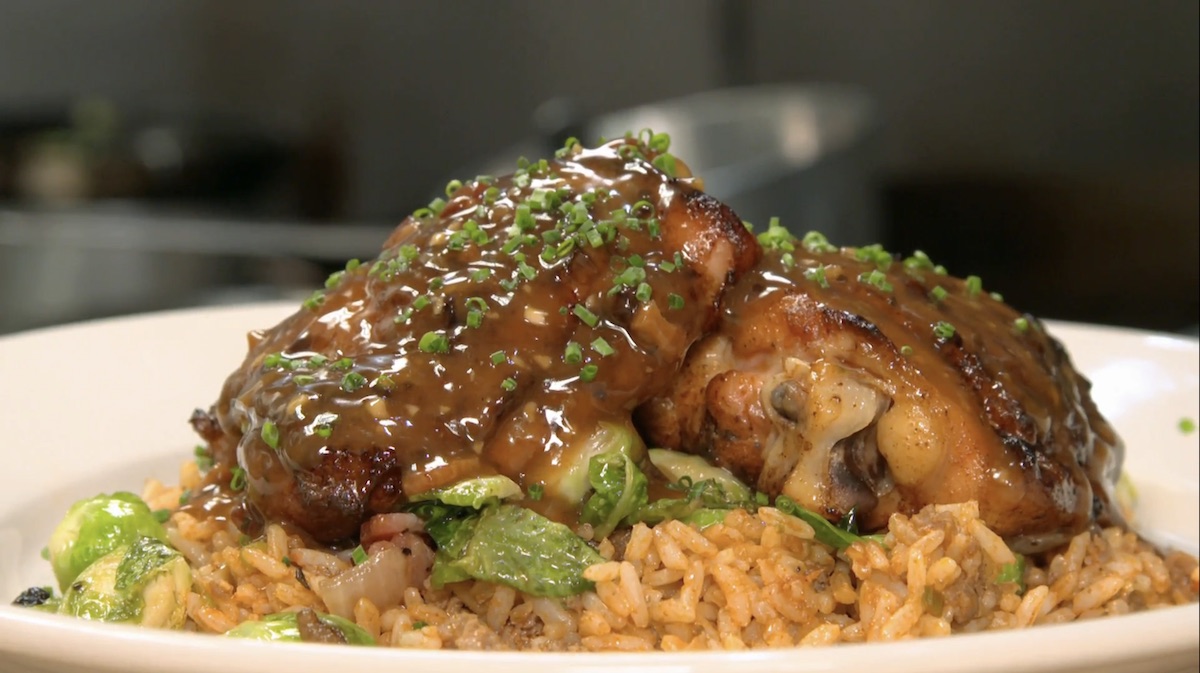 Blackened Chicken Thighs with Dirty Rice, Crispy Brussels Sprouts, and Mustard BBQ Gravy – As Seen on "Restaurant: Impossible"
From the episode "Big Ego. Big Trouble."
SERVES 4
FOR THE BLACKENED CHICKEN THIGHS
8 chicken thighs
1 tbsp. smoked paprika
1 tbsp. Cajun Spice
1 tbsp. SlapYo Mamma
FOR THE DIRTY RICE
1 cup long grain rice cooked according to box
2 tbsp. grapeseed oil
½ Spanish white onion diced
½ red bell pepper diced
½ green bell pepper diced
2 ribs celery diced
1 lbs. sweet sausage
¼ cup tomato paste
¼ lbs. chicken liver
2 tbsp. smoked paprika
1 tbsp. slap yo mamma seasoning
FOR THE MUSTARD VINAIGRETTE
2 tbsp. Dijon mustard
1/3 cup champagne vinegar
1 cup grapeseed oil
1 tsp. kosher salt
1 tsp. black pepper
FOR THE CRISPY BRUSSELS SPROUTS
2 cups Brussels sprouts cut in half
8 oz. bacon diced
¼ white onion diced
1 oz. mustard vinaigrette
FOR THE MUSTARD BBQ GRAVY
2 tbsp. butter
½ cup yellow onion small diced
2 cups mustard BBQ sauce- store bought
1 cup dry red wine
½ cup beef stock
4 tbsp. water
2 tbsp. cornstarch
Kosher salt & ground black pepper to taste
MAKE IT
BLACKENED CHICKEN
1. Pre-heat oven to 400 degrees.
2. In a mixing bowl add all spices and incorporate.
3. Evenly coat chicken thighs with spice.
4. Place chicken on baking sheet and place in the oven and allow to cook for approximately 30 minutes or until chicken reaches an internal temperature of 165 degrees.
DIRTY RICE
1. In a medium saucepan add onions, peppers and celery. Cook until translucent.
2. Stir in garlic and continue to cook.
3. Next add sausage and continue to cook for approximately 8 minutes continuing to stir.
4. Next add tomato paste and cook for another 2 minutes.
5. In a separate pan over high heat season chicken liver and cook for approximately 1 to 2 minutes on each side. Remove from pan.
6. Chop livers.
7. Add chopped livers and rice to sausage mixture. Season with smoked paprika, Slap Yo Mamma, salt, and pepper.
MUSTARD VINAIGRETTE
1. In a small bowl whisk mustard and vinegar together.
2. Slowly add oil in a steady stream, whisking constantly until all the oil is added and dressing is creamy and emulsified.
3. Add salt and pepper.
BRUSSELS SPROUTS
1. Pre-heat a fryer to 300 degrees.
2. Place Brussels sprouts in fryer and allow to cook approximately 4 minutes. Brussels sprouts should be cooked through.
3. Allow Brussels sprouts to cool.
4. In a sauté pan over medium-high heat add bacon and onions. Allow to cook for approximately 5 minutes until onions are translucent in color and bacon is light brown.
5. Add Brussels sprouts to 350-degree fryer and allow to cook for an additional 3 minutes. Brussels sprouts should be dark brown in color.
6. Add Brussels sprout to bacon and onion mixture and allow to cook for another 2 minutes.
7. Finish with mustard vinaigrette and season with salt and pepper.
MUSTARD BBQ GRAVY
1. In a small saucepan over medium heat, add the butter and onions and allow to sweat for 3 minutes until onions are tender and translucent.
2. Next, add red wine. Stir and allow to reduce by half.
3. Add the beef stock, and mustard BBQ sauce and bring to a simmer.
4. In a small mixing bowl, add cold water and mix in corn starch to create slurry.
5. Using a whisk, stir in the corn starch slurry into the saucepan and allow to come to a simmer and thicken. Season with salt and pepper to taste.
PLATING
1. Place a large scoop of the finished dirty rice on the bottom of the plate.
2. Next top with Brussels sprouts and bacon.
3. Top with blackened chicken thighs.
4. Finish with mustard gravy.