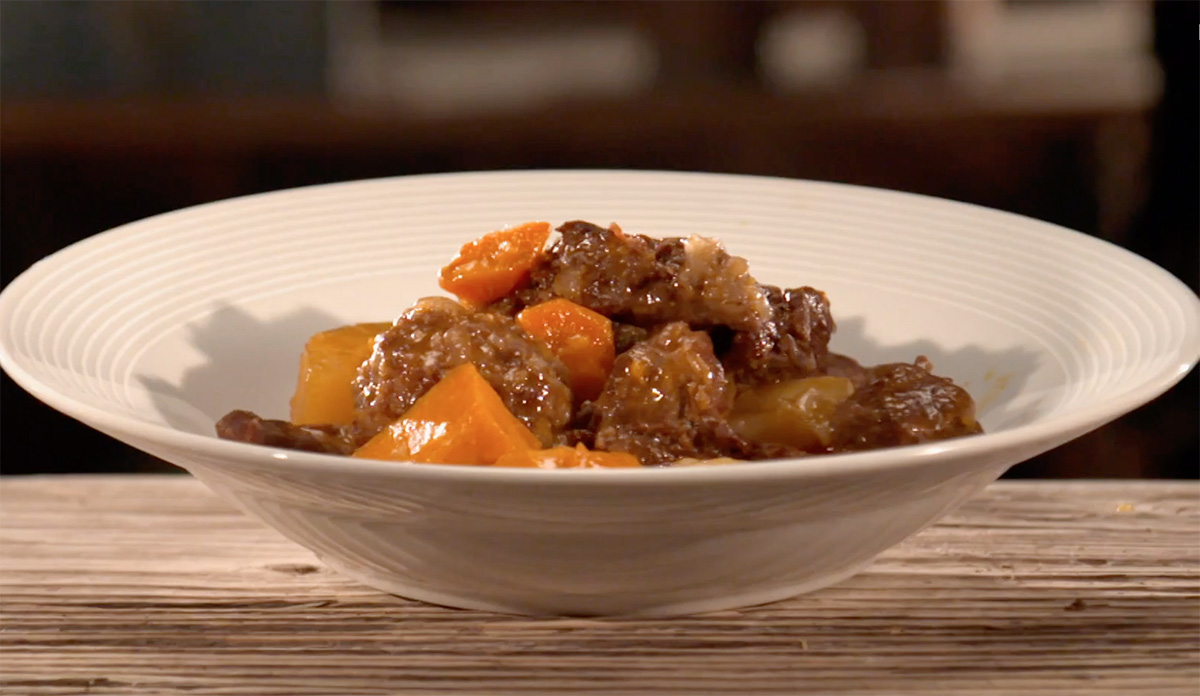 Mutton Stew with Spicy Sausage – As Seen on Dinner: Impossible
From the episode, "Ghost Town Gourmet"
SERVES 8
YOU'LL NEED
4 tbsp lard or grapeseed oil
2 lbs leg of Mutton (or leg of lamb), meat trimmed and cut into 2" cubes
Kosher salt and pepper, to taste
2 lbs spicy ground Italian sausage, rolled into 1" size sausage balls
5 carrots, peeled and medium diced
1 white onion, peeled and medium diced
5 ribs celery, medium diced
4 cloves garlic, thin sliced
2 tbsp paprika
1 tbsp chili powder
1 tbsp fresh thyme, chopped
1 tbsp fresh rosemary, chopped
1 cup red wine
2 qts chicken stock
2 qts beef stock
MAKE IT
1) Season the cut mutton with salt and pepper.
2) Place a large sauce pot on the stove top over medium-high heat, add the lard (or grapeseed oil) and cut mutton. Stir and sear the meat for 5 minutes and allow to get a golden-brown color. Remove the seared mutton from the sauce pot and set aside.
3) Add the sausage balls the same sauce pot and gently cook on all sides, about 3 minutes. Remove the seared sausage balls from the sauce pot and set aside.
4) Add the carrots, onions, and celery. Stir and allow to cook over medium heat for about 4 minutes to allow vegetables to slightly brown.
5) Add garlic, paprika, chili powder, fresh thyme, and fresh rosemary. Stir and cook for another 5 minutes.
6) Next, deglaze the sauce pot with the red wine, reduce for 2 minutes and add back seared mutton, chicken stock and beef stock. Stir well and allow the stew to simmer on low heat for about 1.5 to 2 hours until tender.
7) Add sausage balls back to the sauce pot and allow to simmer for another 20 to 30 minutes. Season the finished stew with salt and pepper to taste and serve.