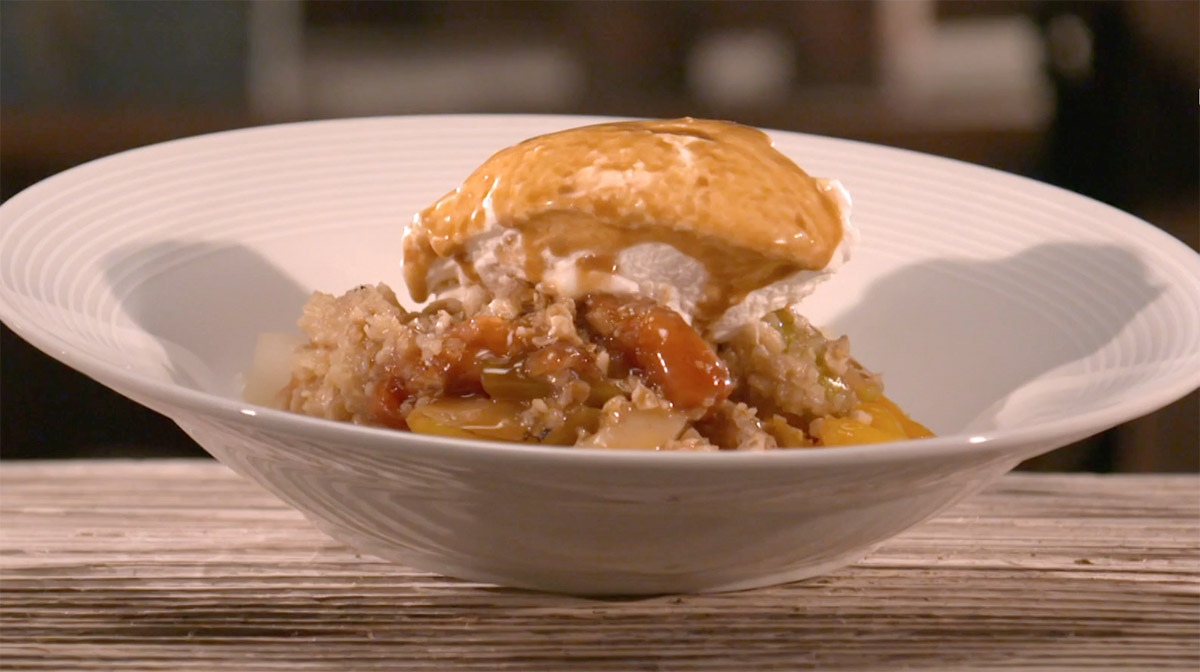 Apple & Peach Cobbler with Whiskey Molasses Caramel Sauce – As Seen on Dinner: Impossible
From the episode, "Ghost Town Gourmet"
SERVES 4
YOU'LL NEED
FOR THE COBBLER FILLING
4 tbsp butter (½ stick)
6 each granny smith apples, cored and sliced ¼" thick
1 ½ cups dried peach slices, large diced (fresh peaches are optional)
¼ cup sugar
½ each lemon, juiced
1 dash kosher salt
2 tbsp corn starch
¼ cup water
FOR THE CRUMBLE TOPPING
¼ cup sugar
¼ cup brown sugar
½ tsp kosher salt
1 tsp ground cinnamon
1 ½ cups all-purpose flour
½ lb butter, small diced
½ cup quick oats
FOR THE WHISKEY CARAMEL SAUCE
¼ cup whiskey
¼ cup heavy cream
1 tsp sugar
3 tbsp molasses
½ cup caramel sauce
FOR THE WHIPPED CREAM
1 cup heavy cream
2 tsp sugar
FOR PLATING
1 cup fruit cocktail
MAKE IT
COBBLER FILLING
1) Preheat oven to 350 degrees.
2) Heat a large saucepan over medium heat and add the butter.
3) Add the apples and peaches and sauté for 3 minutes. Add the sugar, lemon juice, salt, and cornstarch and stir well to coat the apples and peaches. Turn down the heat to low, add the water and stir the finish the apple & peach cobbler filling.
4) Pour the cobbler filling into a baking dish and set aside while making the cobbler crumble topping.
CRUMBLE TOPPING
1) In a mixer or mixing bowl, combine the sugar, brown sugar, salt, cinnamon, and flour. Add the diced butter little by little and continue to mix. Last, add in the oats and continue to mix until incorporated and cobbler topping has a crumble consistency.
2) Spread the oatmeal crumble topping over top of the cobbler filling and bake in the pre-heated 350-degree oven for 20 minutes or until golden brown on top.
WHISKEY MOLASSES CARAMEL SAUCE
1) In a saucepan over medium heat, add the whiskey and heavy cream and reduce for 3 minutes. Next add the sugar, molasses, caramel and stir well. Allow the sauce to come to a simmer, remove from the heat and set aside.
WHIPPED CREAM
1) Place the heavy cream and sugar into a cold mixing bowl and whisk cream until stiff peaks form.
PLATING
1) Place ¼ cup of fruit cocktail in each serving bowl, followed by a large scoop of warm cobbler, topped with the caramel sauce and a dollop of whipped cream.