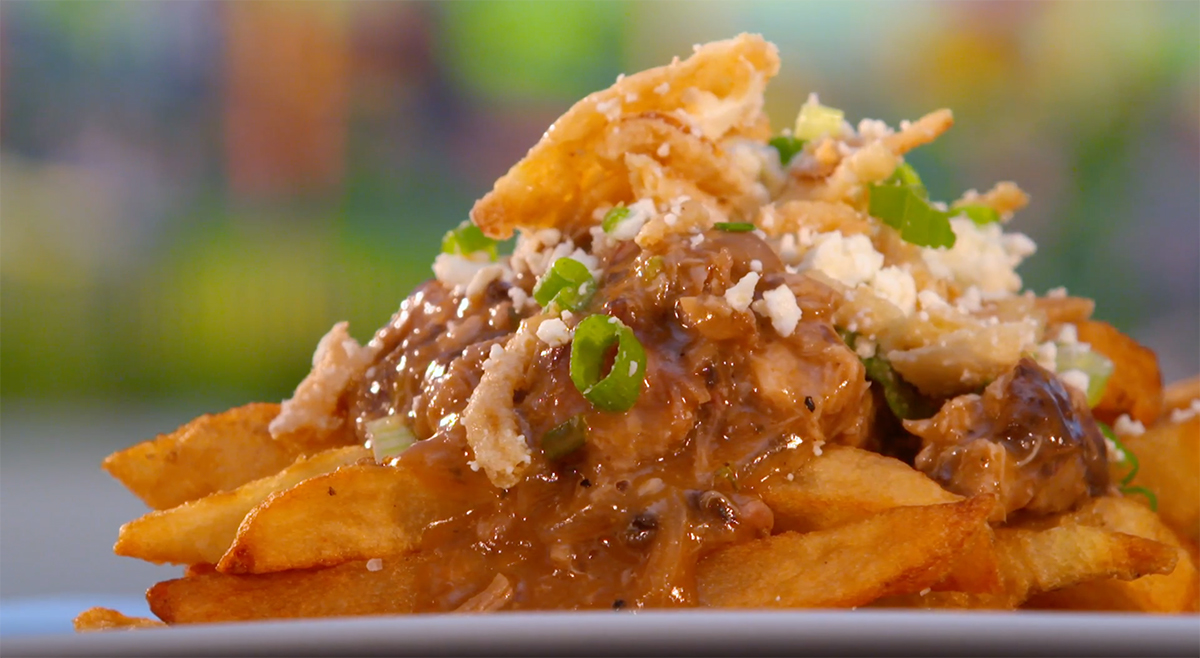 Mushroom Gravy Fries with Pulled Pork – As Seen on Dinner: Impossible
From the episode "Thrill Seekers" (Cedar Point)
SERVES 4
YOU'LL NEED
FOR THE MUSHROOM GRAVY
2 tbsp butter
1 cup julienned onions
1 tsp sugar
1 tsp minced garlic
2 cups sliced mushrooms
2 tbsp all-purpose flour
2 cups beef gravy (store bought)
¼ cup heavy cream
3 tbsp Worcestershire sauce
¼ cup ketchup
2 tsp fresh thyme, chopped
2 tsp fresh rosemary, chopped
Kosher salt and black pepper, to taste
FOR THE SEASONED PULLED PORK
12 oz cooked-smoked pulled pork butt or shoulder (store bought)
3 tbsp red wine vinegar
Kosher salt and ground black pepper, to taste
OTHER INGREDIENTS
1 lb. French fries
½ cup crumbled feta cheese
1 bunch green onions, chopped
1 cup crispy fried onions (store bought)
MAKE IT
MUSHROOM GRAVY
1) In a large sauce pot over medium heat, add the butter and melt.
2) Add the onions and sauté for 3 minutes or until onions start to caramelize.
3) Add the sugar and the garlic and continue to sauté for 1 minute.
4) Add the mushrooms and stir well. Sauté for 3 minutes or until mushrooms are tender, then add the flour and stir well for 1 minute until flour has coated the mushrooms.
5) Add the beef gravy, heavy cream, Worcestershire sauce, ketchup, thyme, and rosemary. Stir well and bring the sauce to a simmer.
6) Season the sauce with salt and pepper, to taste. Set the finished sauce aside while prepping the rest of the dish.
SEASONED PULLED PORK
1) In a mixing bowl, toss the cooked-smoked pulled pork with the red wine vinegar. Season the pork with salt and pepper, to taste.
FINISH & PLATE
1) Preheat oven to 375 to 400 F degrees for the French fries.
2) Place French fries in the preheated oven and cook according to instructions until golden brown and crispy.
3) Heat a medium size sauté pan over medium heat and add the seasoned pulled pork. Stir and heat the pulled pork for 3 minutes or until pork is hot.
4) Place the cooked French fries on a family style platter and scatter the heated pulled pork all over the top of the fries.
5) Next, pour the mushroom gravy over top of the pulled pork and fries.
6) Garnish the loaded fries with the crumbled feta cheese, green onions and crispy fried onions and serve.