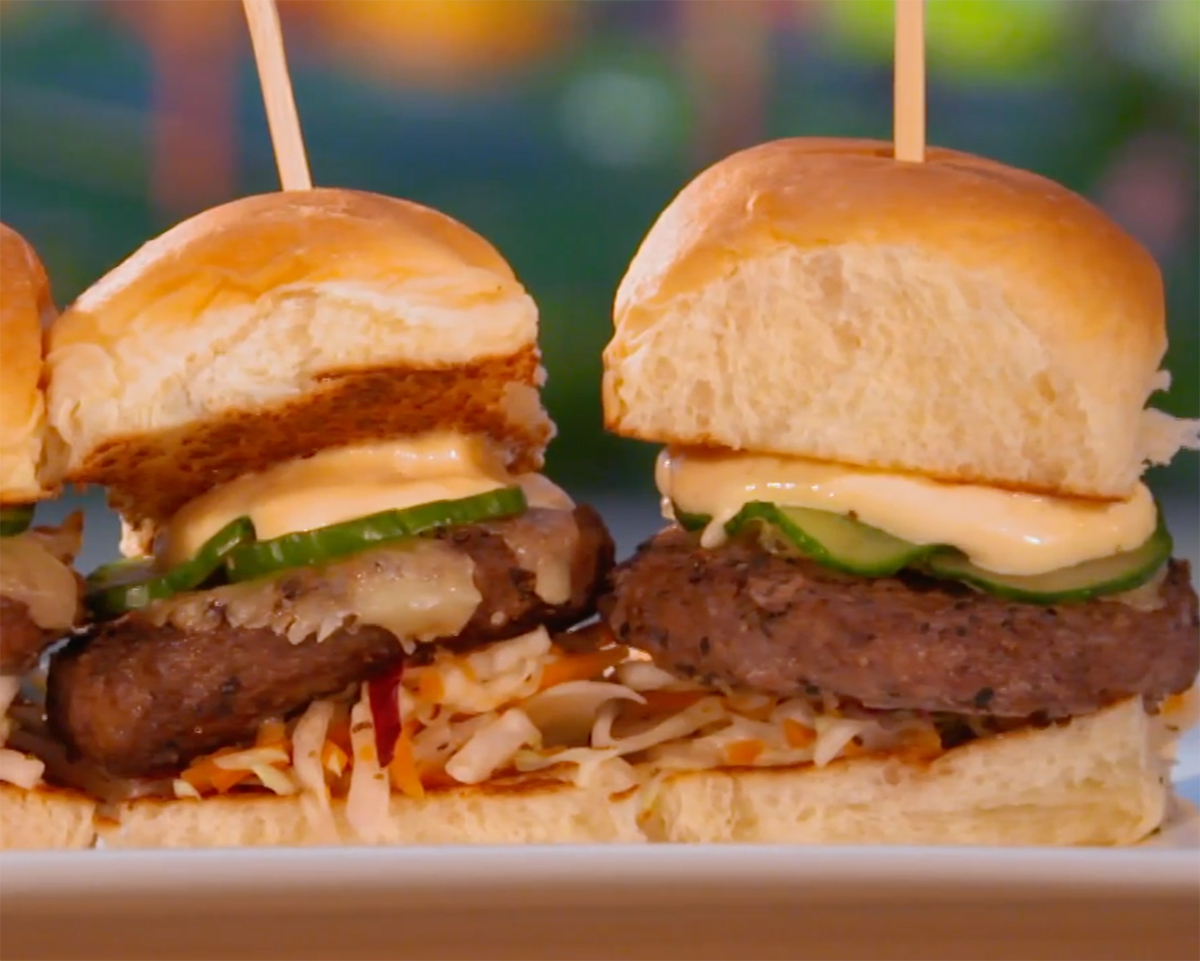 Angus Beef Sliders – As Seen on Dinner: Impossible
From the episode, "Thrill Seekers" (Cedar Point)
SERVES 4
FOR THE COLE SLAW
¼ cup rice wine vinegar
Juice of 1 lime
2 tbsp honey
1 tbsp sriracha
2 cups fresh coleslaw mix (store bought)
Kosher salt and black pepper, to taste
FOR THE SALT-CURED CUCUMBERS
16 thin slices of fresh cucumber
2 tbsp kosher salt
FOR THE SPICY PINEAPPLE AIOLI
¾ cup mayonnaise
¼ cup fresh pineapple, peeled and diced
2 tbsp sriracha
1 tsp grapeseed oil
Kosher salt and ground black pepper, to taste
FOR THE SLIDERS
1 tbsp grapeseed oil
8 raw angus beef slider patties (2 oz each)
Kosher salt and black pepper, as needed
2 slices Swiss cheese, quartered (1 quarter slice portion for each slider)
8 slider buns
MAKE IT
COLE SLAW
1) In a mixing bowl, mix the rice wine vinegar, lime juice, honey and sriracha together. Add the coleslaw mix and toss well. Season with salt and pepper, to taste.
SALT-CURED CUCUMBERS
1) In a mixing bowl, toss the cucumbers with the salt and allow to marinate for at least 1 hour. Rinse the salt off the cucumbers under cold water and allow the water to drain from the salt-cured cucumbers.
SPICY PINEAPPLE AIOLI
1) In a blender, add the mayonnaise, pineapple, sriracha and grapeseed oil. Blend for 30 seconds until smooth. Season with salt and pepper to taste.
SLIDERS & PLATING
1) Heat a large sauté pan over medium high heat and add the grapeseed oil.
2) Season the raw angus beef patties with salt and pepper and sear for 1 ½ to 2 minutes. Flip the patties over and continue to cook for 1 minute, then top with the Swiss cheese. Allow the cheese to melt, about 30 seconds. Sliders should be medium rare to medium and ready to serve.
3) Remove the cooked angus beef patties, carefully wipe out the pan and slightly toast the slider buns in the same pan over medium heat.
4) To build each slider, place 1 tbsp of spice pineapple aioli on the toasted bottom buns, followed by a portion of coleslaw, then the cooked angus beef patties with melted swiss. Next, place 2 pieces of salt-cured cucumbers on top of each slider patty, followed by the top toasted buns. Serve.