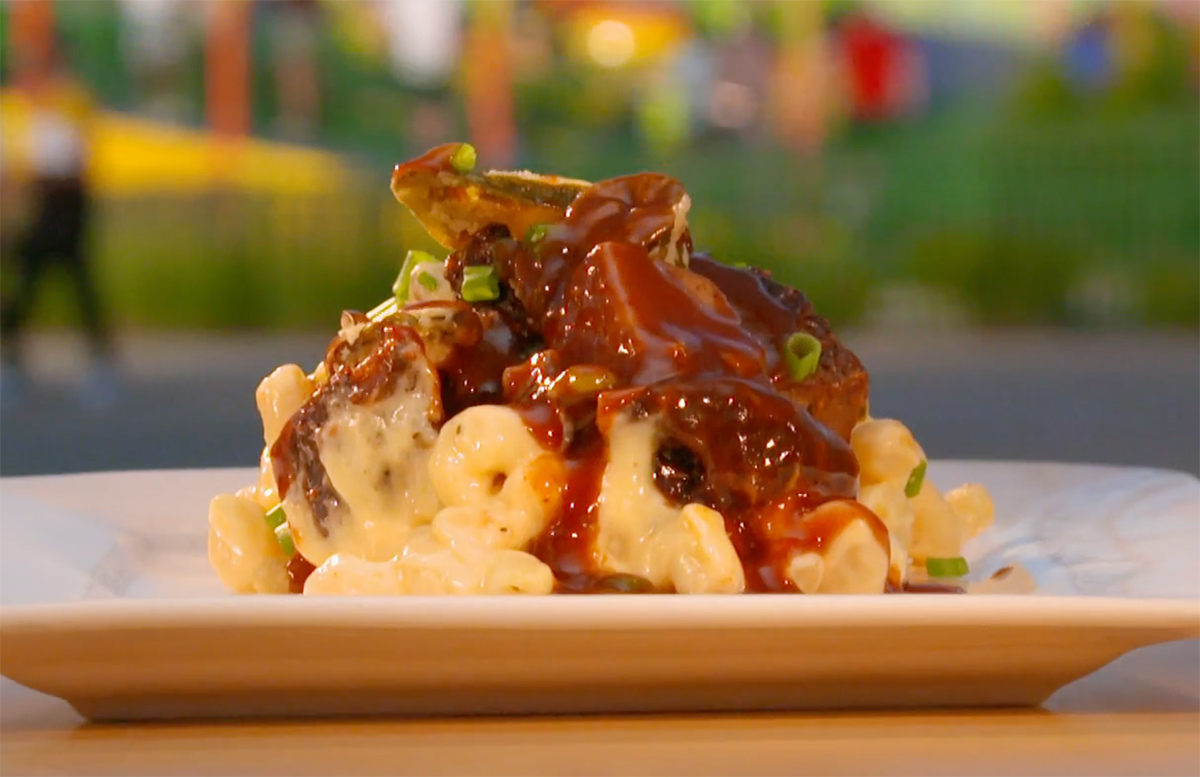 Mac & Cheese with Burnt Ends – As Seen on Dinner: Impossible
From the episode, "Thrill Seekers" (Cedar Point)
SERVES 4
YOU'LL NEED
FOR THE MAC AND CHEESE
2 cups heavy cream
1 cup whole milk
8 oz shredded cheddar cheese
8 oz white American cheese, diced
4 oz gorgonzola bleu cheese
Kosher salt and ground black pepper, to taste
3 cups dried cavatappi pasta (or any other short, dried pasta)
FOR THE BURNT ENDS
1 tbsp whole grain mustard
1 tbsp Dijon mustard
1 tbsp brown sugar
1 tbsp Worcestershire sauce
2 tbsp ketchup
2 tbsp Asian sweet chili sauce (store bought)
½ cup bbq sauce (store bought)
1 lb cooked beef brisket, large diced (store bought)
Kosher salt and ground black pepper, to taste
OTHER INGREDIENTS
Oil, enough for deep frying
½ cup canned sliced jalapeno peppers, drained
¼ cup cornstarch
1 bunch green onions, chopped
MAKE IT
MAC & CHEESE
1) In a large sauce pot, cook the pasta according to the package directions.
2) In a separate large sauce pot, heat the heavy cream and milk together over medium heat, stir and bring to a simmer.
3) Using a whisk, slowly incorporate the shredded cheddar cheese, American cheese and gorgonzola cheese. Turn off the heat.
4) Add the cooked/drained pasta to the warm cheese sauce mixture, season with salt and pepper, and stir well.
BURNT ENDS & PEPPERS
1) Preheat oven to 375 degrees F. Also, Preheat fryer to 350 degrees F.
2) In a mixing bowl, whisk together the whole grain mustard, Dijon mustard, brown sugar, Worcestershire sauce, ketchup, Asian sweet chili sauce and bbq sauce. Add the large diced cooked beef brisket to the bbq sauce mixture.
3) Place the bbq sauce coated diced beef brisket onto a sheet pan and roast for 12 minutes at 375 degrees F or until bbq sauce starts to caramelize onto the diced brisket.
4) In a mixing bowl, toss the drained canned sliced jalapeno peppers with the cornstarch.
5) Fry the coated jalapenos for 1 minute at 350 degrees F until crispy. Set aside for garnish.
PLATING
1) Reheat the mac & cheese and place into 4 serving bowls.
2) Top the mac & cheese with the bbq burnt end beef brisket pieces, crispy fried jalapenos and chopped green onions.