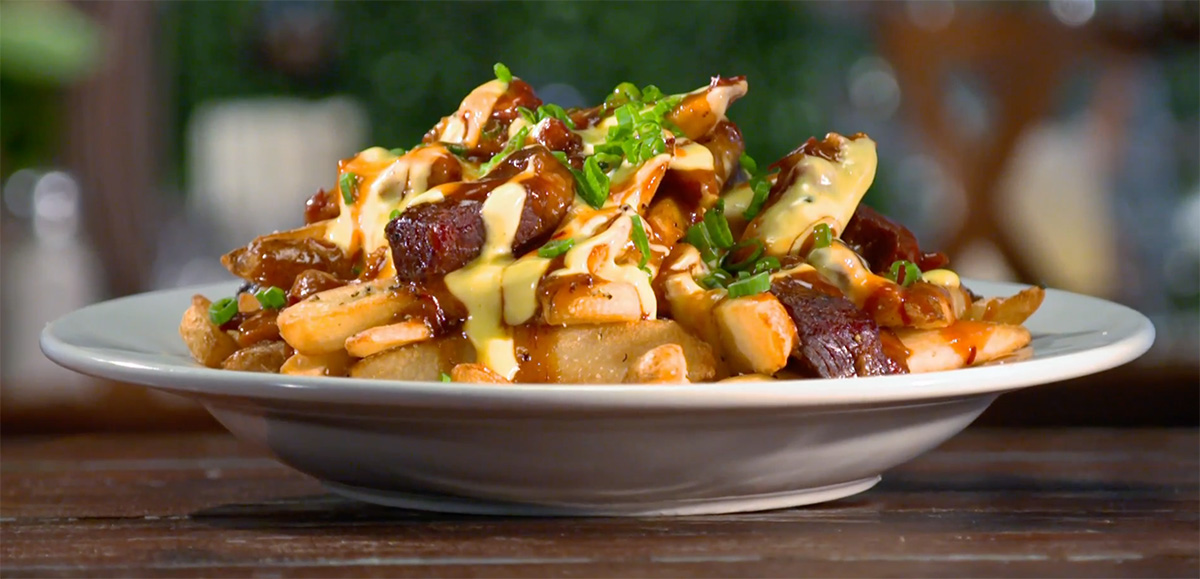 BBQ Poutine – As Seen on Restaurant: Impossible
From the episode, "Big Trouble in Tennessee"
SERVES 4
YOU'LL NEED
FOR THE BBQ JUS
½ cup white onion, diced
2 cloves garlic, sliced
1 tbsp. grapeseed oil
1 tbsp BBQ seasoning spice, store bought
½ cup stout beer
2 cups BBQ sauce, store bought
¼ cup heavy cream
Kosher salt and ground black pepper, to taste
FOR THE CHEESE SAUCE
2 cups heavy cream
4 oz shredded cheddar cheese
4 oz sliced American cheese
Kosher salt and ground black pepper, to taste
1 tsp ancho chili powder
FOR THE MAIN
Oil, enough for deep frying
1 lb steak fries
1 lb smoked beef brisket burnt ends (or diced smoked beef brisket), store bought
½ cup pickled cherry peppers, sliced
1 bunch scallions, sliced thin
MAKE IT
BBQ JUS
1) In a large sauce pot over medium high heat, add the oil, onions, and garlic. Stir and allow the onions and garlic to sauté for 2 minutes until translucent in color.
2) Add BBQ spice and stout. Allow stout to reduce by half.
3) Add BBQ sauce and bring to a simmer.
4) Finish with heavy cream and season with salt and pepper to taste.
CHEESE SAUCE
1) In a large sauce pot over medium heat, add the heavy cream.
2) Bring cream to a simmer. Using a whisk, slowly incorporate shredded cheddar cheese and American cheese and turn down the heat to low.
3) Finish with salt, pepper, and ancho chili powder.
MAIN
1) Preheat a fryer to 350 degrees.
2) Place the French fries in a 350-degree fryer and cook for 2 to 3 minutes until golden brown in color.
3) Place brisket burnt ends in a 350-degree fryer and allow to cook for about 2 minutes. Place the fried burnt ends in a mixing bowl and coat with the BBQ jus.
4) Place fries in a large bowl or platter and top with the crispy sauced burnt ends, pickled peppers, and more BBQ jus.
5) Top with cheese sauce and scallions and serve.