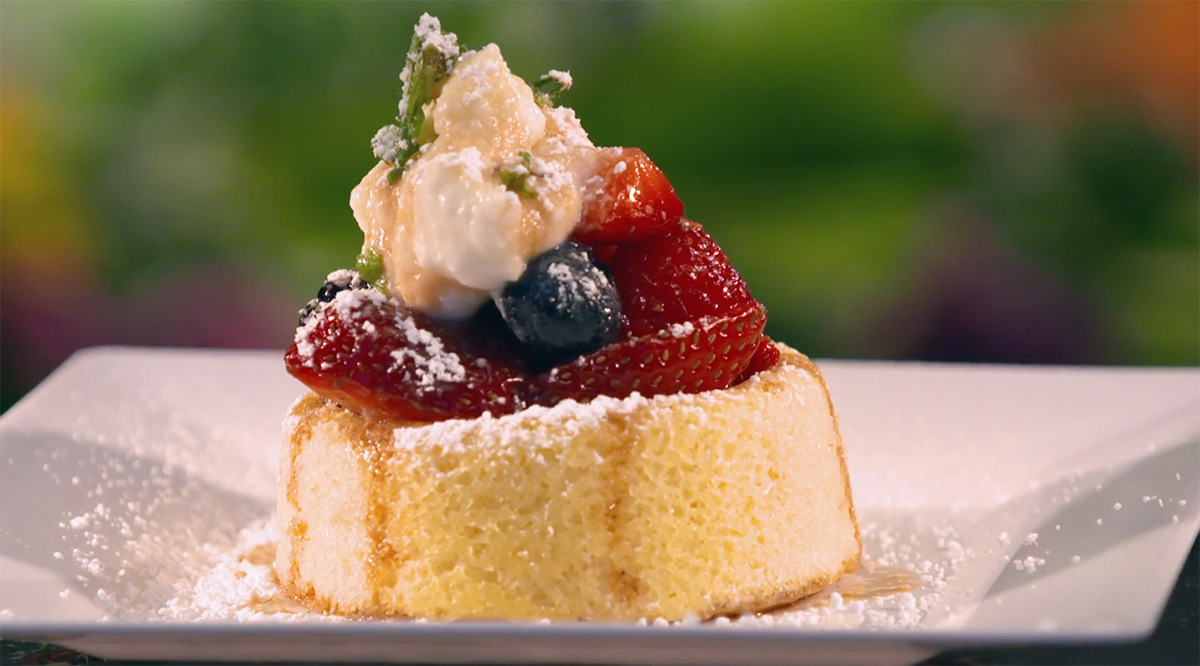 Mixed Berry Shortcake with Coffee-Vanilla Syrup – As Seen on Dinner: Impossible
From the episode, "Island Livin'"
SERVES 4
YOU'LL NEED
FOR THE COFFEE-VANILLA SYRUP
¼ cup coffee
2 tbsp coffee beans
1 vanilla bean, split
2 tsp brown sugar
½ cup maple syrup
FOR THE MIXED BERRY SHORTCAKE
1 cup fresh strawberries, quartered
½ cup fresh blueberries
½ cup raspberries
4 shortcake dessert shells
1 cup whipped cream
2 tbsp chopped fresh mint
Powdered sugar, as needed
MAKE IT
COFFEE-VANILLA SYRUP
1) In a sauce pot over medium heat, add the coffee, coffee beans, vanilla bean and brown sugar. Stir the mixture and allow to slowly reduce by 75%.
2) Add the maple syrup, stir and bring to a simmer and continue to cook for 5 minutes.
3) Remove the syrup mixture from the heat and strain. Set the strained syrup mixture aside to cool to room temp while finishing the dish.
SHORTCAKE & PLATING
1) In a mixing bowl, combine all the fresh berries and fill them into the shortcake dessert shells.
2) Top the mixed fresh berries with whipped cream, chopped fresh mint and powdered sugar.
3) Pour the coffee-vanilla syrup over the top of the mixed berry shortcake and serve.