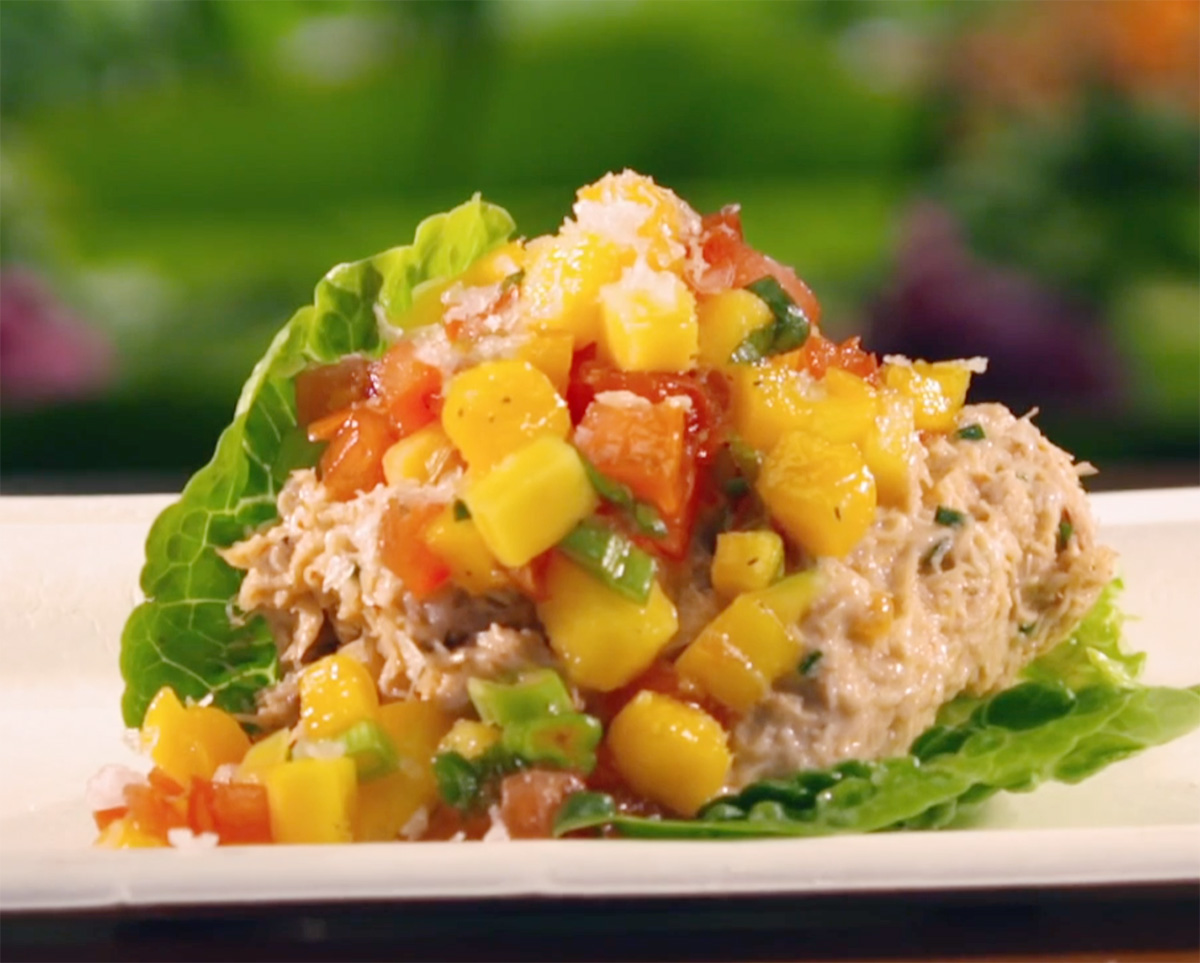 Crab Louie Salad on Lettuce with Mango Salsa – As Seen on Dinner: Impossible
From the episode, "Island Livin'"
SERVES 4
YOU'LL NEED
FOR THE CRAB LOUIE SALAD
¼ cup mayonnaise
2 tbsp ketchup
2 tsp red wine vinegar
1 tbsp fresh lemon juice
2 tsp sriracha
1 tsp Old Bay seasoning
1 tbsp chopped fresh chives
8 oz claw crabmeat
Kosher salt and ground black pepper, to taste
FOR THE MANGO SALSA
1/3 cup fresh mango, diced
1/3 cup fresh tomato, diced
2 tbsp chopped fresh scallion
1 tsp grapeseed oil
2 tbsp orange juice
1 tbsp fresh lemon juice
1 tbsp honey
Kosher salt and ground black pepper, to taste
FOR PLATING
1 head Bibb lettuce
1 tsp sea salt – for garnish
MAKE IT
CRAB LOUIE SALAD
1) In a mixing bowl, whisk the mayonnaise, ketchup, red wine vinegar, lemon juice, sriracha, Old Bay seasoning and chopped chives together.
2) Gently fold in the crabmeat and mix with the sauce.
MANGO SALSA
1) In a mixing bowl, add the mango, tomato, scallion, grapeseed oil, orange juice, lemon juice, and honey. Season the salsa with salt and pepper, to taste.
PLATING
1) Place a portion of the Crab Louie salad onto the center of a Bibb lettuce leaf. Top the crab salad with a spoonful of the mango salsa and garish with a pinch of the sea salt. Repeat for all portions and serve.