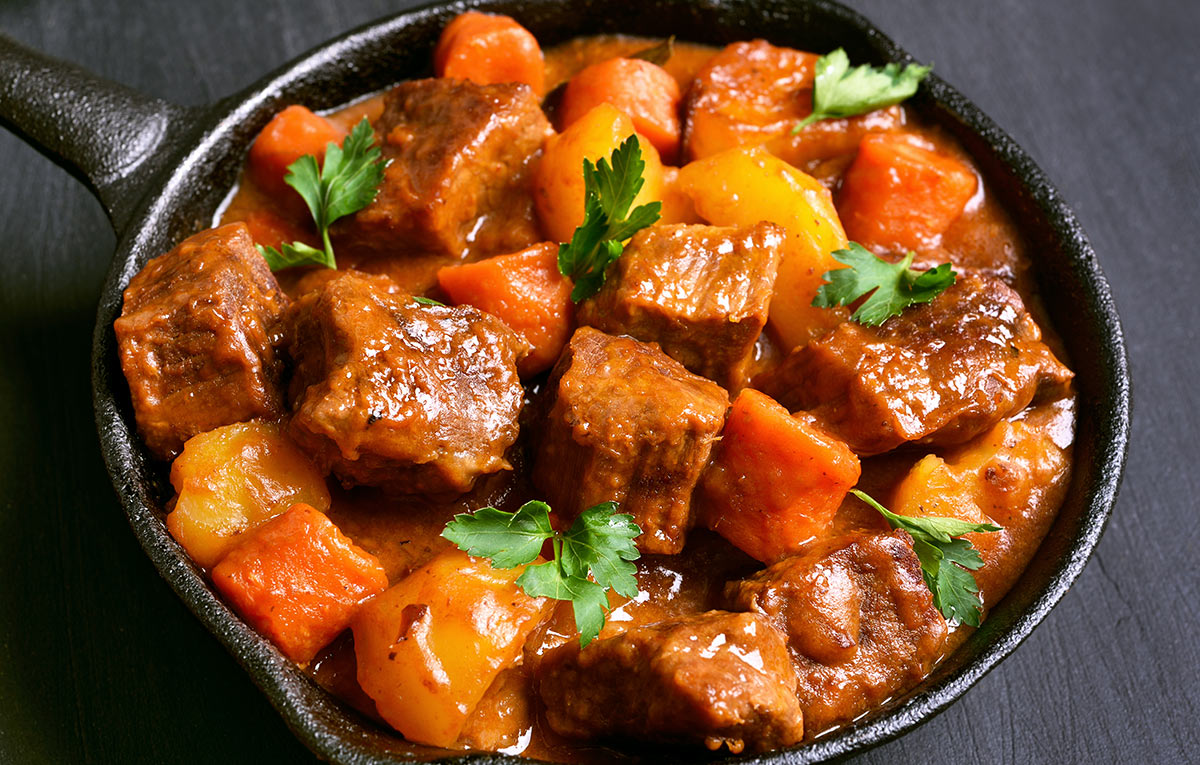 Lumberjack Beef Stew – As Seen on Dinner: Impossible
From the episode, "The Lumberjack Special"
SERVES 8
YOU'LL NEED
4 tbsp grapeseed oil
4 lbs beef stew meat trimmed and cut into 1" cubes and dusted in flour
3 carrots, peeled and large diced
1 white onion, peeled and large diced
4 ribs celery, large diced
2 rutabaga, peeled and large diced
6 cloves garlic, thin sliced
2 tbsp paprika
1 tbsp onion powder
1 tbsp fresh thyme, chopped
1 tbsp fresh rosemary, chopped
¼ cup tomato paste
1 cup red wine
2 qts chicken stock
2 qts beef stock
Kosher salt and pepper, to taste
1 bunch fresh parsley, chopped (for garnish)
MAKE IT
1) Season the cut beef stew meat with salt and pepper.
2) Place a large Dutch oven or large stock pot on the stove top over medium-high heat, add the grapeseed oil and cut flour-dusted beef stew meat. Stir and sear the meat for 5 minutes and allow to get a golden-brown color.
3) Next, add the carrots, onions, celery and rutabaga. Stir and allow to cook over medium heat for about 5 minutes to allow vegetables to slightly brown.
4) Add garlic, paprika, onion powder, fresh thyme and fresh rosemary. Stir and cook for another 5 minutes.
5) Add the tomato paste, stir and deglaze the sauce pot with the red wine, reduce for 2 minutes, and add chicken stock and beef stock. Stir well and allow the stew to simmer on low heat for approximately 1 hour or until meat is tender. Season the finished stew with salt and pepper, to taste.
6) Ladle a portion of the stew in the serving bowls and garnish with the fresh chopped parsley and serve.