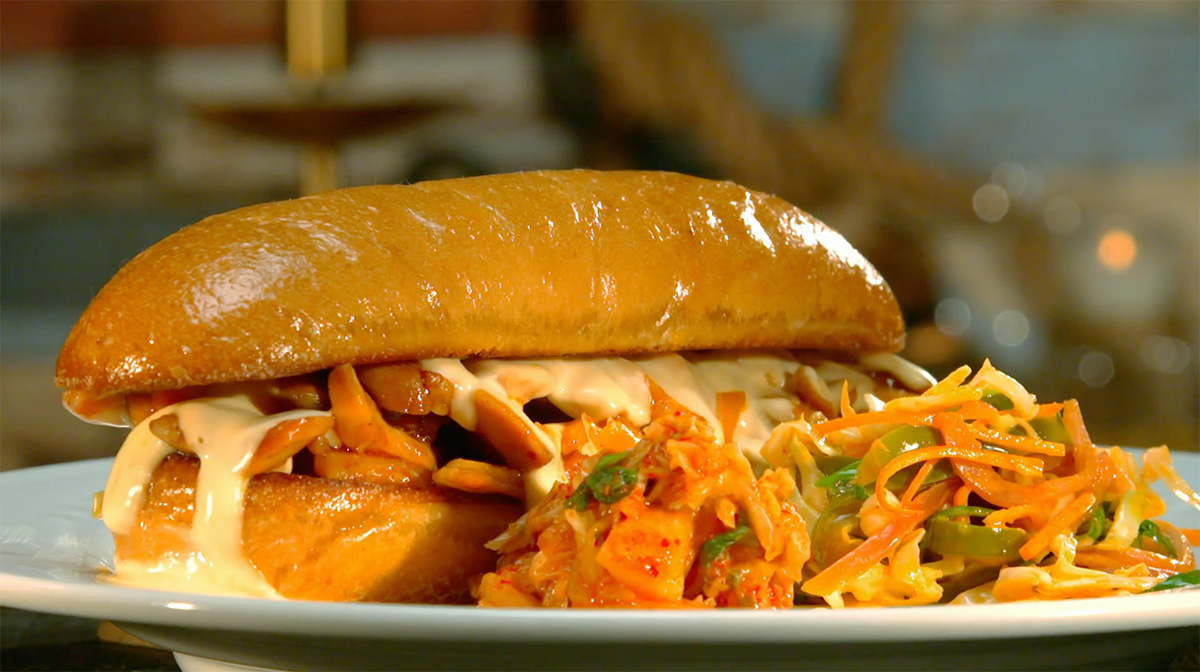 Korean BBQ Chicken Cheesesteak Sandwich with Kimchi Slaw – As Seen on Restaurant: Impossible
From the episode, "The Sinking Ship Inn"
SERVES 4
YOU'LL NEED
FOR THE KOREAN BBQ SAUCE
12 oz sweet chili sauce
3 tbsp gochujang paste
3 tbsp sesame oil
2 tbsp garlic, minced
1 tbsp ginger, peeled and minced
¼ cup scallions, sliced thin
6 oz soy sauce
4 tbsp brown sugar
Juice of 1 lime
Kosher salt and ground black pepper, to taste
FOR THE PEPPER JACK CHEESE SAUCE
1 cup milk
1 cup heavy cream
1 lb pepper jack cheese, shredded
FOR THE KIMCHI SLAW
3 tbsp white wine vinegar
2 tbsp sriracha sauce
1 tbsp honey
4 cups shredded cabbage
1 carrot, sliced thin
¼ cup prepared kimchi
1 tbsp cilantro, chopped
1 tbsp scallions, sliced thin
Kosher salt and ground black pepper, to taste
FOR THE CHICKEN CHEESESTEAK SANDWICH
1 ½ lbs boneless-skinless chicken thighs
2 tbsp grapeseed oil
1 cup red onion, julienned
1 cup red bell pepper, julienned
1 cup green pepper, julienned
2 each jalapeno, seeded and sliced thin
Kosher salt and ground black pepper, to taste
4 hoagie style rolls cut in half length wise
MAKE IT
KOREAN BBQ SAUCE
1) In a large mixing bowl, mix the sweet chili sauce, gochujang paste, sesame oil, garlic, ginger, scallions, soy sauce, brown sugar, and lime juice.
2) Season with salt and pepper, to taste.
PEPPER JACK CHEESE SAUCE
1) In a sauce pot over medium-high heat add the milk and heavy cream and bring to a simmer.
2) Turn the heat to low and using a whisk, slowly incorporate the shredded pepper jack cheese.
3) Season with salt and pepper.
KIMCHI SLAW
1) In a mixing bowl add white wine vinegar, sriracha sauce, and honey. Using a whisk incorporate all ingredients.
2) Add the cabbage, carrots, kimchi, cilantro, and scallions and toss together and season with salt and pepper, to taste.
CHICKEN CHEESESTEAK SANDWICH
1) Pre-heat oven to 400 degrees.
2) Season the raw chicken thighs with salt and pepper.
3) Place chicken thighs on baking sheet and allow to cook for about 15 minutes, or until chicken thighs reach an internal temperature of 165 degrees.
4) Allow the cooked chicken thighs to cool. Using a knife, slice the cooked chicken thighs into thin strips.
5) In a large sauté pan over medium-high heat, add the grapeseed oil, onions, peppers, and jalapenos.
6) Sauté for about 3 minutes, or until onions are translucent in color.
7) Add the sliced cooked chicken and cook for another 2 minutes and then coat the sauteed chicken mixture with some the Korean BBQ sauce, and cook for another minute.
8) In a separate sauté pan over medium-high heat, add hoagie roll and toast until golden brown in color, about 1 minute.
PLATING
1) Place Korean BBQ coated chicken mixture on the toasted hoagie roll and top with the pepper jack cheese sauce.
2) Serve with the kimchi slaw on the side.