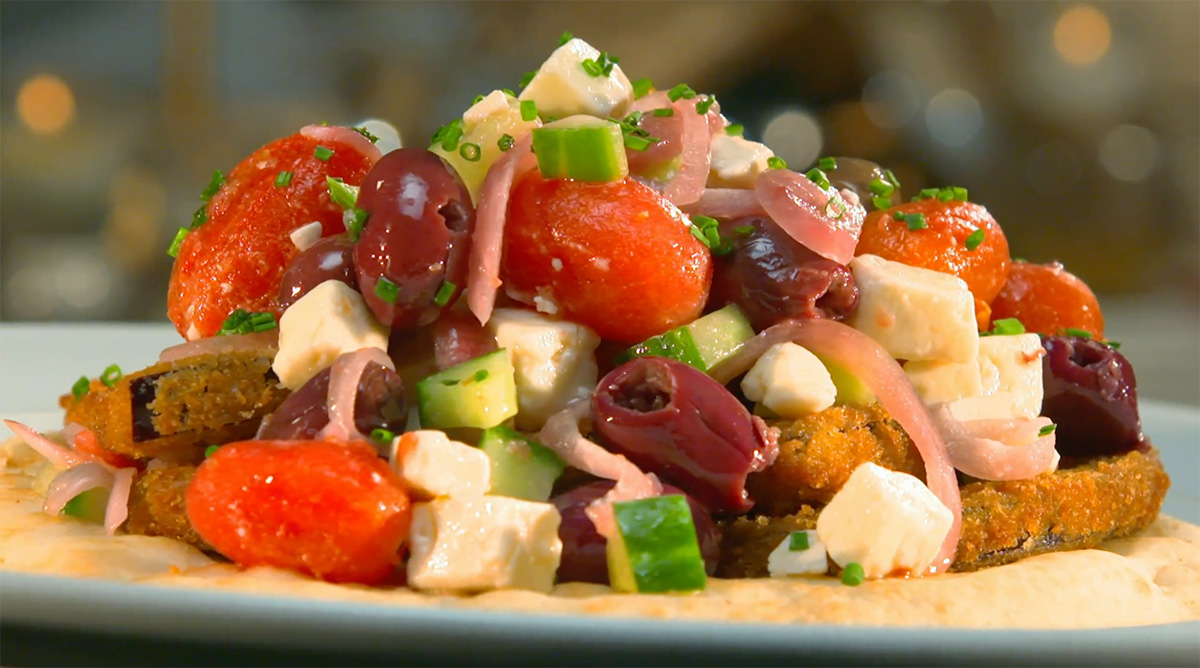 Crispy Fried Eggplant with Greek Salad, Toasted Pita & Green Goddess – As Seen on Restaurant: Impossible
From the episode, "The Sinking Ship Inn"
SERVES 4
YOU'LL NEED
FOR THE CRISPY FRIED EGGPLANT
1 medium size eggplant, sliced into ¼ inch half moons
3 cups all-purpose flour, seasoned with kosher salt and ground black pepper
6 large eggs, beaten
3 cups panko breadcrumbs
Oil, enough for deep frying
FOR THE GREEN GODDESS DRESSING
¼ cup flat leaf parsley, stems removed
¼ cup cilantro, stems removed
¼ cup scallions, chopped
¼ cup mint, stems removed
1 clove garlic
2 cups mayonnaise
Juice of 1 lime
1 tbsp honey
Kosher salt and ground black pepper, to taste
FOR THE GREEK SALAD & PLATING
4 portions pita bread
½ cup seedless English cucumber, medium diced
½ cup cherry tomatoes cut in half
¼ cup kalamata olives pitted
¼ cup red onion, thin sliced
¼ cup feta cheese diced
MAKE IT
CRISPY FRIED EGGPLANT
1) Pre-heat a fryer to 350 degrees F.
2) In three separate mixing bowls, place the seasoned flour, beaten eggs, and breadcrumbs.
3) Place eggplant in the seasoned flour, then the egg, and finally in breadcrumbs.
4) Place the breaded eggplant portions in the fryer and cook for 3 to 4 minutes until eggplant is golden brown and crispy
GREEN GODDESS DRESSING
1) In a food processor, add parsley, cilantro, scallions, mint, garlic, mayonnaise, lime juice and honey. Puree the ingredients together for 1 minute and season to taste with salt and pepper.
GREEK SALAD & PLATING
1) Place the pita bread in a large sauté pan over medium heat. Toast on both sides.
2) For each portion, place 2 pieces the crispy fried eggplant in the middle of the toasted pita bread on a plate.
3) Make the Greek salad: In a mixing bowl add the cucumbers, tomatoes, olives, red onion, feta cheese, and dress with the green goddess dressing.
4) Toss together and season with salt and pepper and place on top of crispy fried eggplant and serve.