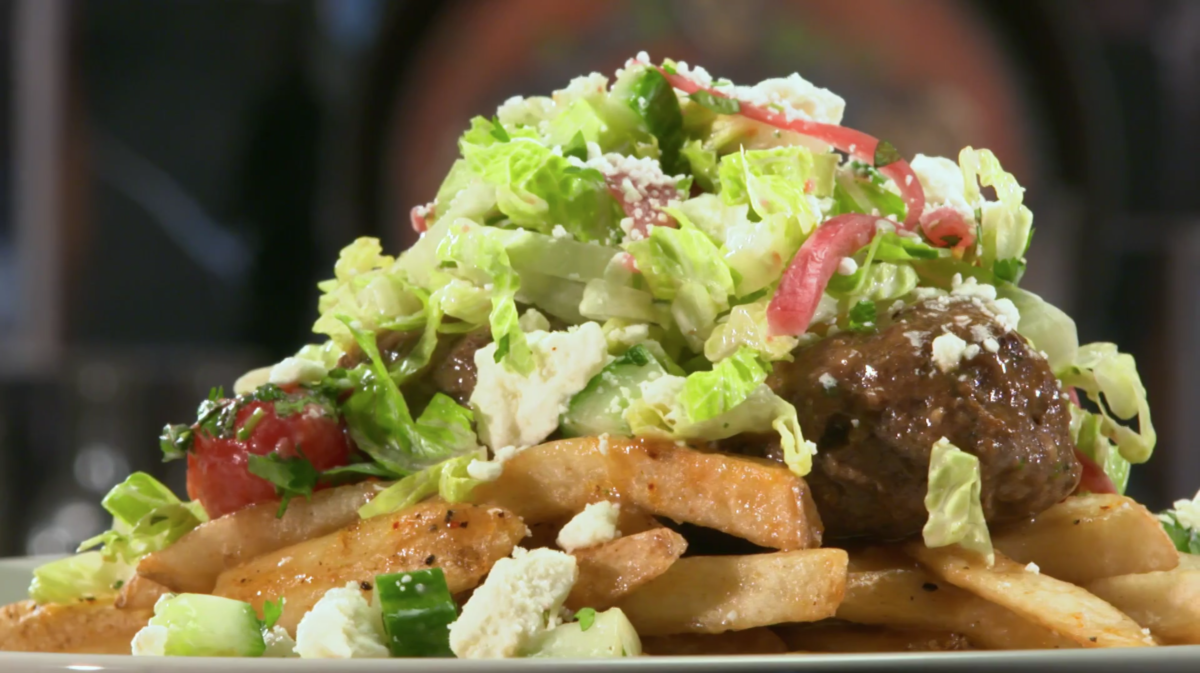 Kofta Pita – As Seen on Restaurant: Impossible
From the episode, "Holding On To The Past"
Makes 16 Meatballs, 4 Pitas
YOU'LL NEED
FOR THE MEATBALLS
2 lbs 80-20 ground beef
5 large eggs
4 cups panko breadcrumbs
10 cloves garlic, minced
1 large Spanish white onion, diced
3 tbsp cilantro, chopped
3 tbsp flat leaf parsley, chopped
2 tbsp Garam masala
2 tbsp grapeseed oil
1 cup red wine
2 cups beef stock
2 tbsp butter
Salt and pepper, to taste
FOR THE HERBED YOGURT
1 cup plain Greek yogurt
1 lemon, zest and juiced
2 cloves garlic, minced
2 tbsp Zaatar
1 bunch chives, sliced
1 tbsp extra virgin olive oil
Salt and pepper, to taste
FOR THE PICKLED ONIONS
1 red onion, thinly sliced
2 cups red wine vinegar
½ cup granulated sugar
2 tbsp honey
FOR PLATING
4 pitas
French fries
1 cup Romaine hearts, shredded
16 cherry tomatoes, quartered
MAKE IT
MEATBALLS
1) In a large stand up mixer fitted with the paddle attachment, add ground beef, eggs, panko breadcrumbs, garlic, and onions. Mix all ingredients together.
2) Add cilantro, parsley, Garam masala, salt, and pepper. Form mixture into 3 oz balls.
3) In a large skillet over medium-high heat, sear meatballs on all sides.
4) Deglaze the pan with red wine. Allow to cook for 2 minutes. Add beef stock and bring mixture to a light simmer.
5) Cook meatballs for about 30 minutes.
6) Finish sauce with butter and season with salt and pepper.
HERBED YOGURT
1) In a mixing bowl, whisk together all ingredients. Season with salt and pepper.
PICKLED RED ONIONS
1) In a sauce pot add red wine vinegar, sugar, and honey.
2) Bring mixture to a boil and add sliced onions.
3) Cover and allow to cool.
PLATING
1) In a skillet over medium heat, toast the pita lightly. Place the toasted pita in the middle of the plate.
2) In a mixing bowl add shredded romaine, pickled red onions, cucumbers, and tomatoes.
3) Dress with herbed yogurt.
4) Cook French fries in a 350 degree fryer until French fries are golden brown in color. Season with salt and pepper.
5) Place the French fries on the bottom of the pita.
6) Place the 3 meatballs on top of the French fries, and dress lightly with the braising liquid.
7) Finish with shredded romaine salad and serve.