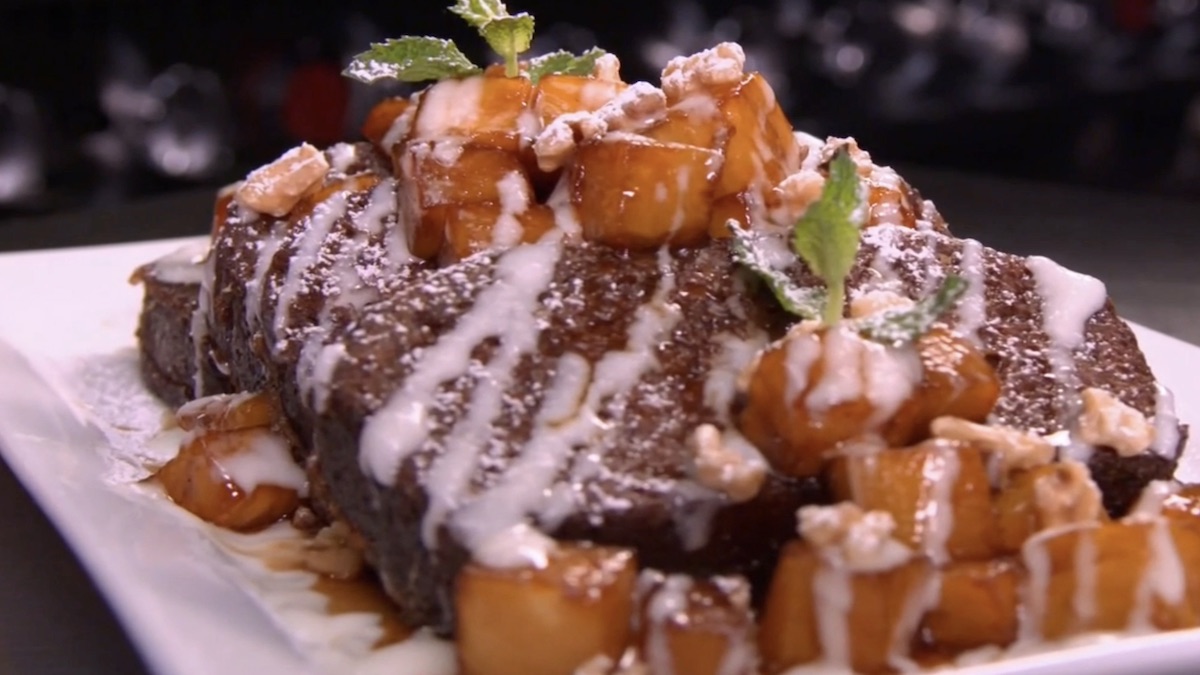 Carrot Cake French Toast with Rum-Glazed Pineapple – As Seen on Restaurant: Impossible
SERVES 4
YOU'LL NEED
FOR THE RUM-GLAZED PINEAPPLE
¼ cup butter
3 tbsp brown sugar
4 oz dark rum
1 ½ cups pineapple, peeled and diced
FOR THE CREAM CHEESE TOPPING
1 cup cream cheese, softened to room temperature
½ cup confectionary sugar
1 tsp vanilla extract
FOR THE CARROT CAKE FRENCH TOAST
4 eggs, beaten
1 ½ cup milk
3 tbsp granulated sugar
½ tsp nutmeg
1 tsp cinnamon
1 tsp vanilla extract
16 slices carrot cake, (store-bought loaf shape preferred)
3 tbsp grapeseed oil
2 tbsp butter
3 tbsp confectioner's sugar
MAKE IT
RUM-GLAZED PINEAPPLE
1) In a medium saucepot over medium heat, add butter and brown sugar. Allow to melt.
2) Remove the pan from the heat. Using a whisk deglaze and incorporate rum.
3) Place pot back on the heat and allow the alcohol to cook out of the rum, about 2 minutes.
4) Add pineapple and cook for another 3 minutes. The pineapple should be cooked and glazed with the rum sauce.
CREAM CHEESE TOPPING
1) With a food processor, mixer, or hand mixer, whip all ingredients together for 1 minute. The mixture should be light and soft like whipped cream.
CARROT CAKE FRENCH TOAST
1) In a mixing bowl whisk together eggs, milk, sugar, nutmeg, cinnamon, and vanilla extract.
2) Quickly dredge carrot cake in the French toast batter and remove, allowing excess batter to drip off.
3) In a skillet over medium to high heat add grapeseed oil and butter. Allow to melt. Add dredged carrot cake to pan. Cook on both sides until brown.
4) Place cooked French toast in center of plate. Top with rum -glazed pineapple and cream cheese topping. Garnish with confectioner's sugar.