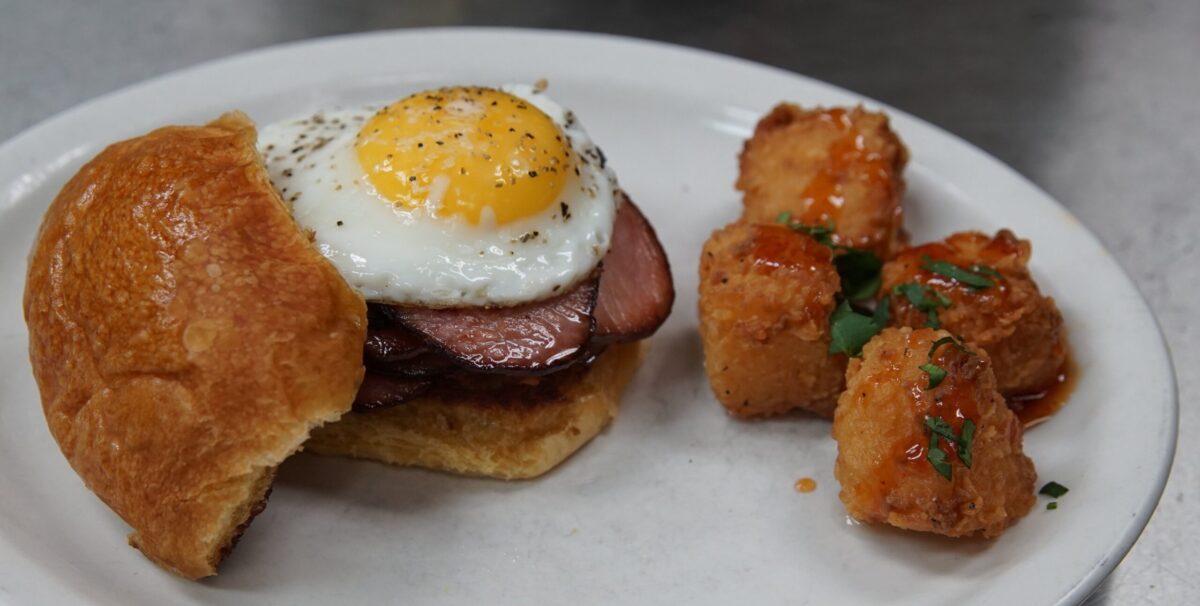 Kimchi Egg Sandwich – As Seen on Restaurant: Impossible
Serves 4
YOU'LL NEED
FOR THE SWEET CHILI KETCHUP
½ cup ketchup
¼ cup sweet chili sauce
2 tbsp sriracha
1 tsp honey
Salt and Pepper, to taste
FOR THE FRIED RICE TOTS
1 cup of uncooked basmati rice
2 eggs
1 cup buttermilk
2 tbsp hot sauce
¼ cup rice flour
2 tbsp togarashi
2 tbsp smoked paprika
2 tbsp sweet chili ketchup (from recipe above)
FOR THE SANDWICH
1 tbsp grapeseed oil
4 tbsp butter
16 brioche buns
16 slices Canadian bacon
2 oz kimchi, store-bought
4 eggs
MAKE IT
SWEET CHILI KETCHUP
1) In a large mixing bowl add all ingredients and incorporate. Season with salt and pepper to taste.
RICE TOTS
1) Preheat fryer at 350 F.
2) Cook basmati rice according to package.
3) Place rice on a baking sheet, spread out, and allow to cool.
4) Once rice has cooled, place in a mixing bowl. Use a spoon to incorporate eggs.
5) Place rice into ice cube trays and refrigerate for 30 minutes.
6) In a separate mixing bowl add buttermilk and hot sauce.
7) Add the rice tots to the buttermilk for about 10 minutes prior to cooking.
8) In a separate mixing bowl add rice flour, togarashi spice, and smoked paprika.
9) Add the rice tots to the flour and place in a 350-degree fryer. Allow the rice tots to cook for approximately 3 minutes. The rice tots should be golden brown and crispy.
10) Place fried rice tots in a mixing bowl and toss with sweet chili ketchup.
SANDWICH
1) In a skillet over medium-low heat add the butter and brioche bun. Allow to toast for approximately 1 minute. The buns should be golden brown in color.
2) Remove the toasted buns from the skillet and add sliced Canadian bacon and cook for approximately 30-45 on each side.
3) In a separate non-stick skillet over medium heat, add some of the grapeseed oil and cook each egg separately egg sunny side up for each sandwich. Repeat for the other eggs.
PLATING
1) Dress the bottom toasted buns with sweet chili ketchup.
2) Place kimchi on top of the sweet chili ketchup.
3) Top with 4 slices of cooked Canadian bacon on each sandwich.
4) Finally, top the Canadian bacon with the sunny-side-up egg, and place the top bun on the sandwich.
5) Serve the sandwich with the dressed crispy rice tots.