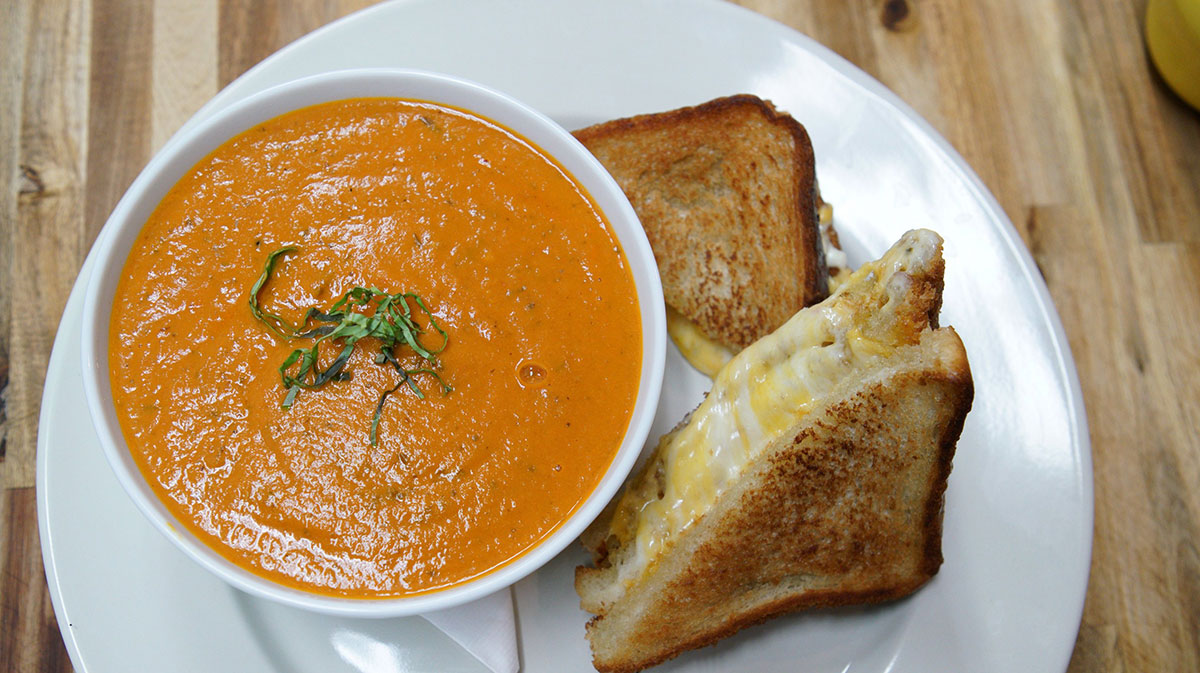 Grilled Cheese and Tomato Soup – As Seen on "Restaurant: Impossible"
From the Episode "Not So Peachy Keen"
Serves 4
YOU'LL NEED
For the Tomato Soup
3 tbsp grapeseed oil
2 white onions, diced
3 garlic cloves, minced
3 cups chicken stock
1-quart canned tomatoes
1-quart heavy cream
1 tbsp smoked paprika
½ tsp cayenne pepper
Salt and pepper to taste
2 tbsp chives, chopped fine – soup garnish
For the Grilled Cheese Sandwich
12 slices sourdough bread
1 tbsp grapeseed oil
2 tbsp butter
1 cup provolone cheese, shredded
1 cup cheddar cheese, shredded
1 cup pepper jack cheese, shredded
MAKE IT
Tomato Soup
1. In a large saucepot over medium heat, add the grapeseed oil and white onions, sweat until onions are translucent in color. This should take approximately 3 to 4 minutes over medium-high heat.
2. Next, add garlic and allow to cook for approximately 2 minutes.
3. Then add chicken stock, canned tomatoes, heavy cream, smoked paprika, and cayenne pepper.
4. Bring mixture to a simmer, reduce the heat to medium-low and allow to cook for approximately 30 minutes, stir the soup often while cooking to prevent tomatoes from sticking to the bottom of the pot.
5. Using a blender, or a hand blender puree mixture until smooth and season with salt and pepper to taste.
Grilled Cheese Sandwich
1. In a large skillet over medium-high heat, add grapeseed oil, butter, and sourdough bread.
2. Toast the bottom of all the sliced sourdough bread and top the bread with the shredded provolone, cheddar, and pepper jack cheeses, as they are toasting on the bottom.
3. Next, to build the grilled cheese sandwiches, stack 2 pieces of toasted bread with melted cheese and then top with the third piece of toasted cheese bread, toasted side up, to complete the grilled cheese. Flip the grilled cheese and continue to cook for a minute on both sides until golden brown and all cheese is melted.
Plating the Dish
1. Place tomato soup in a soup bowl, and top with chopped chives.
2. Cut the grilled cheese and arrange it on the plate and serve with the soup.