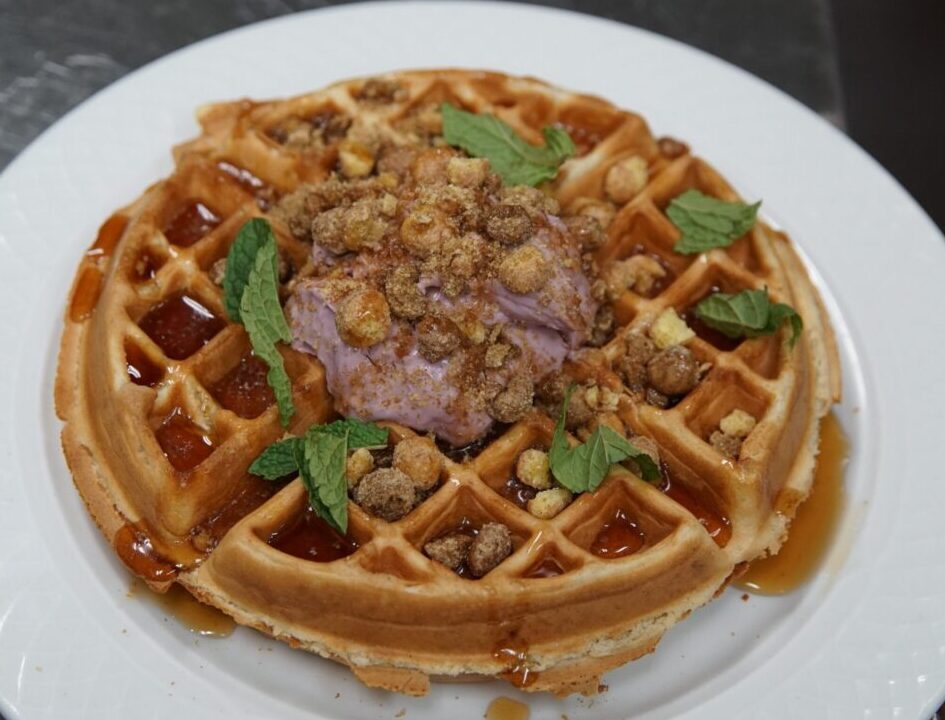 Berry Cream Cheese and Peanut Butter Crunch Waffle – As Seen on Restaurant: Impossible
SERVES 4
YOU'LL NEED
FOR THE WAFFLE
2 eggs
2 cups all-purpose flour
1 ½ cups milk
½ cup vegetable oil
2 tbsp white granulated sugar
3 tsp baking powder
¼ tsp kosher salt
½ tsp vanilla extract
FOR THE BERRY CREAM CHEESE
3 cups cream cheese
1 cup fresh blueberries
1 cup fresh strawberries, stems removed & cut into quarters
1 tbsp confectionary sugar
FOR PLATING
¼ cup peanut butter puffs cereal, roughly chopped
1 bunch of fresh mint torn
Powdered sugar for garnish – as needed
Maple syrup – as needed
Non-stick cooking spray
MAKE IT
WAFFLE
1) Pre-heat waffle iron.
2) Beat eggs in a large bowl with a hand blender until eggs are whipped well.
3) Next add milk, vegetable oil, granulated sugar, baking powder, salt, and vanilla extract.
4) Stir together just until all ingredients are incorporated, making sure not to over mix.
5) Spray waffle iron with non-stick cooking spray. Pour batter onto the waffle iron and cook until the waffle is golden brown. It should take approximately 3 to 4 minutes, depending on your waffle iron.
BERRY CREAM CHEESE
1) Place all ingredients in a food processor and puree until smooth.
PLATING
1) Place the cooked waffle in the middle of a plate.
2) Top the waffle with peanut butter puffs cereal, whipped berry cream cheese, torn fresh mint, and finish with confectionary sugar. Serve with maple syrup.