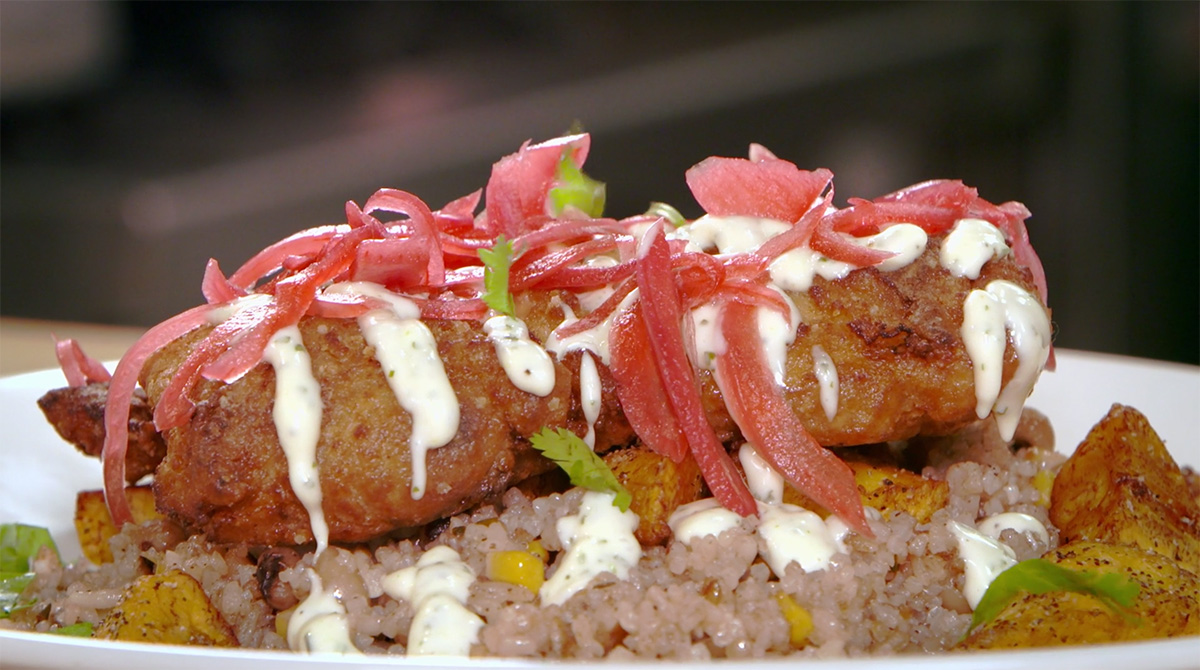 Jerk Spiced Crispy Chicken with Rice and Peas – As Seen on Restaurant: Impossible
From the episode, "Fighting for Gigi"
SERVES 4
YOU'LL NEED
FOR THE RICE AND PEAS
2 tbsp grapeseed oil
1 onion, diced
1 clove garlic, minced
1 oz ginger, minced
1 cup jasmine rice
1 cup coconut milk
1 cup water
½ cup corn kernels
½ cup black eyed peas
1 tsp all spice
1 bunch scallions, sliced
FOR THE CILANTRO-LIME AIOLI
3 cups mayonnaise
¼ cup sweet chili sauce
1 clove garlic, minced
2 oz lime juice
1 bunch cilantro
FOR THE PICKLED RED ONIONS
1 ¼ cup white wine vinegar
1 cup sugar
2 tbsp honey
1 large red onion, thinly sliced
FOR THE CRISPY JERK CHICKEN
4 boneless chicken thigs
2 oz jerk paste
½ cup pineapple juice
1 oz lime juice
2 cups buttermilk
3 cups all-purpose flour
1 cup corn starch
1 tbsp Cajun spice
12 oz plantains, sliced
MAKE IT
RICE AND PEAS
1) Pre-heat oven to 375 degrees.
2) In a medium sauce pot add grape seed oil, onions, garlic, and ginger. Allow to sweat.
3) Next add jasmine rice, coconut milk, water, corn, salt, pepper, and peas.
4) Bring the mixture to a boil. Cover and place in the oven.
5) Allow the rice to cook for approximately 15 minutes or until rice is tender.
6) Finish with scallions. Cover and set aside.
CILANTRO-LIME AIOLI
1) Mix all ingredients together.
2) Season with salt and pepper.
PICKLED RED ONIONS
1) In a small sauce pot, add the white wine vinegar, sugar, and honey.
2) Bring pickling mixture to a boil.
3) In a separate bowl, add the sliced red onions. Pour hot pickling liquid over the onions. Cover and allow to cool at room temperature.
CRISPY JERK CHICKEN
1) Pre-heat a fryer or an air fryer to 325 degrees.
2) In a mixing bowl add jerk paste, pineapple juice, lime juice, and buttermilk.
3) Place chicken thighs in the buttermilk and jerk paste mixture. Allow to marinate for about 2 hours prior to cooking.
4) In a separate bowl add flour, corn starch, and Cajun spice.
5) Remove the chicken from the buttermilk mixture and place in the flour mixture.
6) Remove from flour mixture and place in the pre-heated fryer and cook until the chicken reaches an internal temperature of 165 degrees. Set aside.
PLATING
1) Place plantains in the 350-degree fryer and allow to cook for 3 minutes or until plantains are golden brown and crispy.
2) Place a large scoop of rice and peas in the middle of the plate.
3) Top the rice and peas with crispy plantains.
4) Then top with crispy chicken, aioli, and pickled red onions.