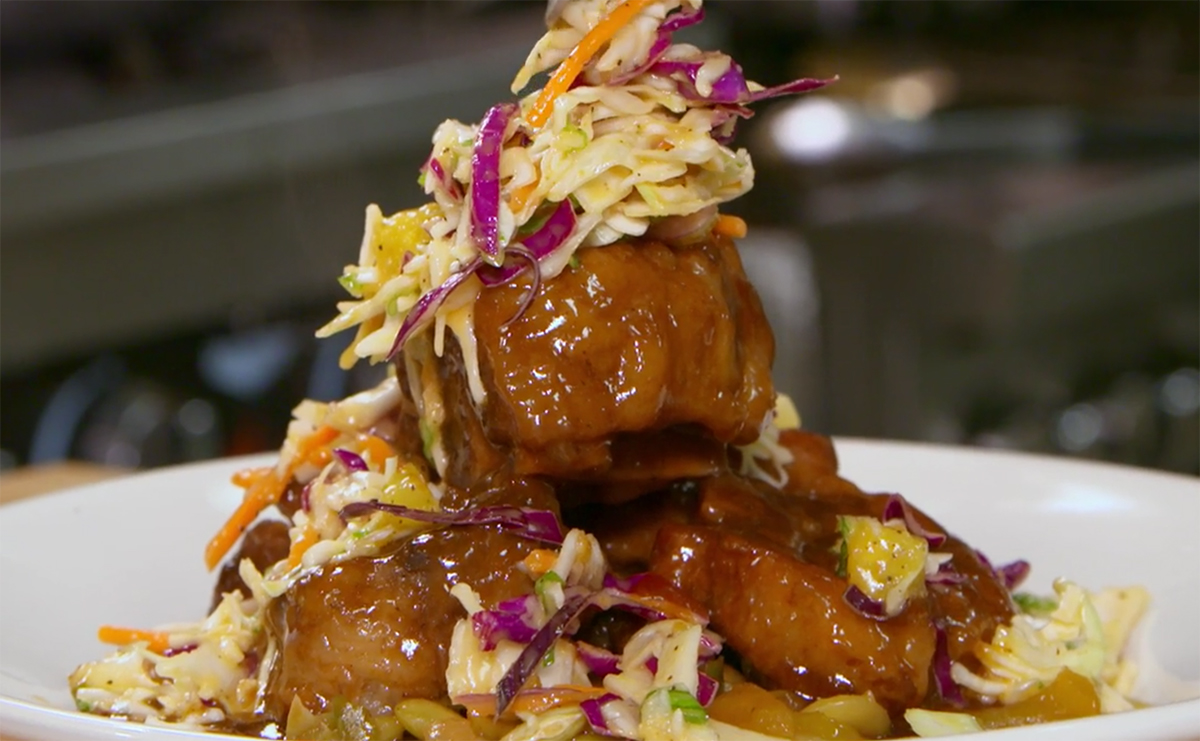 Sweet Tea Braised Oxtail and Succotash – As Seen on Restaurant: Impossible
From the episode, "Fighting for Gigi's"
SERVES 4
YOU'LL NEED
FOR THE OXTAIL
5 lbs oxtail (cut into 8 oz. portions)
3 tsp jerk seasoning
3 tbsp kosher salt
5 tbsp light brown sugar
2 tbsp grapeseed oil
2 carrots, peeled and diced
4 ribs celery, medium diced
1 white onion, medium diced
1 cup Jerk paste
3 cups chicken stock
3 cups sweet iced tea
2 cups white wine
FOR THE OKRA SUCCOTASH
2 tbsp extra virgin olive oil
2 red onions, diced
4 garlic cloves, sliced
12 oz grape tomatoes, cut in half
2 cups okra, sliced into rings
1 cup pickled okra, sliced into rings
1 cup frozen corn, off the cob
½ cup lima beans
1 red bell pepper, diced
4 tbsp sweet chili sauce
1 tsp red wine vinegar
½ bunch cilantro, chopped
1 tsp Cajun spice
Salt and pepper
FOR THE PINEAPPLE SLAW
3 cups white cabbage, shredded
1 cup carrots, shredded
½ cup pineapple, diced
3 tbsp sweet BBQ sauce
1 tbsp cider vinegar
1 bunch cilantro, chopped
1 bunch scallions, sliced
Salt and pepper
MAKE IT
OXTAIL
1) Pre-heat oven to 325 degrees.
2) In a large mixing bowl add jerk seasoning, kosher salt, and brown sugar and incorporate.
3) Coat 2 tbsp of mixture on each oxtail portion 12 hours prior to cooking.
4) In a large roasting pan over high heat add grape seed oil and oxtail. Sear on all sides.
5) Oxtail should be brown in color, being careful not to burn. Remove oxtail from pan.
6) Over medium heat add carrots, celery, and onions. Allow to cook for 5 minutes. The vegetables should have some color on them.
7) Add jerk paste and allow to cook for another 4 minutes, then deglaze the pan with white wine.
8) Allow the wine to reduce by half. Add the oxtail back to the pan.
9) Add chicken stock and iced tea. Bring to a boil and cover.
10) Place the oxtail to the preheated oven and cook for 4 hours.
11) Once oxtail is cooked, remove it from the pan and allow to cool.
12) Strain the braising liquid and reserve. Then place the oxtail back in the braising liquid.
SUCCOTASH
1) In a large skillet over medium-high heat add extra virgin olive oil, onions, and garlic.
2) Allow to sweat.
3) Next add tomatoes, okra, pickled okra, corn, lima beans, and red bell pepper. Continue to cook for about 3 minutes.
4) Add sweet chili sauce, red wine vinegar, cilantro, and Cajun spice.
5) Season with salt and pepper.
PINEAPPLE SLAW
1) In a mixing bowl combine BBQ sauce and cider vinegar.
2) In a separate bowl add cabbage, carrots, pineapple, cilantro, and scallions.
3) Dress the cabbage mixture with BBQ sauce and cider vinegar.
4) Season with salt and pepper.
PLATING
1) Place a large scoop of succotash in the middle of a bowl.
2) Top the succotash with the braised oxtail and 2 oz of the braising liquid.
3) Finish with pineapple slaw.