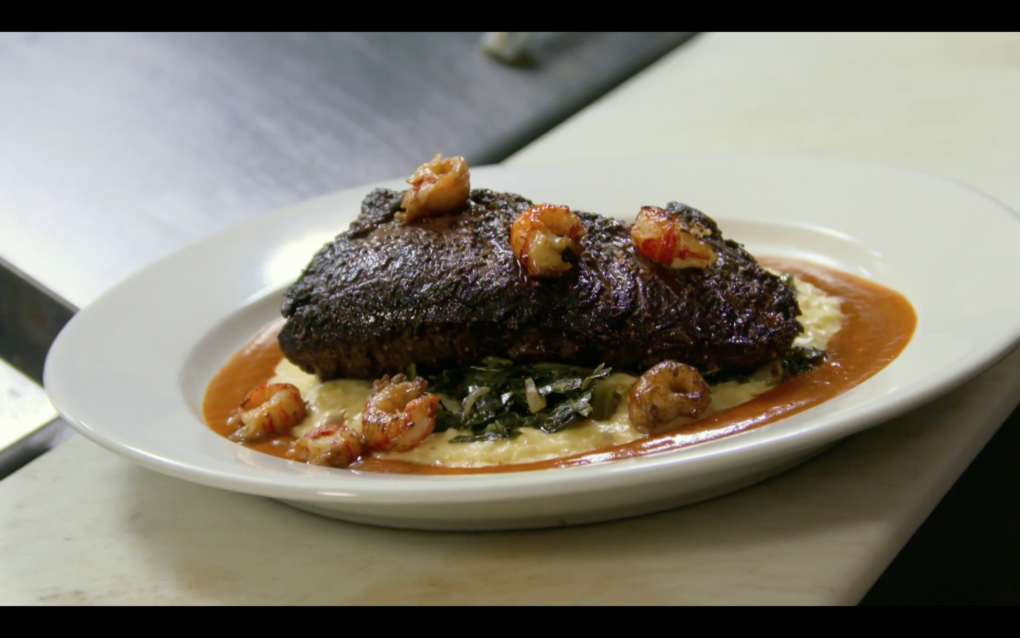 Hanger Steak and Crawfish – As Seen on Restaurant: Impossible
From the episode, "Chattanooga Blues"
SERVES 4
YOU'LL NEED
FOR THE STEAK
24 oz Hanger steak
3 tbsp red wine vinegar
2 cloves garlic
1 tbsp Dijon mustard
3 ¼ tbsp grapeseed oil
8 oz crawfish tail meat
Juice of ¼ lemon
2 tbsp butter
FOR THE GRITS
1 cup milk
3 cups water
1 cup grits
1 cup pimento cheese
FOR THE COLLARD GREENS
1 lb collard greens
6 oz bacon
1 tbsp grape seed oil
1 cup chicken stock
1 tbsp apple cider vinegar
1 tbsp granulated sugar
1 tbsp honey
MAKE IT
COLLARD GREENS
1) In a large rondeau style pot, add bacon and grapeseed oil. Allow to render until crispy.
2) Next add collard greens and allow to cook for 10 minutes.
3) Add chicken stock, vinegar, sugar, and honey. Allow to cook for 1 hour.
4) Season with salt and pepper.
GRITS
1) In a sauce pot, add water and milk. Bring mixture to a boil. Using a whisk, add grits and allow to cook for 30 minutes.
2) Finish with pimento cheese. Season with salt and pepper.
HANGER STEAK
1) In a mixing bowl, add red wine vinegar, garlic, and Dijon mustard. Slowly incorporate 3 tbsp of grapeseed oil, creating an emulsion. This is your marinade.
2) Place hanger steak in the marinade 24 hours prior to cooking.
3) Pull hanger steak from marinade and season with salt and pepper.
4) In a medium sauté pan over high heat, add the remaining ¼ tbsp of grapeseed oil and sear steak on both sides.
5) Remove steak from pan and place in a 400° oven. Cook steak to an internal temperature of 125°.
6) Place crawfish tails in the same pan the steak was cooked in. Add butter and lemon juice and cook for 2 minutes and season with salt and pepper.
7) Place grits on the plate, then collard greens. Top collard greens with steak, and finish with crawfish.