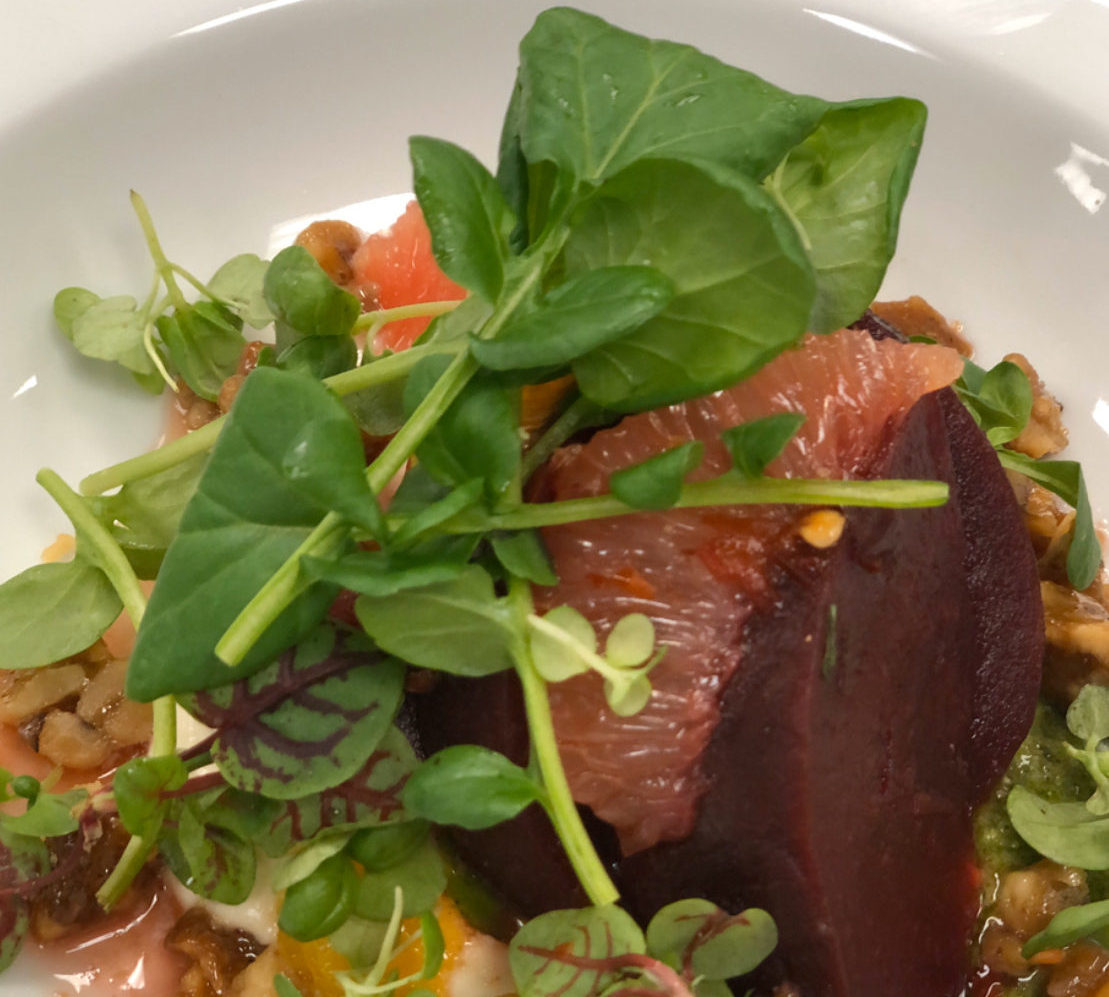 Winter Beet Agrodolce with Goat Cheese & Mascarpone, Basil Pesto, Baby Greens & Herbs, Candied Walnuts
From the Hollywood Casino Columbus Robert Irvine Dining Experience – February 29, 2020
SERVES 5
YOU'LL NEED
1.5 pound yellow or red beets
2 oz grape seed oil
2 tablespoons kosher salt
2 tablespoons ground black pepper
1 cup agrodolce (sweet and sour) marinade
3 ounces soft goat cheese
2 ounces mascarpone
1 tsp ground cardamon
1 pinch cayenne
1 pinch ground cinnamon
2.5 ounces basil pesto
1 lemon
1 whole / 10 segments (supremes) Indian River grapefruit
1 whole / 10 segments (supremes) naval oranges
2 small bunches hydroponic water cress
2 small bunches of baby mache
2 small bunches baby red vein sorrel
1 ounce micro basil
5 ounces candied walnuts lightly broken
FOR THE AGRODOLCE MARINADE
1/4 cup agave or mild honey
1 tbsp sambal (more or less depending on spice preference)
1/4 cup rice vinegar
1 tsp kosher salt
1 tsp black pepper
MAKE IT
1) Wash and trim the beets, lightly rub with oil salt and pepper and wrap in aluminum foil then bake at 350 degrees for 45 minutes to an hour. To check doneness poke the cooked beet with a small knife or a thin metal skewer, there should be no resistance. Once done remove them from the oven, unwrap, cool and peel.
2) Cut the beets into wedges or large dice if desired.
3) Prepare the agrodolce by combining all the ingredients in a small bowl. Once the beets are cut pour the agrodolce over them and let them marinade for 2 hours or up to 5 hours.
4) Prepare the cheese spread by mixing the mascarpone and the goat cheese with cardamon, cayenne, cinnamon and the juice from the lemon all together.
TO PLATE
1) In each bowl take 2 tablespoons of the cheese mixture and spread across the bottom of the bowl.
2) Place 1 tablespoon of the pesto in the middle of the dish
3) Remove the beets from the marinade and place 4-5 ounces each on the pesto
4) Spread the chopped candied walnuts around the beets
5) Place 2 of each grapefruit and orange segments on the beets for each plate
6) Trim and mix all your greens together and lightly top the beets
7) Finish with a sprinkle of salt and pepper