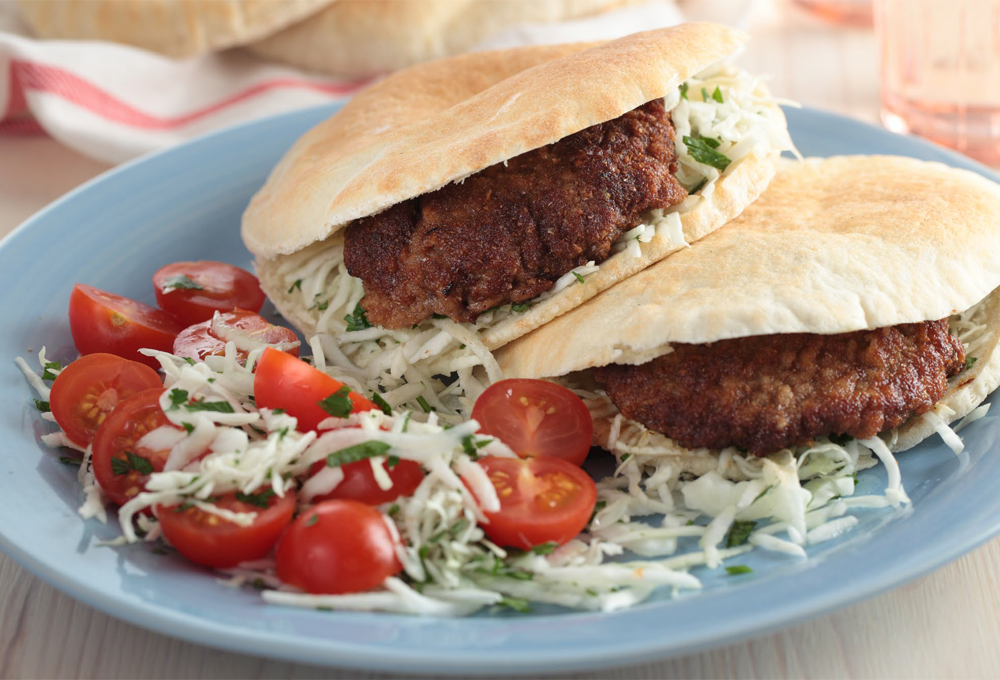 SERVES 8
YOU'LL NEED
2 lbs lean ground lamb
1. lbs lean ground grass-fed beef
1 tbsp garlic powder
1 dash cayenne pepper
1 tsp cumin powder
1 tsp dried oregano
1/2 cup crumbled feta cheese (or low-fat shredded mozarella)
Salt
Pepper
1 cup thin julienned red onion
1 cup thin sliced cucumbers
1/4 cup reduced fat ranch dressing
1 tbsp fresh dill, chopped
1/2 head shredded iceberg lettuce
Nonfat, nonstick cooking spray
8 slices tomato
8 small pocket pitas (3 inches)
MAKE IT
1) Mix the ground lamb, beef, garlic powder, cayenne pepper, cumin, dried oregano, feta cheese, salt and pepper together. Form 8 patties (they should be about 7 ounces each). Set in the fridge while you prepare the rest of your ingredients.
2) Make a marinated cucumber salad by combining red onion, cucumber, reduced fat ranch dressing and chopped dill together in a bowl.
3) Preheat the grill and spray the patties on each side with cooking spray. Grill the burgers on each side to desired temperature. When they're almost ready, toast the pitas.
4) Fill the bottom half of each pita pocket with lettuce, sliced tomato and top with gyro burger. Top the burgers with marinated cucumbers.
THE MACROS
CALORIES: 498
PROTEIN: 46 g
FAT: 27 g
CARBS: 24 g
Get more great recipes like this from Robert Irvine Magazine