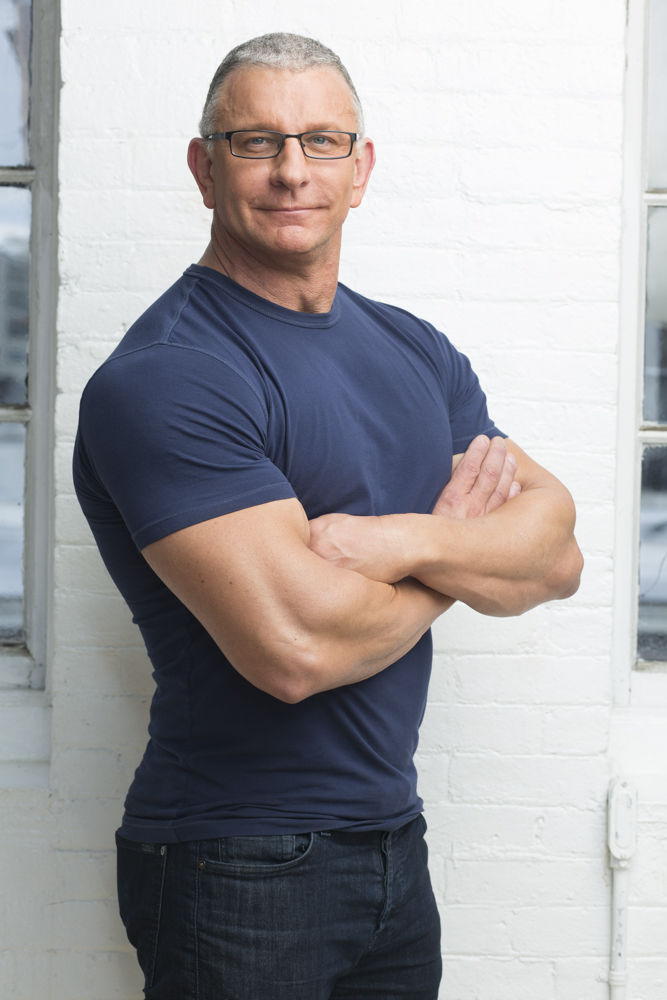 ROBERT IRVINE TO HELM DAYTIME TALKER, 'THE ROBERT IRVINE SHOW,' DEBUTING ON THE CW NETWORK THIS FALL
HOLLYWOOD, Calif., June 20, 2016 – The CW Network, Tribune Studios and Irwin Entertainment today announced a partnership to premiere, "The Robert Irvine Show," which The CW Network will add to their weekday afternoon lineup beginning September 2016. "The Robert Irvine Show" will air Monday through Friday, 3:00-4:00 p.m., on The CW Network stations nationwide.
Tribune Studios, in affiliation with veteran television producer John Irwin ("Couples/Family Therapy," "Red Nose Day," "New Year's Eve With Carson Daly") and his eponymous Irwin Entertainment, and Robert Irvine Productions are bringing a new twist to first-run syndication with "The Robert Irvine Show," a 60-minute daytime conflict resolution talker. Andrew Scher ("The Doctors") will serve as Executive Producer.
Irvine, a versatile celebrity chef with over a decade of television under his belt, has a strong following as a fitness guru and is a tireless advocate of our nation's veterans, active duty military and military families. The series will showcase him providing help to families with his signature "tough love" approach.
"The Robert Irvine Show" will be a strong complement to the successful daytime programs currently airing on Tribune Broadcasting's stations, and we are excited to partner with Irwin Entertainment on this project," said Sean Compton, President Strategic Programming and Acquisitions, Tribune Media.
"Robert has an impeccable reputation as not only one of the most successful and talented chefs in the world, he is also considered a role model and we are looking to embrace the philosophy that has made him a success, and use it to help individuals and families reach their full potential," added John Irwin.
"Helping people overcome their most trying obstacles has been an important part or my process since day one," added Irvine. I'm thrilled to be working with Tribune, the CW, and Irwin Entertainment in bringing this exciting new talk format to life."
"We are very happy to join with Tribune Studios and Irwin Entertainment to bring viewers 'The Robert Irvine Show,' which will be a great fit for The CW's afternoon block and for our stations across the country," said Chris Brooks, Senior Vice President, Network Distribution, The CW.
About Robert Irvine
With more than 25 years in the culinary profession, Chef Robert Irvine has cooked his way through Europe, the Far East, the Caribbean and the Americas, in hotels and on the high seas. As the host of one of the Food Network's highest rated shows, Restaurant: Impossible, Irvine saves struggling restaurants across America by assessing and overhauling the restaurant's weakest spots. Irvine was previously the host of Food Network's Dinner: Impossible and Worst Cooks in America, has authored two cookbooks, Mission: Cook! and Impossible to Easy, and one healthy living book, Fit Fuel: A Chef's Guide to Eating Well and Living Your Best Life. Irvine is currently on tour with his new, interactive live show Robert Irvine Live, and appears regularly as an expert guest on national morning and daytime talk shows.  In 2015, Irvine launched Robert Irvine Foods, a company that features a nutritionally improved line of food products without compromising great taste.  Irvine recently established the eponymously named non-profit organization, The Robert Irvine Foundation, in an effort to support military personnel and their families. Now in operation for a few years, the foundation continues to grow and assist those in need.  In recent years he was honored with two very distinguished recognitions for his dedication to the armed services and our country's heroes.  He was first designated Honorary Chief Petty Officer by the U.S. Navy, and later that year awarded the Bob Hope Award for Excellence in Entertainment and Support of our Service Members – a distinguished Patriot Award bestowed upon him by the Congressional Medal of Honor Society.  Continuing his support of the military, Irvine will soon become the first celebrity chef to open a restaurant, aptly named Chef Robert Irvine's Fresh Kitchen, at the Pentagon in the summer of 2016. Also, Irvine just announced the launch of the Robert Irvine Magazine in May 2016 and the opening of a new restaurant in Las Vegas at the Tropicana in 2017. For more information on Chef Robert Irvine, visit www.ChefIrvine.com.
About Tribune Media:
Tribune Media Company (NYSE: TRCO) is home to a diverse portfolio of television and digital properties driven by quality news, entertainment and sports programming. Tribune Media is comprised of Tribune Broadcasting's 42 owned or operated local television stations reaching approximately 50 million households, national entertainment cable network WGN America, whose reach is approaching 80 million households, Tribune Studios, and Gracenote, one of the world's leading sources of TV and music metadata powering electronic program guides in televisions, automobiles and mobile devices. Tribune Media also includes Chicago's WGN-AM and the national multicast networks Antenna TV and THIS TV. Additionally, the Company owns and manages a significant number of real estate properties across the U.S. and holds other strategic investments in media. For more information please visit www.tribunemedia.com.
About Irwin Entertainment:
The Los Angeles based Irwin Entertainment, Inc. is a full service multi-platform television production company committed to producing and developing high quality projects in the comedy, reality and live entertainment arenas. Headed by veteran television producer John Irwin, the company has numerous projects on air, in production, and in development with a variety of cable, broadcast, and digital networks including VH1, HBO, E!, NBC, Comedy Central, Netflix, CMT, truTV, TBS, Oxygen, Spike, and A&E. Under the Irwin Entertainment banner, John Irwin served as the executive producer of VH1's mega hit series Celebrity Rehab with Dr. Drew (2008-2012), Couples Therapy with Dr. Jenn (2012- ), Family Therapy with Dr. Jenn, the new E! series Famously Single, major live/event specials for NBC including New Year's Eve with Carson Daly, Must See TV: A Tribute to James Burrows, Red Nose Day and Irwin also produced Blake Shelton's Not So Family Christmas for NBC which earned a 2014 WGA Award for Outstanding Writing in Comedy/Variety Special. Irwin also produces dozens of comedy projects including stand-up specials with Kevin Hart, John Mulaney, Nikki Glaser, Daniel Tosh, Trevor Noah, David Spade, Norm MacDonald, Hannibal Buress and Anthony Jeselnik, to name a few. Prior to forming Irwin Entertainment, Irwin spent four years as a producer for Late Night with Conan O'Brien, two years as a producer at Mad TV, and five years as Vice President, Development and Production for Lorne Michaels' Broadway Video.
About The CW:
THE CW TELEVISION NETWORK, a joint venture between Warner Bros. Entertainment and CBS Corporation, made its debut on September 20, 2006 as America's fifth broadcast network, and is the youngest skewing network, targeting a demographic highly sought after by advertisers. The CW offers a five-night, 10-hour primetime lineup that runs Monday through Friday. In daytime, The CW broadcasts a Monday through Friday afternoon block, and a five-hour Saturday morning kids block. For more information, visit www.cwtv.com
MEDIA CONTACTS:
Irwin Entertainment:
Pamela Golum
The Lippin Group
(323)965-1990 x325
The CW Network:
Paul Hewitt
(818) 977-6171
Alana Russo
(818) 977-5993
For Robert Irvine & 
Robert Irvine Productions:
Justin Leonard
(215) 828-1381
Tribune Media:
Jessica Bellucci
(212) 210-2626