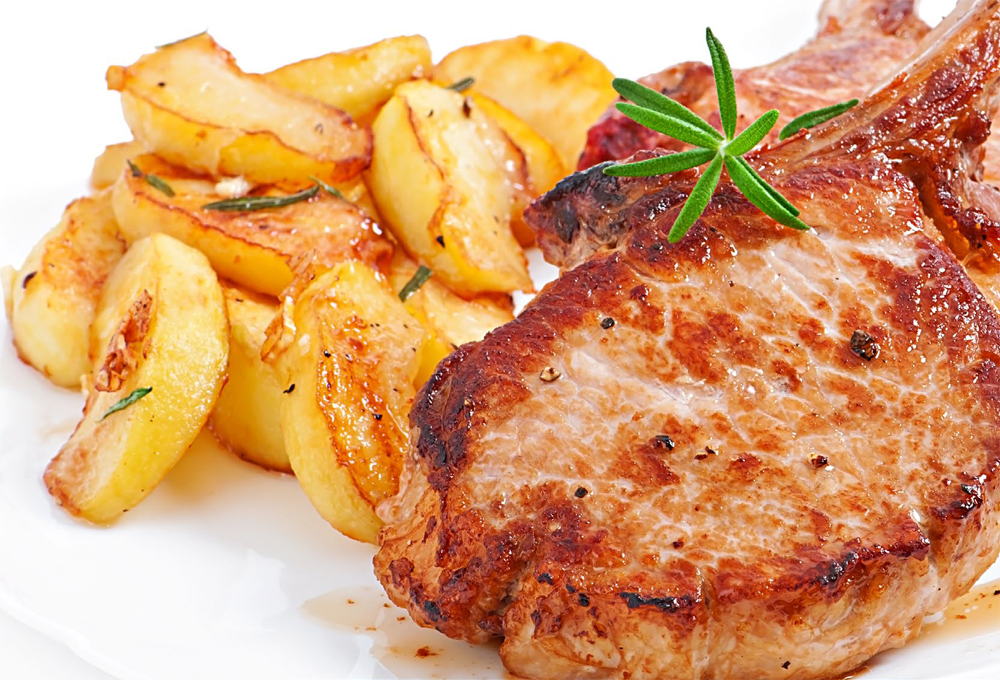 Brined Pork Chops with Apple Hash
Serves 6
YOU'LL NEED
8 cups water
Juice of 1 lemon
Juice of 1 lime
Juice of 1 orange
¼ cup fresh fennel sprigs
2 tbsp kosher or sea salt
6 eight- to ten-ounce bone-in pork chops
4 tbsp grapeseed oil
2 cups Yukon potatoes, thinly sliced
1 cup red onion, thinly sliced
1 tsp white pepper
2 cups Granny Smith apple, thinly sliced
1 tsp sriracha
MAKE IT
1) Mix 8 cups water, the fruit juices, fennel, and 2 tbsp kosher or sea salt in a large saucepan over medium heat. Simmer for 10 minutes. After heating, remove and allow to cool. Add the chops to the brine and refrigerate for 3 to 24 hours.
2) In a large sauté pan over high heat, add 2 tbsp oil, then add 3 chops to the pan. Reduce heat and cook 6-7 minutes per side, which should yield a golden-brown pork chop. Repeat the process for the remaining 3 chops. Hold warm until serving.
3) Return pan to medium-high heat, add 2 tbsp oil, allow it to warm, then add potatoes. Stir until potatoes brown on the edges. Add onions, salt, white pepper, and cook until onions soften. Reduce heat to medium, add apples, and cook for 4 minutes. Add hash to the plate, top with pork chops and sriracha.
THE MACROS
CALORIES: 511
PROTEIN: 48 g
FAT: 27 g
CARBS: 17 g
Get more great recipes like this in Robert Irvine Magazine