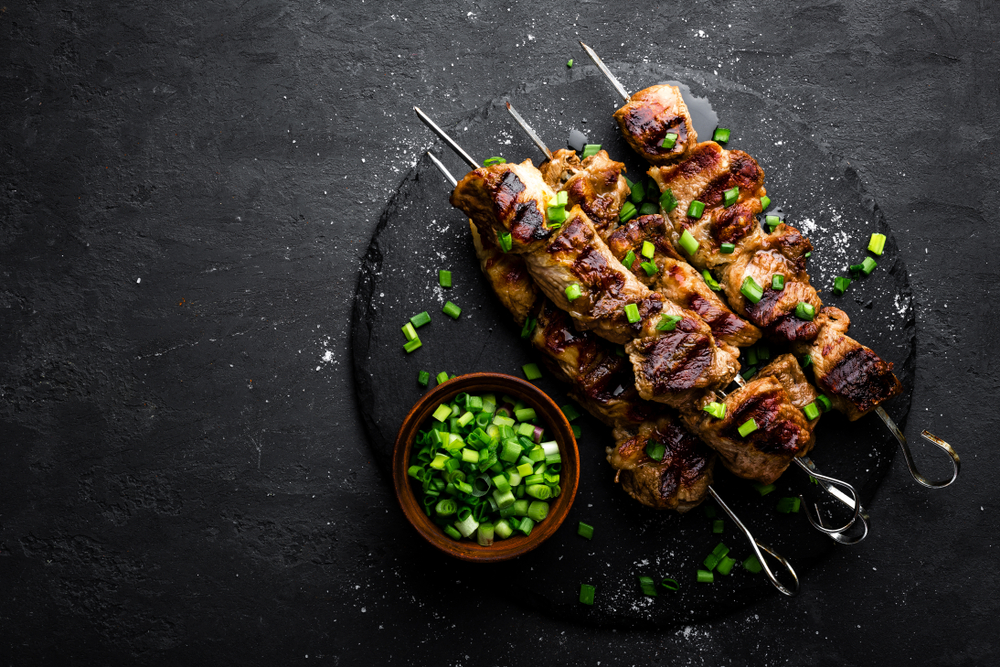 SERVES 4
YOU'LL NEED
2 lbs lamb loin, cut into bite-sized pieces
1 tbsp ground cumin
1 cup Greek yogurt
1 tbsp turmeric
1 clove garlic, minced
1 shallot, minced
1 tsp granulated sugar
1 cup chopped cilantro
1 cup chopped mint
1 tbsp lemon juice
MAKE IT
1) In a large mixing bowl, add cumin, yogurt, lemon juice, sugar, cilantro, mint, garlic, and shallots. Reserve 1 cup for later use.
2) Add the cut lamb to the yogurt mixture and allow to marinate for 12 to 24 hours.
3) Soak large wood skewers in water overnight.
4) Place lamb meat on the soaked skewers. Season with salt and pepper.
5) Grill lamb over medium-high heat, allowing to lightly char, about 6 minutes on each side.
6) Serve skewers with reserved yogurt sauce.
THE MACROS
CALORIES: 465
PROTEIN: 49 g
FAT: 28 g
CARBS: 4 g