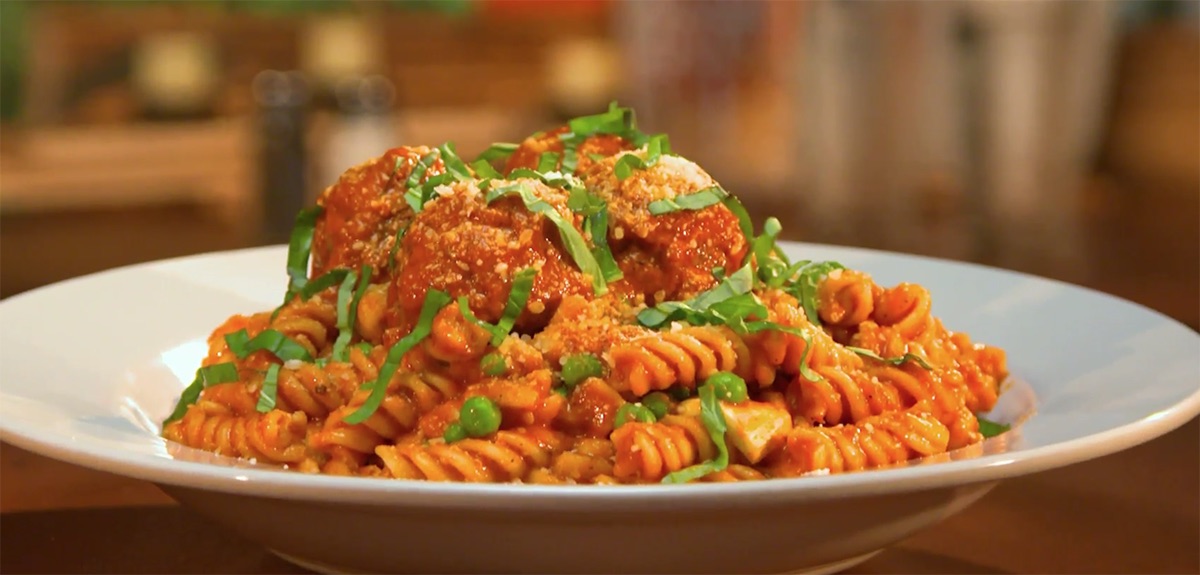 Fusilli Pasta and Meatballs – As Seen on Restaurant: Impossible
From the episode, "Best Friends Forever"
SERVES 4
FOR THE FUSILI & TOMATO SAUCE
1 lb fusilli pasta
2 tbsp grape seed oil
1 white onion, diced
4 cloves garlic, minced
3 tbsp tomato paste
½ cup white wine
8 oz canned plum tomatoes, pureed
3 tbsp butter
3 oz fresh mozzarella
4 oz English peas, blanched
4 tbsp Parmesan cheese, grated
1 bunch basil, chopped
FOR THE MEATBALLS
2 lbs ground beef (80-20)
1 lb ground pork
1 white onion, diced
4 cloves garlic, minced
4 eggs
1 cup breadcrumbs
1 bunch Italian Parsley
MAKE IT
TOMATO SAUCE
1) In a sauce pot over medium-low heat add onions and garlic and allow to sweat until translucent.
2) Add tomato paste allow to cook for 2 to 3 minutes. Deglaze with white wine.
3) Add tomatoes, and bring to a boil.
4) Drop sauce to a simmer and allow to cook for approximately 1 hour.
5) Season with salt and pepper.
MEATBALLS
1) Pre-heat oven to 375.
2) In a large mixing bowl add ground beef, ground pork, garlic, onions, and eggs.
3) Using your hands or a wooden spoon incorporate all ingredients together.
4) Incorporate breadcrumbs and parsley. Season with salt and pepper.
5) Form into 2oz meatballs and place on a baking sheet.
6) Place meat balls in oven and cook for about 10 minutes.
7) Place cooked meat balls into tomato sauce, and allow to simmer for about 30 minutes.
PASTA & PLATING
1) Cook pasta according to package.
2) Add cooked pasta to a saute pan with tomato sauce and bring to a light simmer.
3) Next add butter, mozzarella cheese, and English peas and stir together.
4) Finish with butter, salt, and pepper.
5) Place fusilli pasta in a serving bowl, top with meatballs and sauce and finish with Parmesan cheese, and chopped basil.