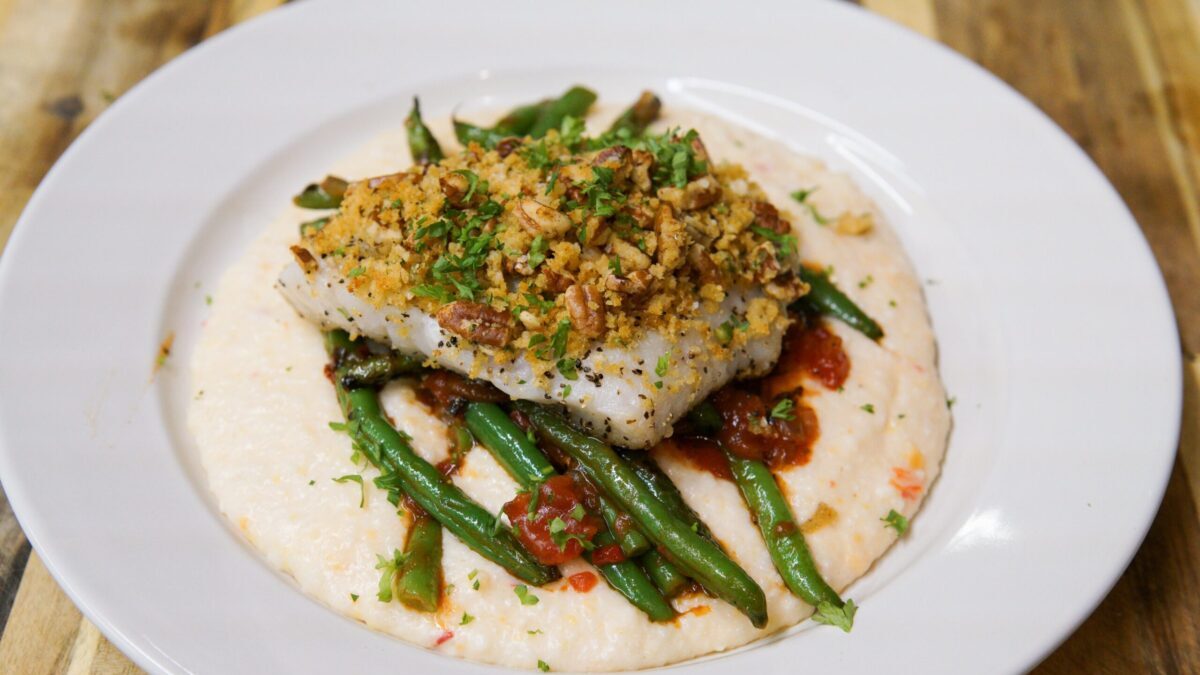 Pecan Crusted Grouper – As Seen on Restaurant: Impossible
From the episode, "The Final Shot"
SERVES 4
YOU'LL NEED
FOR THE GRITS
2 cups milk
1 cup water
1 cup grits
½ cup Palmetto cheese
1 stick butter
Salt and pepper, to taste
FOR THE PECAN CRUSTED GROUPER
4 portions grouper filet (6 oz each)
¼ cup toasted pecans, chopped
¼ cup Ritz crackers, crushed
Zest of 1 lemon
2 sticks butter, melted
FOR THE BLANCHED GREEN BEANS
3 tbsp grapeseed oil
4 cloves garlic, sliced
1 onion, diced
6 oz green beans
1 cup roasted chopped tomatoes
MAKE IT
GRITS
1) In a saucepan over high heat, add milk and water. Bring to a boil.
2) Using a whisk, incorporate grits.
3) Drop temperature to a low simmer and cook for about 12 minutes, stirring occasionally.
4) Add palmetto cheese and butter.
5) Season with salt and pepper and set aside.
PECAN-CRUSTED GROUPER and GREEN BEANS
1) Pre-heat oven to 375 degrees.
2) Season grouper with salt and pepper.
3) In a mixing bowl add Ritz crackers, pecans, lemon zest, and butter.
4) Top grouper with Ritz cracker-pecan crust. Place grouper in the oven. Cook for 4 minutes or until fish is flaky and white on the inside. Remove from oven and set aside.
5) In a sauté pan over medium high heat, add grapeseed oil and onions and allow to sweat. Add garlic and cook for an additional 2 minutes. Add green beans and cook for another 2 minutes.
6) Add crushed tomatoes and cook for an additional 3 minutes. Season with salt and pepper.
PLATING
1) Place grits in the middle of the plate.
2) Top grits with the tomato and green mixture.
3) Finish with fully cooked pecan-crusted grouper.