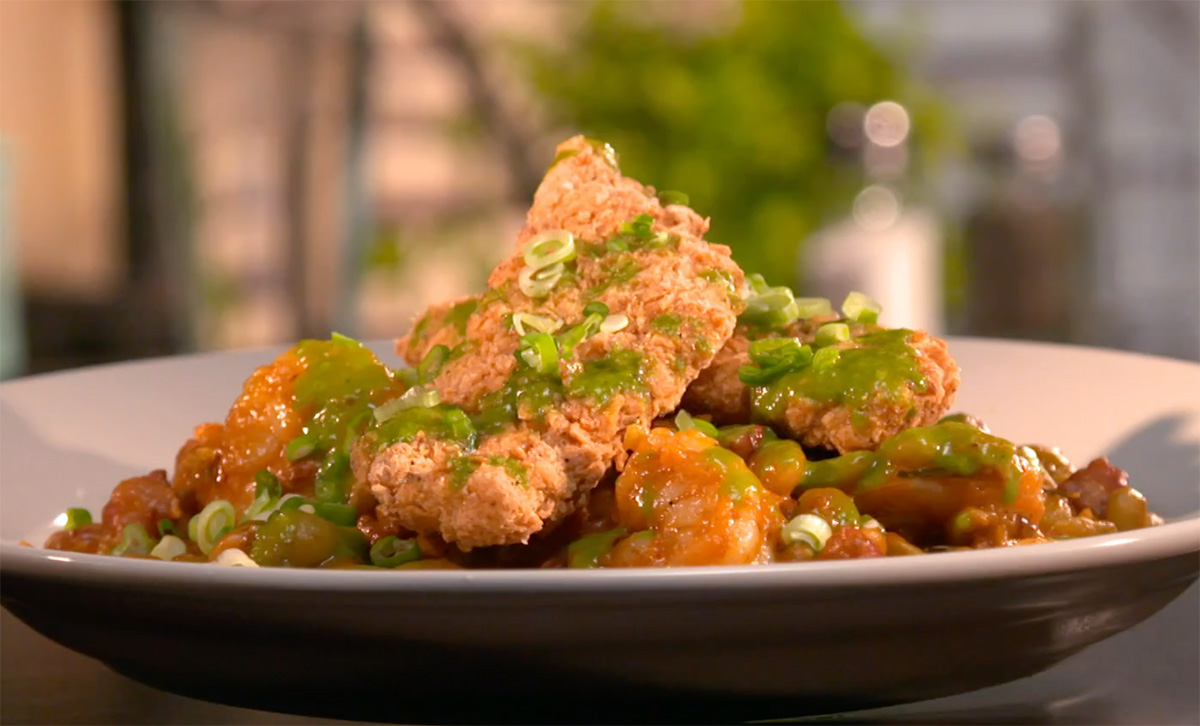 Fried Local Fish with Salsa Verde – As Seen on Restaurant: Impossible
From the episode, "Friends in Need"
SERVES 4
YOU'LL NEED
FOR THE MAIN DISH
1 lb local fish, fileted and skinned
2 cups buttermilk
6 oz bacon, diced
1 onion, diced
2 red bell peppers, diced
4 celery ribs, diced
2 garlic cloves, sliced thin
1 lb 16/20 ct. peeled and deveined raw shrimp
3 tbsp + 1 tbsp Creole spice
1 tsp garlic powder
4 tbsp paprika
4 fresh thyme sprigs
½ cup white wine
½ cup chicken stock
2 cups butter beans, canned
Salt and pepper, to taste
FOR THE SALSA VERDE
½ cup scallions, rough chopped
¼ cup fresh chives, rough chopped
¼ cup fresh parsley
2 garlic cloves
1 ½ cups grapeseed oil
Juice of 1 lemon
Salt and pepper, to taste
FOR THE FISH COATING
2 cups corn meal
1 cup crushed-up potato chips
1 cup corn starch
1 tbsp Creole spice
MAKE IT
1) BEFORE YOU BEGIN: Place the fish filets in a mixing bowl with the buttermilk and allow to marinate at least 2 hours prior to cooking.
2) In a sauté pan over medium heat, render the bacon for 2 to 3 minutes until light brown in color, and add the onion, red bell peppers, celery, garlic and allow the vegetables to sweat for 1 to 2 minutes.
3) Add the shrimp and stir.
4) Add 3 tbsp Creole spice, garlic powder, paprika, and fresh thyme sprigs and stir well.
5) Deglaze with the white wine and add the chicken stock and bring to a simmer.
6) Lastly, add the beans, stir and continue to cook for 3 to 4 minutes and season to taste with salt and pepper.
7) Preheat fryer to 375 degrees.
8) MAKE THE SALSA VERDE: In a blender, add the scallions, chives, parsley, garlic, grapeseed oil, and puree until it is smooth season with lemon juice, salt and pepper. Set aside.
9) In a large mixing bowl, add the fish coating ingredients: corn meal, potato chips, corn starch, and 1 tbsp Creole spice and mix well.
10) Dredge the marinated fish filets in the corn meal batter and place the battered fish into fryer. Allow the battered fish to cook for about 6 minutes or until fish floats to the top and is cooked through.
11) Serve the fried fish with the butter beans & shrimp and the salsa verde.