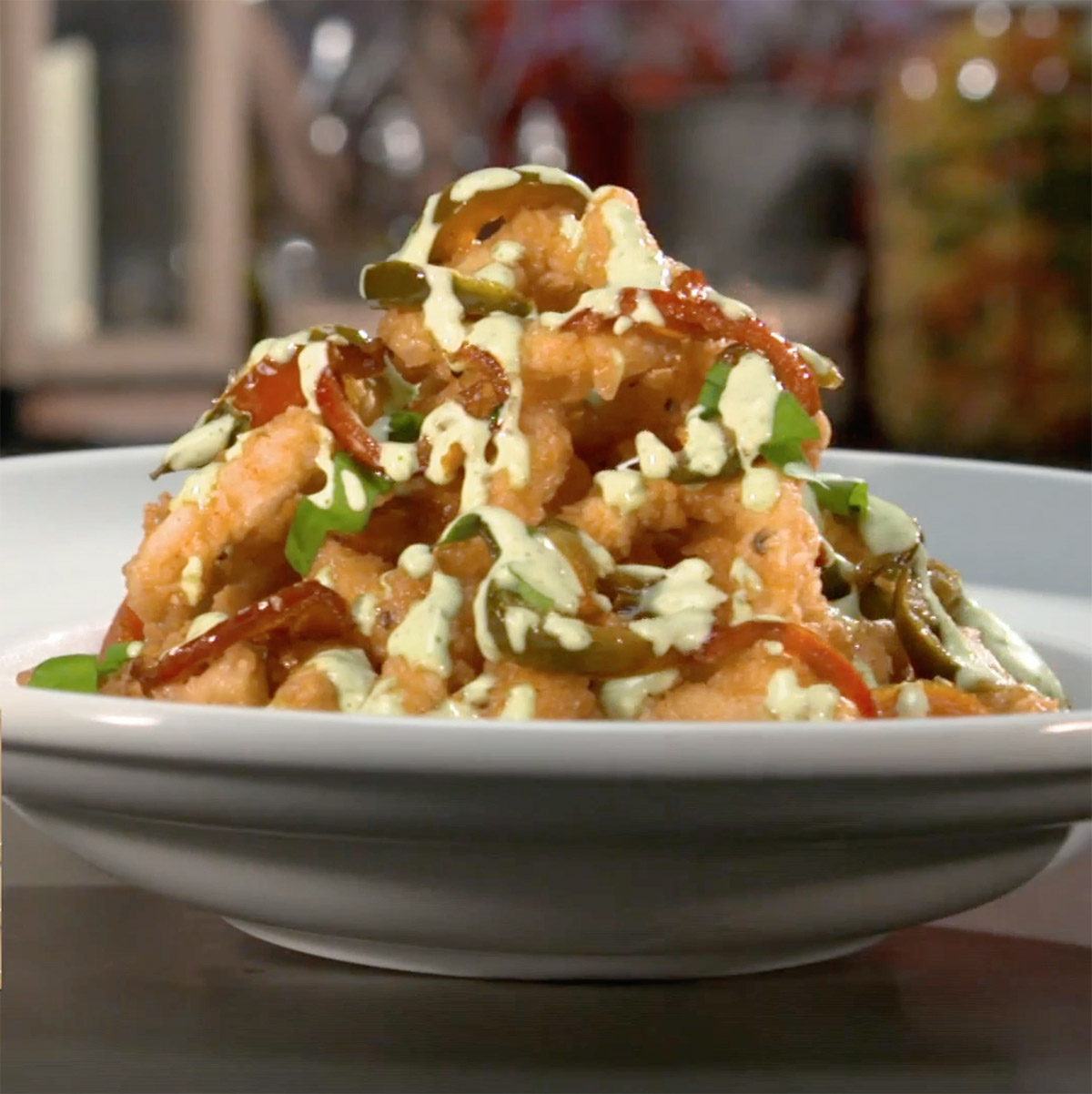 Fried Calamari with Banana Peppers – As Seen on Restaurant: Impossible
From the episode, "Nancy Foots the Bill"
SERVES 4
YOU'LL NEED
FOR THE BUTTERMILK MARINADE
2 cups buttermilk
2 tbsp hot sauce
3 tbsp Cajun spice
½ tsp kosher salt
½ tsp black pepper
2 lbs calamari, cut into tubes
1 cup banana peppers, sliced into rings
FOR THE FRY FLOUR
3 cups all-purpose flour
2 tbsp onion powder
1 tbsp garlic powder
2 tbsp Cajun spice
½ tsp kosher salt
½ tsp black pepper
Oil, enough for deep frying
FOR THE HERB MAYO
2 cups mayonnaise
1 bunch flat leaf parsley, rough chopped
½ bunch chives, rough chopped
½ bunch cilantro, rough chopped
2 cloves garlic, rough chopped
Juice and zest of 1 lemon
MAKE IT
BUTTERMILK MARINADE
1) In a medium mixing bowl add buttermilk, hot sauce, Cajun spice, salt, pepper, calamari, and banana peppers. Allow the calamari and banana peppers to marinate for at least 3 hours prior to cooking.
SEASONED FLOUR FRY MIX
1) In a mixing bowl add the all-purpose flour, onion powder, garlic powder, Cajun spice, salt, and pepper. Incorporate with a whisk.
HERB MAYO
1) In a blender or food processor, place mayonnaise, parsley, chives, and cilantro, garlic, lemon zest, and lemon juice. Puree mixture together until smooth.
MAIN DISH & PLATING
1) Pre-heat fryer with oil to 350 degrees.
2) Remove marinated calamari and banana peppers form buttermilk and place in the seasoned fry flour mixture.
3) Coat calamari and peppers in seasoned fry flour, shake off any excess flour and place into the pre-heated 350-degree fryer. Calamari should cook for about 2 to 3 minutes or until it is golden brown in color.
4) Remove calamari from fryer and toss in a mixing bowl with salt and pepper to taste.
5) Place calamari in a serving bowl and drizzle with the herb mayonnaise as needed.