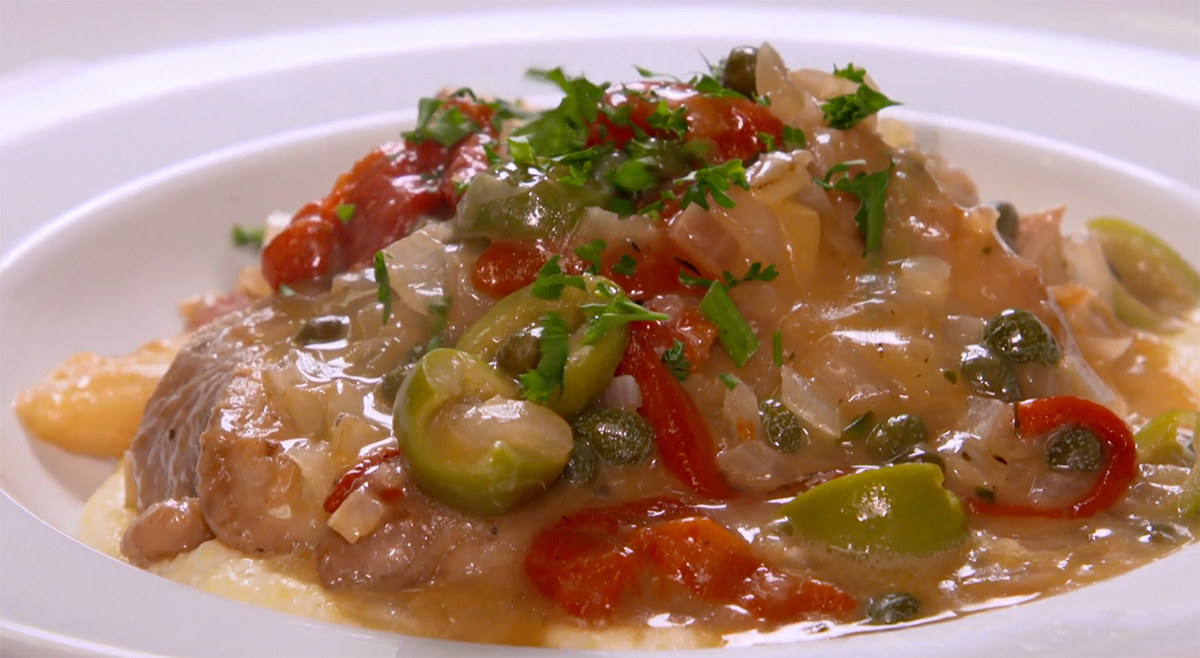 Braised Chicken with Artichokes, Roast Peppers and Creamy Polenta – As Seen on Restaurant: Impossible
From the episode, "Nancy Foots the Bill"
SERVES 4
YOU'LL NEED
FOR THE BRAISED CHICKEN
8 boneless chicken thighs
Kosher salt and pepper, to taste
2 tbsp grapeseed oil
1 onion, large diced
3 carrots, large diced
5 ribs celery, large diced
2 cloves garlic, sliced
1 cup white wine
3 cups chicken stock
FOR THE CREAMY POLENTA
2 cups milk
2 cups chicken stock
1 cup instant polenta
3 tbsp cream cheese
2 tbsp grated Parmesan cheese
Kosher salt and pepper, to taste
FOR FINISHING & PLATING
2 tbsp grapeseed oil
1 onion, diced
1 cup canned quartered artichoke hearts
¼ cup Castelvetrano olives, cut in half
1 cup roasted red peppers, diced 2 tbsp butter
3 tbsp capers
Juice of ½ lemon
1 tbsp chopped parsley
MAKE IT
BRAISED CHICKEN
1) Preheat oven at 300 degrees F.
2) Season chicken thighs with salt and pepper.
3) In a large oven-safe sauce pot over medium-high, add grapeseed oil and chicken thighs. Sear the chicken on both sides until golden brown in color. Remove the chicken from the pan and set aside.
4) Add the onions, carrots, celery, and garlic to the same pot, stir and allow to cook for about 5 minutes. The vegetables should be light brown in color.
5) Deglaze the sauteed vegetables with the white wine and chicken stock. Add the chicken back to the pot and bring to a simmer. Remove the pot from heat, cover with foil wrap and place in the 300-degree oven. Allow to cook for 1 hour or until chicken is tender.
6) Remove the braised chicken from the braising liquid and set the chicken aside. Reserve the braising liquid.
CREAMY POLENTA
1) In a medium sauce pot over medium-high heat, add milk and chicken stock and bring to a simmer.
2) Turn heat down to medium-low and using a whisk, slowly stir in the instant polenta and cook for 10 minutes until polenta is cooked through. Next, fold in cream cheese and Parmesan. Stir and season with salt and pepper.
FINISH & PLATING
1) In a large sauté pan over medium-high heat, add the grapeseed oil and lightly sear the braised chicken on both sides for 30 seconds and remove from the pan.
2) Add onion, artichokes, olives and red peppers to the pan. Allow the vegetables to cook for 3 minutes, stirring occasionally.
3) Add the seared-braised chicken back to the pan with the vegetables and add 1 cup of chicken braising liquid to the pan. Bring to a simmer and finish by adding the butter, capers, and lemon juice.
4) In a large pasta bowl or plate, place a portion of the creamy polenta in the center of the plate, then top the polenta with 2 pieces of braised chicken thighs and top with chicken with artichoke/olive/roasted pepper sauce.
5) Garnish with chopped parsley.
6) Repeat for the other portions.