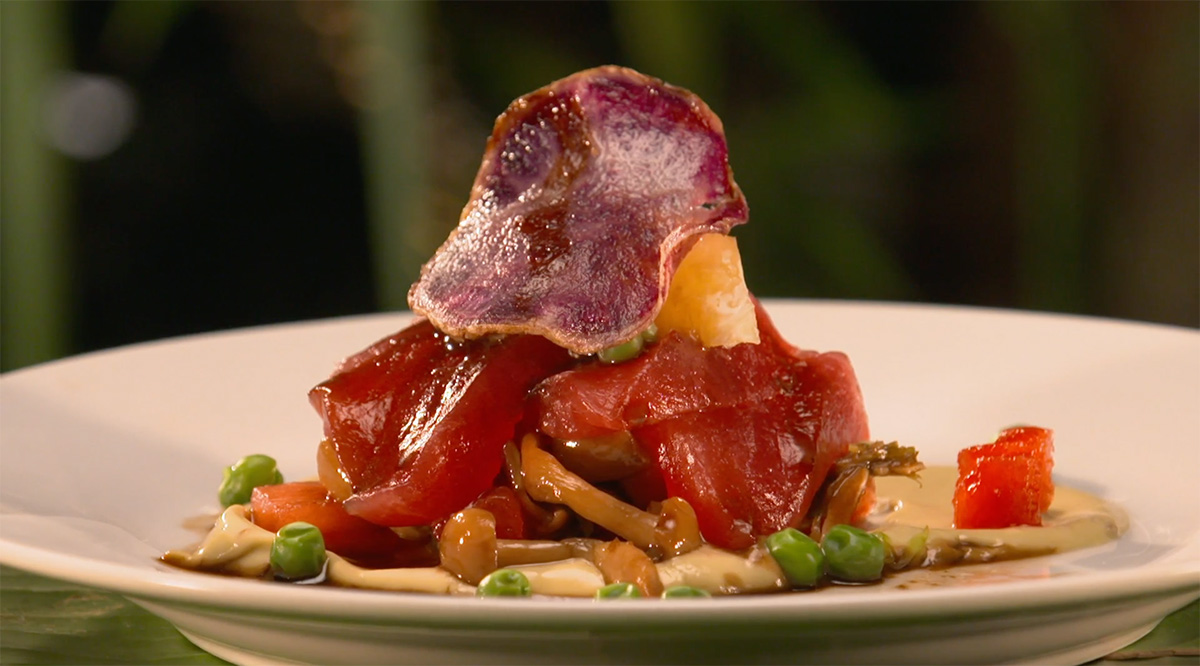 Ahi Tuna Sashimi with Brussels Sprout Salad – As Seen on Dinner: Impossible
From the episode, "Tropic Lightning"
SERVES 4
YOU'LL NEED
FOR THE AVOCADO PUREE
3 avocados
1/3 cup mayonnaise
2 garlic cloves, minced
1 tbsp chopped cilantro
Juice of 1 lemon
Kosher salt and pepper, to taste
FOR THE BRUSSELS SPROUTS SALAD
2 tbsp miso paste
1 tbsp ponzu sauce
3 tbsp soy sauce
1 each garlic cloves, minced
1 tbsp ginger, diced
4 tbsp. grapeseed oil
1 ½ cup Brussels sprouts, shaved very thin
2 tbsp chopped scallions
1 cup watermelon, diced
1 cup cinnamon cap mushrooms, sauted and finished with 2 tbsp soy sauce
¼ cup green peas
Kosher salt and pepper, to taste
FOR THE MAIN DISH/PLATING
1 lb sushi grade skin-off raw tuna loin, thinly sliced
8 orange segments
1 purple sweet potato, thinly sliced and fried crispy.
MAKE IT
AVOCADO PUREE
1) In a blender add the avocado, mayonnaise, garlic, cilantro, and lemon juice.
2) Puree until smooth and season with salt and pepper.
BRUSSELS SPROUTS SALAD
1) In a mixing bowl, add miso paste, ponzu sauce, soy sauce, garlic, and ginger.
2) Slowly whisk in the grapeseed oil and set aside.
3) In a mixing bowl add Brussels sprouts, scallions, watermelon, sauteed cinnamon mushrooms and green peas.
4) Dress Brussels sprout salad mixture with the miso-ponzu dressing and season with salt and pepper.
MAIN DISH/PLATING
1) Place avocado puree on the plate, and top with Brussels sprouts salad.
2) Top the salad with the thin sliced raw tuna, orange segments, and crispy fried sweet potato chips.