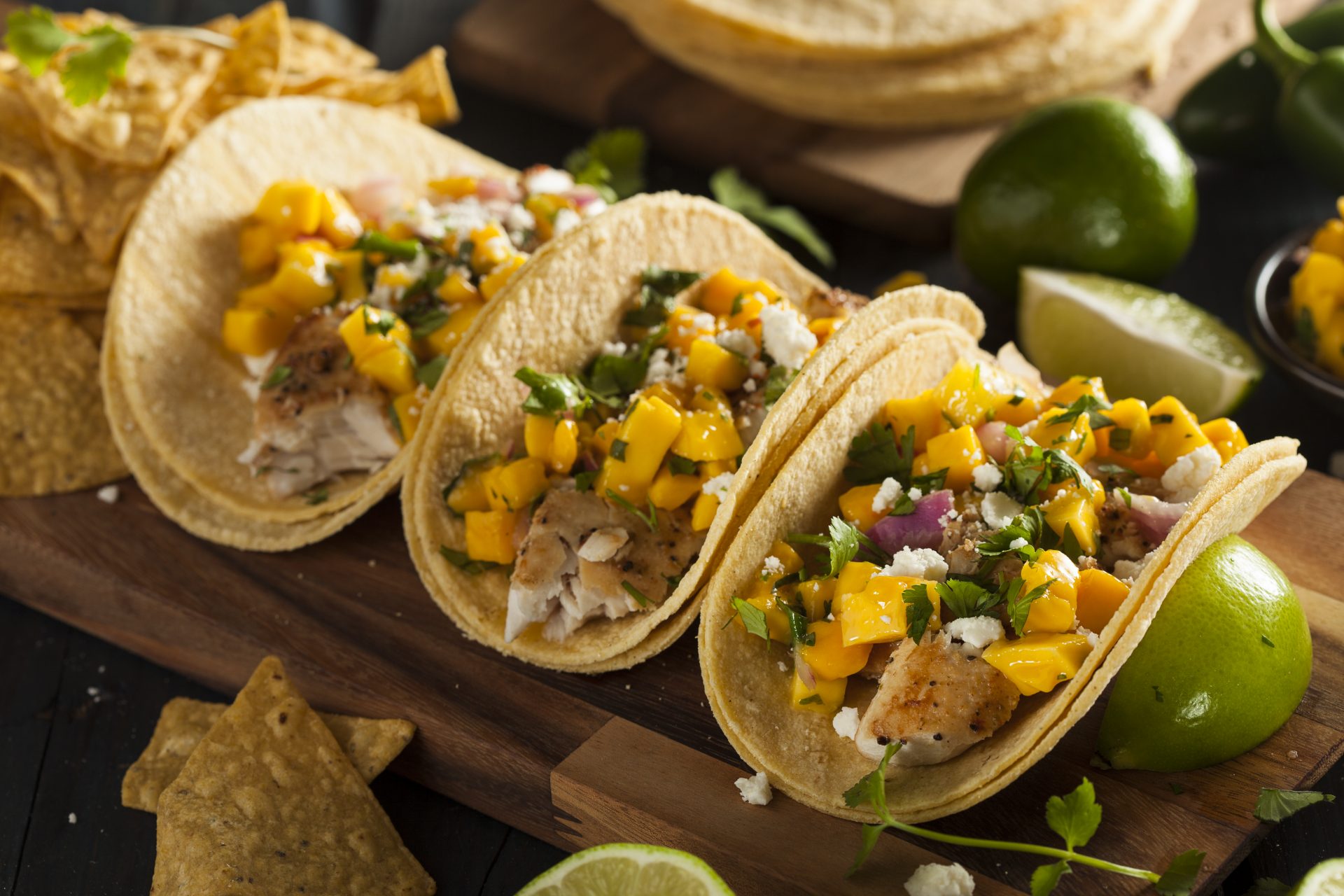 Fish Tacos with Corn Salsa
SERVES 6
YOU'LL NEED
FOR THE CORN SALSA
1 cup small diced red tomatoes
1/2 cup roasted corn kernels
1/4 cup thinly sliced green onion
1/4 cup small diced yellow onion
1/4 cup cilantro leaves, minced
1/4 cup red wine vinegar
3 oz vegetable juice, such as V8
2 jalapenos, seeded, small diced
Salt and pepper
FOR THE TACOS
1 lb halibut or firm white fish, cut into 3 by 1/2-inch pieces
18 six-inch corn or flour tortillas
2 cups romaine lettuce, thinly shredded, 1/4-inch thick
1 lemon
MAKE IT
1) Make the corn salsa: In a bowl, blend the tomatoes, corn, green onions, yellow onions, cilantro, vinegar, juice, jalapenos and salt and pepper to taste, mixing well. Refrigerate for 30-60 minutes.
2) Make the tacos: Preheat a grill to 350 degrees F. Sprinkle the fish with salt and pepper and grill for 3 to 4 minutes. Flip the fish over and grill for 3 to 4 minutes. Remove the fish from the grill and keep warm.
3) Grill the tortillas on each side for 1 minute. Be careful not to scorch the tortillas. Divide the lettuce evenly on each tortilla. Top each tortilla with the fish, squeeze of lemon juice and 1 to 2 tablespoons of the corn salsa and serve.
THE MACROS
CALORIES: 353
PROTEIN: 39 G
FAT: 5 G
CARBS: 39 G