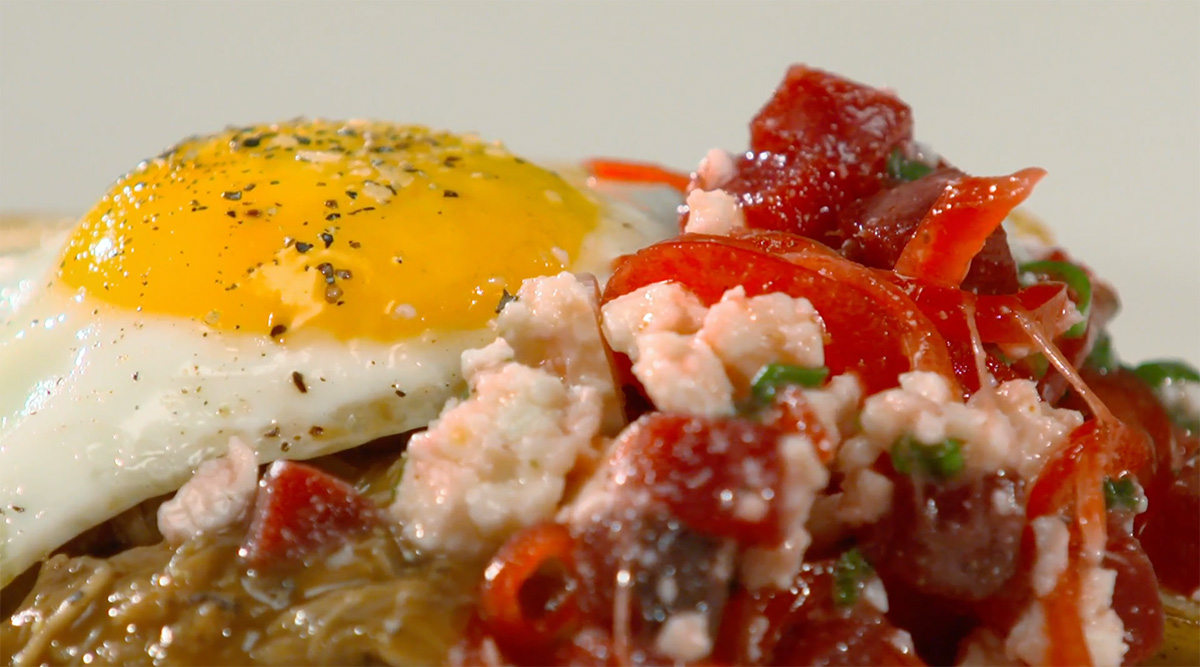 Duck Confit Hash – As Seen on Restaurant: Impossible
From the episode, "Sub Shop SOS"
SERVES 4
FOR THE DUCK CONFIT
4 raw duck legs
3 tbsp kosher salt
1 tsp juniper berries, ground
48 oz rendered duck fat (store bought)
8 sprigs fresh thyme
1 lemon, sliced
4 bay leaf
4 garlic cloves
Kosher salt and ground black pepper, to taste
FOR THE HASH
2 tbsp grapeseed oil
1 cup green bell peppers, diced
1 white onion, diced
2 lbs fingerling potatoes, roasted and sliced
1 cup beef stock
FOR THE MUSTARD VINAIGRETTE
2 tbsp whole grain mustard
3 tbsp red wine vinegar
6 tbsp grapeseed oil
Kosher salt and ground black pepper, to taste
FOR THE PICKLED RED ONIONS
1 red onion, peeled and sliced
2 cups white distilled vinegar
½ cup sugar
3 tbsp grenadine
FOR PLATING
2 cups beets, pre-cooked & diced (store bought)
¼ cup blue cheese crumbles
3 tbsp chives, sliced thin
MAKE IT
DUCK CONFIT
1) Pre-heat oven to 200 degrees F.
2) In a mixing bowl, combine the salt and ground juniper berries.
3) Place the raw duck legs on a sheet pan and season liberally with the salt juniper berry mixture.
4) Cover and place in cooler overnight.
5) Remove duck from refrigerator and place in a medium sauce pot.
6) Cover with the rendered duck fat and place in a 200-degree F oven and cook for 3 hours or until duck is tender.
7) Remove duck legs from oven and allow to cool down in the duck fat. Once duck legs are cooled, pull the meat from the bones and discard the bones.
HASH
1) In a large sauté pan over medium-high heat, add the grapeseed oil, onions, and peppers.
2) Stir and cook the peppers and onions for 3 minutes.
3) Add the cooked potatoes and allow to cook for another 3 to 4 minutes until the potatoes are brown in color and crispy.
4) In a separate pan, add the pulled duck leg confit meat and the beef stock.
5) In separate sauté pan over medium heat, add 1 tbsp of grapeseed oil and cook the egg sunny side up.
MUSTARD VINAIGRETTE
1) In large mixing bowl, add the whole grain mustard and the red wine vinegar.
2) Using a whisk, slowly incorporate the grapeseed oil.
3) Season with salt and pepper to taste.
PICKLED RED ONIONS
1) In large sauce pot, add the vinegar, sugar, and grenadine.
2) Bring the mixture to a boil and pour hot liquid over sliced onions.
3) Cover the pickled onions and place in the refrigerator.
PLATING
1) Place the duck hash in a mixing bowl with the beets, pickled red onions, blue cheese, and chives.
2) Dress with the mustard vinaigrette.
3) Place the duck confit hash on a plate.
4) Place sunny side up egg on top of the duck confit hash and finish the dish with the dressed pickled red onion salad.