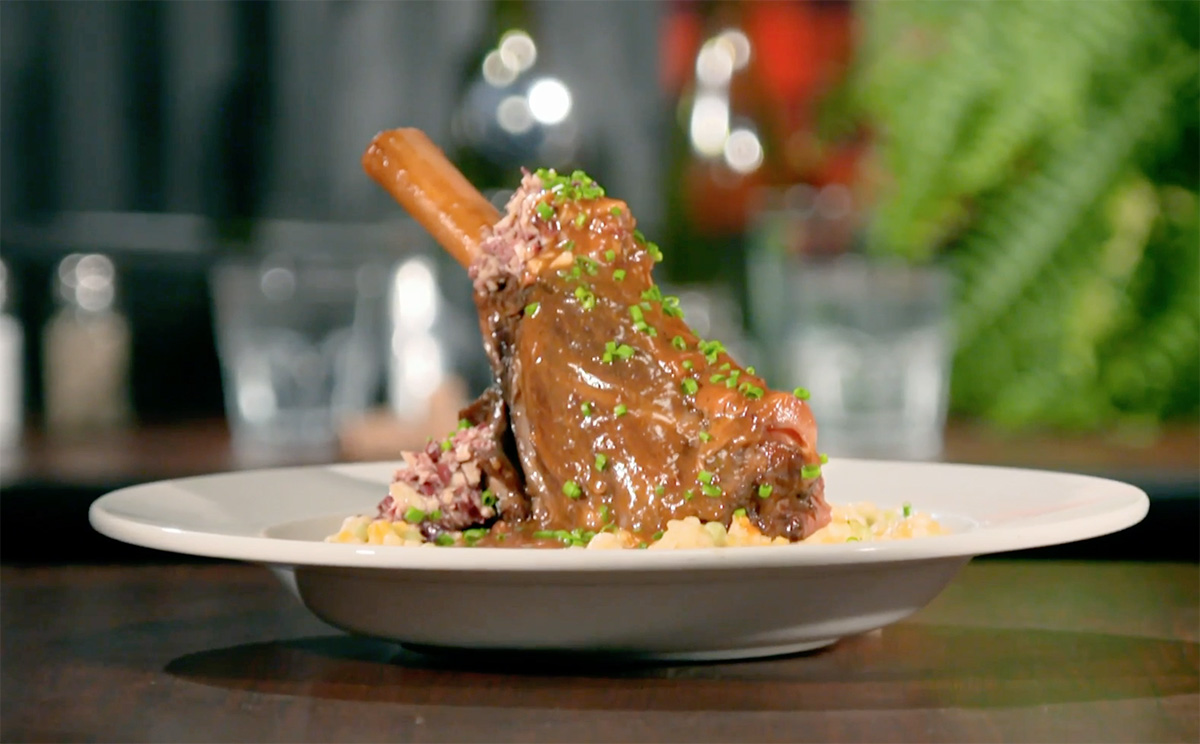 Braised Lamb Shanks with Herbed Couscous – As Seen on Restaurant: Impossible
From the episode, "Restoring a Reputation"
SERVES 4
YOU'LL NEED
FOR THE LAMB SHANK
4 raw lamb shanks
Kosher salt and ground black pepper, as needed
2 tbsp grapeseed oil
3 carrots, diced
4 ribs celery, diced
2 onions, diced
3 cloves garlic, thin sliced
3 tbsp tomato paste
1 cup red wine
4 cups beef demi-glace
2 cups chicken stock
1 bunch fresh thyme, rough chopped
1 bunch fresh rosemary, rough chopped
FOR THE COUSCOUS
2 cups chicken broth
2 cups instant couscous
1 tbsp butter
1 bunch cilantro, chopped fine
1 bunch mint, chopped fine
Kosher salt and ground black pepper, to taste
FOR GARNISH
½ bunch fresh parsley, rough chopped
¼ red onion, julienned very thin
MAKE IT
LAMB SHANKS
1) Pre-heat oven to 250 degrees F.
2) Season lamb shanks with salt and pepper and allow the seasoned lamb shanks to sit at room temperature for 15 minutes prior to searing.
3) In a large roasting pan over medium-high heat, add the grapeseed oil and sear the seasoned lamb shanks on all sides. They should be golden brown in color. Remove the seared lamb shanks from the pan and set aside.
4) Add carrots, celery, onions, and garlic to the roasting pan and stir well. Allow the vegetables to cook over medium heat until vegetables have light brown color.
5) Add the tomato paste, stir, and allow to cook for another 2 to 3 minutes.
6) Add the red wine and continue to cook over medium heat.
7) Add the beef demi-glace, chicken stock, thyme, and rosemary. Stir the braising liquid together and add the seared lamb shanks into the braising liquid to bring to a simmer.
8) Cover the roasting pan with foil wrap and place in the 250 degree F oven. Allow to slow cook for about 3 hours or until fork tender.
9) Remove the braised lamb shanks from the oven, uncover and allow to cool down in the braising liquid.
10) Once cooled, remove the cooked shanks from braising liquid and set aside.
11) Using a hand blender puree the braising liquid mixture until smooth. Place the cooked shanks back into the pureed braising liquid sauce and gently re-heat the shanks until hot and set aside till serving.
COUSCOUS
1) In a sauce pot bring over high heat, add the chicken stock and butter and bring to a boil.
2) Stir couscous into the boiling chicken stock mixture quickly, turn the heat down to low, cover with foil wrap and cook for about 8 to 10 minutes or until couscous has completely absorbed the broth.
3) Uncover and fold in the fresh herbs and season with kosher salt and ground black pepper, to taste.
PLATING
1) Place the herbed couscous on the bottom of 4 entrée or pasta bowls.
2) Place the braised lamb shanks on top of couscous.
3) Ladle the braising sauce over top of the lamb shanks.
4) Garnish the top of the lamb shanks with the thin shaved red onions and chopped parsley.