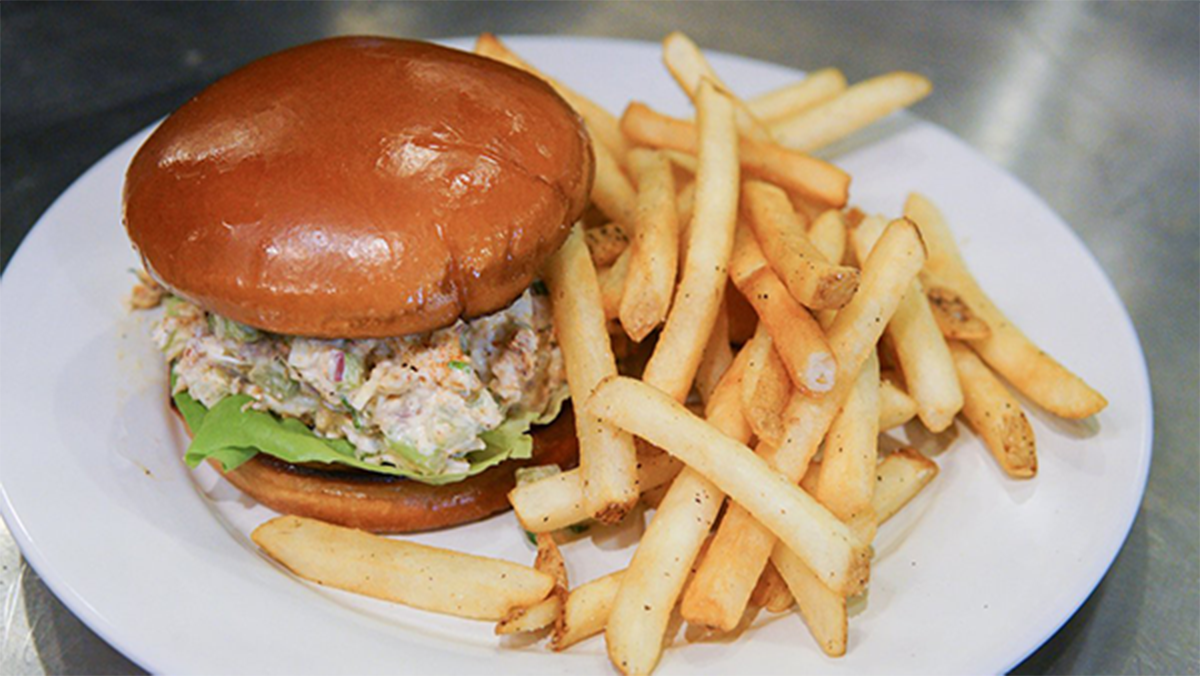 Deviled Crab Salad Sandwich – As Seen on Restaurant: Impossible
From the episode, "No Help Wanted"
Serves 4
YOU'LL NEED
FOR THE DEVILED CRAB SALAD
6 oz jumbo lump crab meat
4 oz backfin crab meat
3 ribs celery, small diced
¼ cup red onion, small diced
¼ cup beef steak tomato, seeded and diced
½ cup Ritz crackers, crushed
¼ cup heavy cream
½ cup mayonnaise
2 tbsp Dijon mustard
1 tbsp Old Bay seasoning
Salt and pepper, to taste
FOR THE SANDWICH
4 brioche buns
1 tbsp grapeseed oil
2 tbsp butter
1 head Boston Bibb lettuce
1 lb French fries
1 tbsp Old Bay seasoning
MAKE IT
DEVILED CRAB SALAD
1) In a mixing bowl gently mix all ingredients together, cover and refrigerate.
FINISH & PLATE
1) Pre-heat fryer at 350 degrees (or use air fryer).
2) In a sauté pan over medium heat add grapeseed oil and butter.
3) Place brioche buns in the pan and allow to toast for approximately 1 minute or until buns are golden brown.
4) Place lettuce on the toasted bottom bun and top with deviled crab mixture
5) In a 350-degree fryer (or air fryer) add French fries and cook for about 4 minutes or until fries are golden brown.
6) Place French fries in a mixing bowl and season with salt, pepper, and Old Bay seasoning.
7) Serve French fries with the Deviled Crab Salad Sandwich.