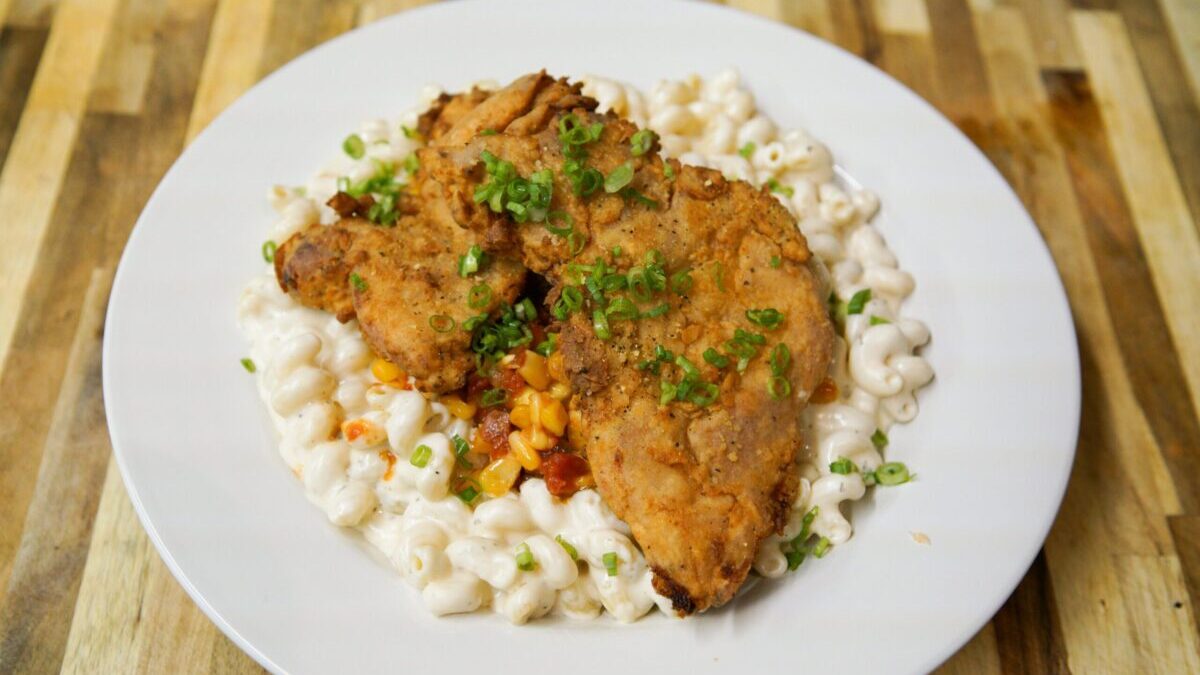 Lemon Pepper Chicken with Ranch Mac & Cheese – As Seen on Restaurant: Impossible
From the episode, "The Final Shot"
Serves 4
YOU'LL NEED
FOR THE RANCH MAC & CHEESE
2 cups dried Cavatappi pasta
1 pt heavy cream
1 pt whole milk
8 oz shredded cheddar cheese
8 oz sliced white American cheese
3 tbsp ranch powder
FOR THE CORN SALSA
2 tbsp grapeseed oil
1 medium white onion, chopped
3 cloves garlic, sliced
2 cups canned corn
2 cups tomatoes, small diced
1 cup salsa roja
FOR THE LEMON PEPPER CHICKEN THIGHS
8 boneless skinless chicken thighs
2 cups buttermilk
4 tbsp lemon pepper spice
2 cups all-purpose flour
1 bunch scallions, sliced
MAKE IT
RANCH MAC & CHEESE
1) Blanch Cavatappi pasta, boiling it briefly.
2) In a large sauce pot add heavy cream and milk. Bring to a boil.
3) Using a whisk, slowly incorporate shredded cheddar cheese and white American cheese. Once incorporated, add ranch powder.
4) Add blanched pasta and season with salt and pepper.
CORN SALSA
1) In a sauce pot over medium heat, add grapeseed oil and onions. Allow to sweat.
2) Add corn, tomatoes, and salsa roja. Combine well and set aside.
LEMON PEPPER CHICKEN
1) Preheat deep fryer 325 degrees.
2) In a mixing bowl add buttermilk and half the lemon pepper spice.
3) Place chicken thigh in buttermilk mixture and allow to marinate for a few minutes.
4) In a separate mixing bowl add the all-purpose flour and the rest of the lemon pepper. Combine well.
5) Place chicken thigh in lemon pepper-flour mixture.
6) Repeat for all chicken thighs.
7) Place breaded chicken in deep fryer for about 4 minutes (air fryer is also acceptable) or until chicken thigh reaches an internal temperature of 165 degrees.
PLATING
1) Add pasta to a bowl. Top with corn salsa.
2) Top corn salsa with the crispy fried chicken.