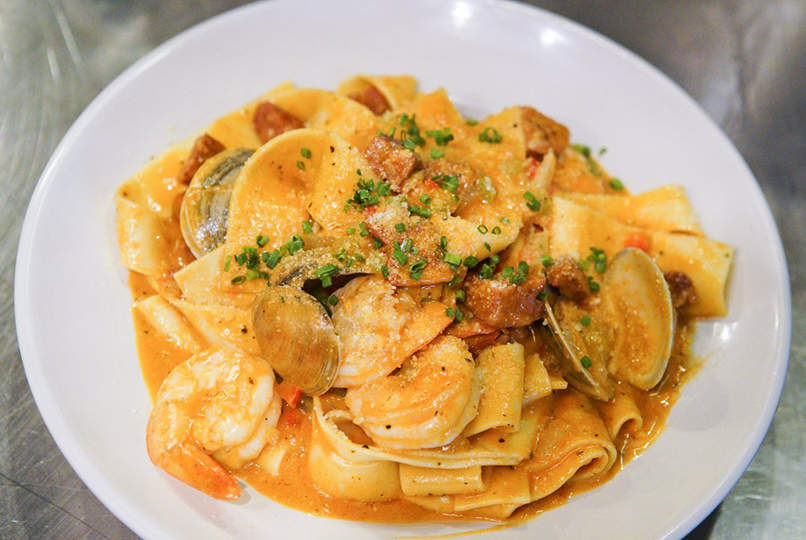 Creole BBQ Shrimp & Clam Bake Pasta – As Seen on Restaurant: Impossible
From the episode, "No Help Wanted"
Serves 4
YOU'LL NEED
FOR THE CREOLE SAUCE
4 tbsp butter
¼ cup all-purpose flour
2 tbsp tomato paste
½ cup white wine
2 cups chicken stock
½ cup heavy cream
1 tbsp Worcestershire sauce
Juice of 1 lemon
2 tbsp Cajun spice
FOR THE PASTA
3 tbsp grapeseed oil
16 each fresh middle neck clams
12 each 16-20 shrimp, peeled and deveined
2 cups andouille sausage, diced
1 small white onion diced
4 ribs celery, diced
1 red pepper, diced
3 cloves garlic, thin sliced
½ cup white wine
2 lbs fresh Pappardelle
3 tbsp fresh Parmesan cheese, shredded
3 tbsp panko breadcrumbs
1 bunch chives, sliced
MAKE IT
CREOLE SAUCE
1) In a sauce pot over medium low heat, whisk together butter and flour, creating a roux.
2) Continually whisk the roux for 2 to 3 minutes, making sure to cook all the flour out of the roux and being careful not to burn it.
3) Add the tomato paste. Cook for an additional 30 seconds.
4) Deglaze with white wine and cook for an additional minute.
5) Add chicken stock and heavy cream and season with Worcestershire sauce, lemon juice, and Cajun seasoning. Allow the sauce to come to a simmer while stirring.
6) Continue to simmer the sauce for 3 to 4 minutes, then set aside.
PASTA & PLATING
1) Place a pot filled with seasoned water on the stove top and bring to a boil.
2) In a sauté pan over medium-high heat, add grapeseed oil, clams, and shrimp. Cook for about 3 minutes.
3) Add onion, celery, red pepper, and garlic. Cook for 2 to 3 minutes.
4) Deglaze the pan with the white wine and let it reduce for 30 seconds. Add the Creole sauce and bring the seafood mixture to a simmer.
5) Add pasta to boiling water and cook for about 2 minutes.
6) Add pasta to seafood creole sauce mixture. Using tongs toss pasta in the sauce.
7) Add pasta to a large bowl and top with Parmesan cheese, breadcrumbs, and chives.