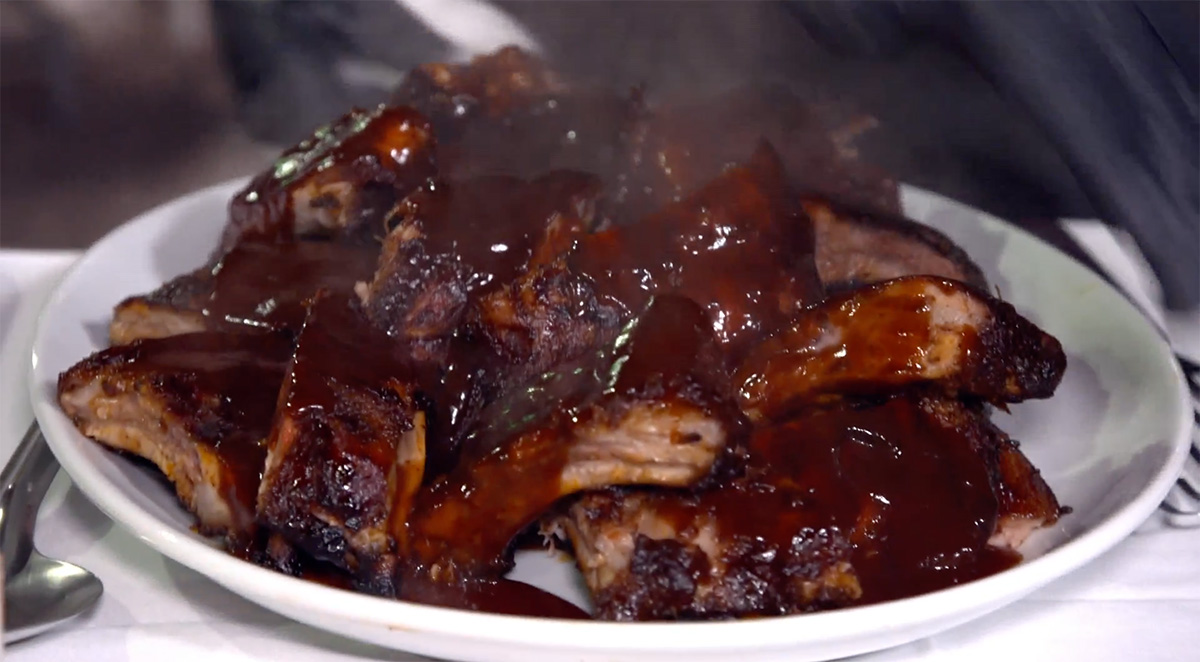 BBQ Baby Back Ribs – As Seen on Dinner: Impossible
From the episode, "3 Weddings and a Robert"
YOU'LL NEED
FOR THE RIBS
2 racks of baby back pork ribs
2 tbsp garlic powder
1 tbsp onion powder
2 tbsp paprika
2 tbsp brown sugar
2 tbsp kosher salt
1 tbsp cracked black pepper
½ tsp cumin
1 tsp cayenne powder
½ lb unsalted butter
FOR THE SAUCE
2 cups barbecue sauce
3 tbsp minced garlic
2 tbsp olive oil
1 tbsp Worcestershire sauce
1 tbsp balsamic vinegar
MAKE IT
1) Preheat oven to 350°.
2) Peel off the membrane that covers the underside of the ribs using a paper towel so you can firmly grasp it. Place on a baking sheet or tray lined with foil
3) Combine garlic powder, onion powder, paprika, salt, pepper, cumin, brown sugar, and cayenne. Rub this mixture into the ribs. Cut the butter into small chunks and place on top of the ribs, seal the ribs with the aluminum foil so moisture stays in and place in the oven and cook for 2 hours. Remove from the oven to check for doneness and cook another 30 minutes to an hour if needed.
4) In a small sauce pan mix together sauce ingredients, bring to a simmer and shut off, strain if desired. Sauce should be thick so it coats the ribs.
5) Remove ribs from the oven, turn the broiler to high, unwrap the ribs, and coat the tops with the barbecue sauce mixture.
6) Return ribs to the oven, uncovered, on a middle rack and broil for 10 – 15 minutes to lightly char and caramelize the edges (this step can also be done on a grill). The benefit of the broil is that the heat from the top will caramelize the sauce coating better than the grill with heat under the ribs.
7) Rest for a few minutes and then cut down in-between the bone or serve as full or ½ racks.