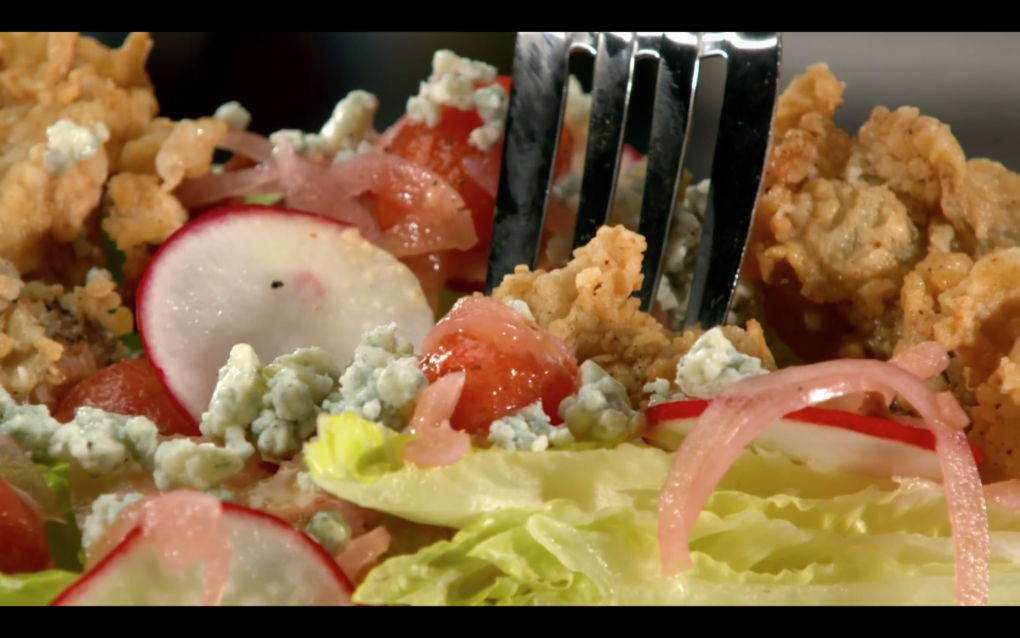 Crispy Oyster Salad – As Seen on Restaurant: Impossible
From the episode, "Cajun Seafood Crisis"
SERVES 4
YOU'LL NEED
FOR THE CITRUS VINAIGRETTE
½ cup lemon juice
¼ cup lime juice
1 shallot, diced small
2 cloves garlic, minced
1 tbsp Dijon mustard
2 cups grapeseed oil
FOR THE SALAD
2 heads romaine lettuce
2 radishes, thinly sliced
16 oysters
1 cup buttermilk
1 cup all-purpose flour
1 tbsp Cajun seasoning
1 tbsp cayenne pepper
1 tsp salt
1 tsp ground black pepper
1 cup crumbled gorgonzola
MAKE IT
The Dressing
1) In a large mixing bowl add lemon juice, lime juice, shallots, garlic, and Dijon mustard.
2) Using a whisk slowly incorporate grape seed oil making an emulsion. Season with salt and pepper.
The Salad
1) In mixing bowl add romaine lettuce and radishes. Season with salt pepper.
2) Place oysters in buttermilk.
3) In a mixing bowl, add flour, Cajun seasoning, cayenne pepper, salt, and black pepper. Toss oysters in seasoned flour. Place in a 350° fryer until crispy – about 2-3 minutes. Drain cooked oysters on paper towels before serving. (Air frying is an acceptable alternative.)
4) Top salad with fried oysters, citrus vinaigrette, and gorgonzola cheese.