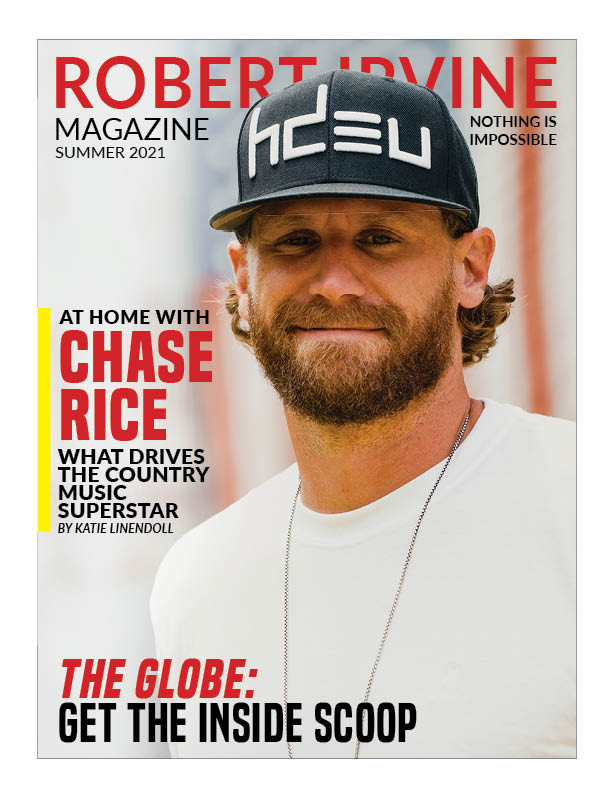 It's been a road full of unexpected twists and turns: from NFL dreams to NASCAR pit crew to ultimately fulfilling his true passion and climbing to the top of the Country Billboard charts. Chase Rice wouldn't have it any other way. He knows life is all about saying yes and going for it.
STORY BY KATIE LINENDOLL /// PHOTOS BY KAISER CUNNINGHAM
It was a perfect day to catch Chase Rice. Drinkin' beer. Talkin' God. Amen. Okay, maybe not the first one, it was still morning after all—the very start of a day that he had waited eight years for. The beginning of a brand-new chapter for one of country music's biggest names.
With more than two million albums sold, 1.8 billion streams, multiple Billboard charting singles, and a #1 and diamond-certified smash hit ("Cruise" which he co-wrote with Florida-Georgia Line), Chase is emanating all the enthusiasm of someone who has just entered the scene. When we met and chatted at his farm, Twin Eagles Creek Farm in Tennessee, it was hard not to feel the palpable energy and excitement in the air.
"This could be the beginning of my career ten years later," Chase says. "I know how good what I'm about to do is and can't say no to what's about to happen. I have to do it and I think it's going to be something pretty special."
Chase is a man who personifies real-world grit and a strong conviction in his beliefs. He has radiated his own unwavering authenticity in every twist and turn of his journey. And after speaking with him, one realizes how many there have been to get him to this very moment.
On the outside it looks like a rapid career of success and milestone after milestone, but in his mind it could better be defined as words he recalls from his late father—slow but sure.
Chase was born in Florida but spent most of his childhood on a farm in North Carolina. His life path has been a series of varied unique turns—from playing college football as a linebacker for UNC (falling just short of his NFL dreams due to injury), to being a runner-up on the reality TV series Survivor, and even working as a NASCAR pit crew member for Hendrick Motorsports.
"I was winning championships, but living in a hotel, miserable, lonely and all I wanted to do was go home every day and write songs," he recalls. So he shared that with a chaplain at Hendrik Motorsports at the time, who told him to leave and do exactly that. And he did.
"Most people probably are good enough and they just don't go for it," Chase says. "And that's the best thing that I've ever done, not having a plan and just going for it."
Even as his star has been solidified, Chase has remained anything but complacent. And recently, one of his life breakthroughs came through time off for headspace and…furniture.
"I purchased this place in 2016 and from 2016 to 2020 I didn't even have a dining room table," he says. "For four years, I didn't have any of this. Then COVID hit. Taking the time off and getting furniture in my breakfast room, that's the best investment I've ever made! I started sitting in that room, writing three songs by myself, working on a fourth. And it's all just me and the guitar.
"Last year is the best thing that has ever happened to my career," he continues. "I realized that taking time off opened up this whole thing in my brain to write better songs."
You can tell that Chase felt right at home with only his guitar, taking on an acoustic style that seemed to be calling him back.
Chase has definitely had some lottery moments throughout his life. He left the world of NASCAR when a childhood friend offered him a spare bedroom that opened up in their rented house. That childhood friend happened to be Brian Kelly of Florida Georgia Line. Brian and Chase grew up in Daytona Beach together. Years later, after Chase's family moved to North Carolina, the two of them stayed in touch and shared their passion for music. Chase went on to co-write "Cruise" with Florida Georgia Line—the historic 24-week No. 1 hit song that stayed on Billboard's Hot Country Chart longer than any other song in the chart's then-69-year history.
The success they've enjoyed together makes it hard not to be curious about why Chase was never part of the duo.
"Growing up with Brian, all of the sudden I'm working in NASCAR, Brian's in Nashville, and then he started Florida Georgia Line. And we were just writing a lot of songs together. The first time I ever sang in a microphone, Brian was on my left and Tyler was on my right and we were at Hotel Indigo. And that's the first time I realized, damn, these two are good. That's also when I knew that I had to step up; I was nowhere near as good as them, yet Brian believed in me more than I believed in myself."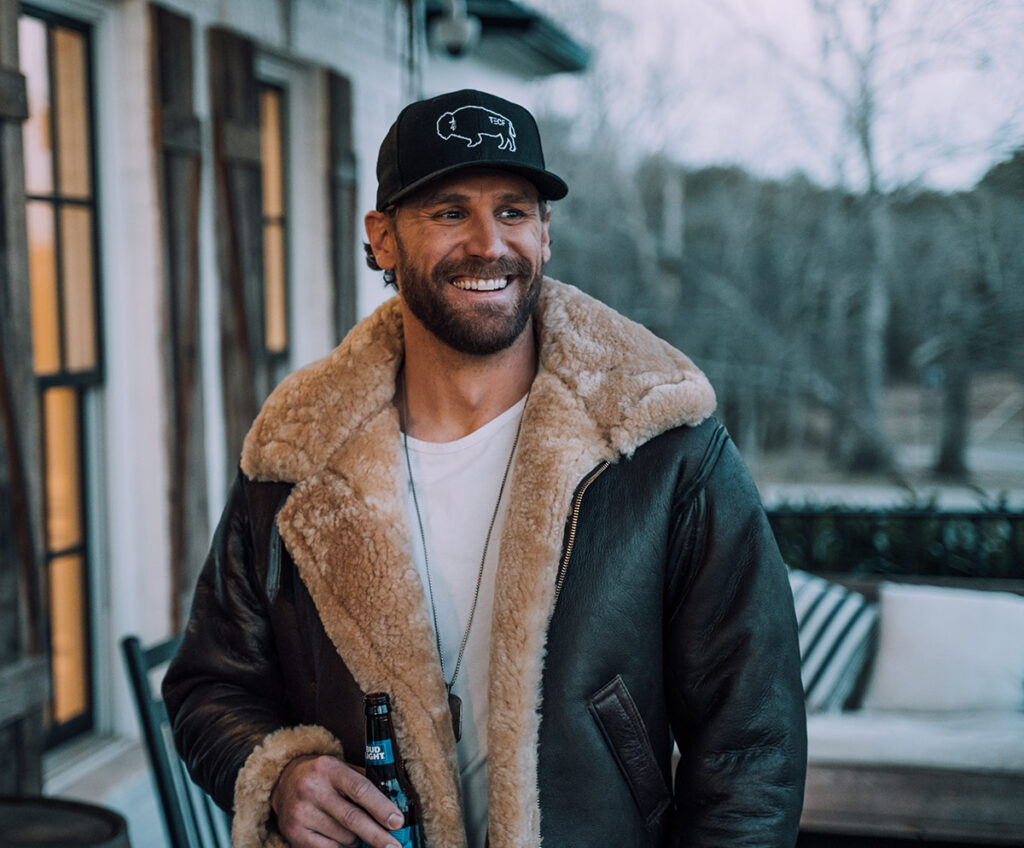 *****
Driving through Chase's 153-acre farm on an ATV feels like the Americana backdrop of a country song; the house on the hill with the white pillars, an old tobacco barn draped with an American flag and full of vintage décor for gatherings, eagles soaring overhead, an old gray water silo, and sprawling fields with roaming bison. This is good ol' country—as pure as it gets.
On the day that we visited, Chase's team was all sporting grins, and you could tell there was an excitement in the air. Turns out this particular day was a huge milestone for Chase's career.
When Chase was a sophomore in college his mom sent him an article about a big country star—Eric Church—and the producer behind Eric's legendary albums, Jay Joyce. Chase always liked Eric's music—there was something about it that was unique. Now fast forward, to this beautiful Nashville summer day where Chase received word that he would be working with Jay and perhaps representing a shift in musical style that was long overdue.
Chase had his time as the new guy in town, redefining country music style. Shortly after co-writing "Cruise" in 2011, he released "Ready Set Roll", which helped him become known for his pop country style. It clearly worked, but it was a style he became almost too well known for; think of any actor being typecast. Even Garth Brooks told him writing a song that big was both a blessing and curse because a lot of people will expect more of the same.
Partnering with Joyce is a move eight years in the making—at least that's how long Rice has sought Joyce's seemingly infallible ear. (Notably Joyce has also produced music with Miranda Lambert, Ashley McBryde, and Little Big Town to name a few). Today, the texts are already going back and forth as the collaboration appears off to a running start.
Chase shares that weeks ago while he was at home with his family in North Carolina, he needed to send Joyce songs, so he turned down a white-water rafting trip with his brothers to focus in on the task at hand.
He proudly shares photos with me of where he parked his truck by a river, saying this is where he found the space and inspiration to write from the heart and ultimately record ten new songs that he'll work on fine-tuning with Joyce.
"My voice was shot by the end of the day," Chase says. "But I've never had a producer push me, and he was right. Now the songs are there!"
During the visit, our conversation is intermittently put on hold as he continued to send song ideas to Joyce. His excitement was infectious as he showed me an incoming call from Joyce.
"Girl is calling!" I say, and he laughs.
For someone with so much success and a new song, "Drinkin beer. Talking God. Amen." vying for the #1 spot, there's no time to take a break. It's all about what's next—lining up the next songs to keep the momentum going.
"To me he is the best producer in maybe all of music," Chase says. "I don't think I fully realized what happened to my music."
Chase has got a whole lot of newness happening in his life. In addition to new furniture and music, he's got a new puppy named Jack—who also seems to be taking it all in—and 19 bison.
*****
Growing the farm from just a few chickens to a bison herd leaves a lot of room for intrigue.
The farm that's now dubbed "Two Eagles Ranch" was previously a cattle farm.
Chase is hands-on with the farming—from building and laying the fencing to feeding and even tagging the bulls. He helped with re-tagging his original bull, Bennington, an episode that saw him and his farm manager holding his horn back, knowing that Bennington could have easily slammed his head back and crushed their hands.
Bison are as formidable as imagined. Because this nearly 2,000-pound creature can run at speeds up to 35mph for up to four to five hours, it's recommended to have at least five acres per bison. By mid-day it's 90 degrees outside of Nashville and the bison are cooling off in the water. It's a unique site to see, and for the first time, the bison coming together from all different states are intermixing.
"First and foremost, a bison farm is financially smart—I wanted to turn it in to a business," Chase says.
After initially checking out a bison farm, he was hooked. He notes the bison have unique personalities, and Bennington (named after the Battle of Bennington), even has a crazy curly-haired girlfriend—which sounds like a country song in the making to me. He initially purchased eleven bison and then later added an additional eight. Every few weeks, he moves them back and forth from one field to another to graze. The long-term plan is to sell meat or even open up a processing plant; he and one of his friends, a fellow bison farmer, are in discussions to try to build the biggest southeastern herd.
After talking bison, Chase opens about how his parents instilled a strong faith in him and how you can see it woven through his music. His character can perhaps be best defined by his own lyrics, "Somewhere between Jack Daniels and Jesus."
He talks about losing his father at 22, which was devastating.
"I love writing songs, and I can also write songs about my dad…because that's the only way for me to deal with it because I am not going to talk about it," he says. "The reason I think I can be so confident, taking the chances that I have, is because my dad instilled in me faith in God."
Chase explains that his father taught him to, "Keep up the good work and keep God first in your life. None of us deserve the grace that we get from God." He adds, "And if everything else goes away, I'm good."
Most mornings start with Chase sitting in his rocking chair, spending time with God reading his Bible and The Blue Book written by Jim Branch. "The thing I love about Jesus is he hung out with guys like me," Chase says.
He goes on to describe how he doesn't like to preach Jesus or God; he likes to have conversations with people about it. "I'm a screwed-up dude and I am okay with that," he says. "I am especially okay with it because I can write songs about it and I can get who I really am into my music, and I could never do that if I thought I was this righteous dude. If I thought I was this righteous dude, I'd be an idiot. The best I can do is take whatever I have, and God gave me, and make it better."
It's hard not to draw a parallel between Chase's imminent return to a more stripped-down, raw acoustic sound and his faith: He's certain that if he opens his heart and lets people hear what's inside, it will resonate. Simple truths will always have a way of resonating.
However the critics and fans receive the new album, Chase will rest easy knowing he followed his instincts. Historically, when his instincts kick in, he sets his mind on a goal and doesn't let go until it's achieved.
To wit, "Drinkin' Beer. Talkin' God. Amen." – his latest collaboration with Florida Georgia Line which released earlier this year, continues to climb the charts. The YouTube video has been viewed over 2.1 million times and streamed nearly 35 million times on Spotify. In the meantime, the bison farm thrives, and all is right at Twin Eagles Creek Farm. He's even got his sights set on expanding to rescue horses. It's the kind of success he could only daydream about when he was living out of a suitcase in his NASCAR days. But in so many ways, the wait made it all the sweeter.
"I can look at the last ten years and be like, I love the journey that happened," he says.
His father summed it up best. Slow but sure.
Katie Linendoll is an Emmy-winning consumer tech reporter and a regular contributor to top TV outlets and a keynote speaker around the globe. Follow her on TWITTER and INSTAGRAM.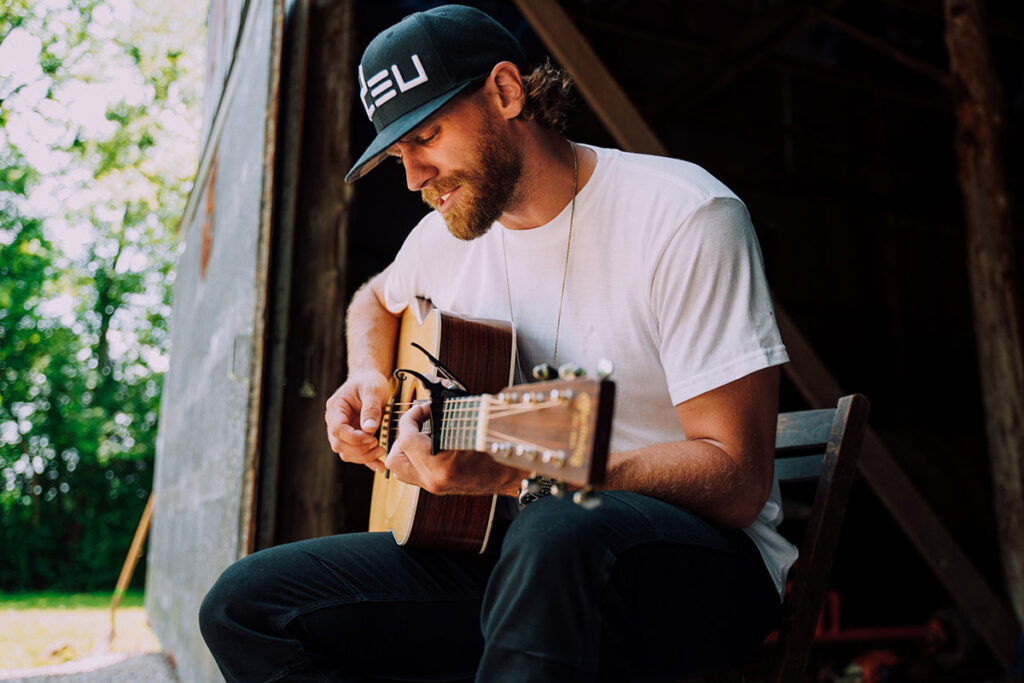 *****
LIFTIN' WEIGHTS. LOOKIN' SWOLE. AMEN.
How Chase Rice stays in peak condition amid an intense performing schedule.
CHASE's IN-GYM WORKOUT
CORE: 4 Sets of:
Alternating Leg Raises x 20
SUPERSET WITH
Ab Wheel Rollouts x 15
STRENGTH: 4 Sets of:
Barbell Bench Press x 15
SUPERSET WITH
Seated Barbell Triceps Extension x 15
Dumbbell Incline Bench Press x 20
SUPERSET WITH
Dumbbell Kickbacks x 20
Machine Chest Flyes x 15
SUPERSET WITH
Triceps Cable Pressdown x 15
CONDITIONING: EMOM (Every Minute on the
Minute) for 20 minutes
During every odd minute: Hang Clean x 10
SUPERSET WITH
Box Jump x 10
During every even minute: 15 calories on assault bike
Goal: Keep heart rate around 150-170 beats per min
ute maintained for the entire 20 minutes
FINISHER
100 Toe Touches or 100 Situps
15 minutes static stretching
*****
CHASE's ON-THE-ROAD WORKOUT
Dumbbell Bent-over Row x 15
SUPERSET WITH
Hammer Curl x 15
Dumbbell Shoulder Press x 15
SUPERSET WITH
Resistance Band Curl x 15
Resistance Band Pull-Apart x 15
SUPERSET WITH
Dumbbell Lateral Raise x 15
CONDITIONING: 20 minute
EMOM (Every Minute on the Minute)
During ever odd minute: 15 Burpees
During every even minute: Kettlebell or Dumbbell Swings for Time
FINISHER
100 Toe Touches or 100 Situps
15 mins full body stretching
Weighted backpack walk or stairs of the venue (if the opportunity is there)
CHASE'S FAVORITE RECIPE
"My favorite recipe is a simple elk spaghetti that I make with ground elk from a hunt I did in Montana. I mix the meat with a seasoning of Himalayan pink salt, garlic, cayenne pepper and black pepper and then add fresh tomato sauce and spaghetti noodles. It's more meat-heavy than pasta, and it's damn good."