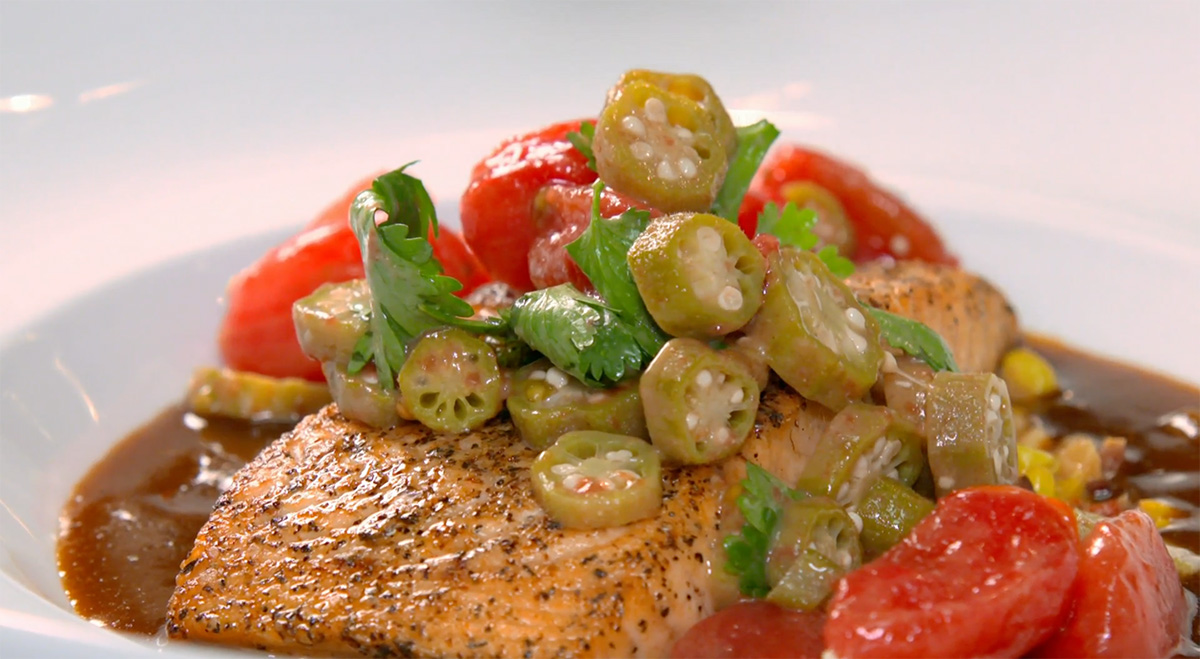 Blackened Salmon with Local Corn & Pickled Okra Salad – As Seen on Restaurant: Impossible
From the episode, Resentment on the Bayou
SERVES 4
YOU'LL NEED
FOR THE CORN SALAD
1 cup bacon, diced
3 ears fresh corn, shucked and cut off the cob
1 cup red peppers, diced
1 poblano pepper, diced
½ red onion, diced
3 cloves garlic, minced
½ cup heavy cream
5 tbsp butter
2 tbsp smoked paprika
FOR THE MUFFALETTA SAUCE
1 qt beef stock
3 tbsp Muffaletta olive mix
2 tbsp butter
FOR THE SALMON
4 fresh salmon filets, 6 oz each
Kosher salt and black pepper
1 tbsp Cajun seasoning
2 tbsp grapeseed oil
FOR THE PICKLED OKRA SALAD
1 cup pickled okra, sliced (store bought)
1 cup cherry tomatoes, cut in half
3 tbsp flat leaf parsley, chopped
1 tbsp fresh lemon juice
2 tbsp grapeseed oil
Kosher salt and black pepper
MAKE IT
CORN
1) In a large sauce pot over medium heat, add bacon, stir, and allow to render for about 5 minutes. Bacon should be light brown in color.
2) Add corn, red peppers, poblanos, and red onion. Stir and cook for another 5 minutes.
3) Add heavy cream, butter, and smoked paprika. Season with salt and pepper to taste.
MUFFALETTA SAUCE
1) In a sauce pot add beef stock and reduce by half.
2) Add muffaletta olive mix to beef sauce and bring to a simmer. Finish the sauce by add the butter and whisking till butter is melted.
PICKLED OKRA SALAD
1) In a mixing bowl, add the okra, tomatoes, and parsley.
2) Dress with lemon juice and grapeseed oil. Season with salt and pepper.
SALMON
1) Season the salmon with salt, pepper, and Cajun seasoning.
2) In a large sauté pan over medium-high heat, add the grapeseed oil, place the seasoned salmon filets in the pan and allow to cook until the salmon has a nice crust approximately 5 minutes on each side.
PLATING
1) Place the muffaletta sauce in the bottom of a bowl.
2) Next place corn mixture and the salmon on top of the muffaletta sauce.
3) Place the okra salad on top of salmon.