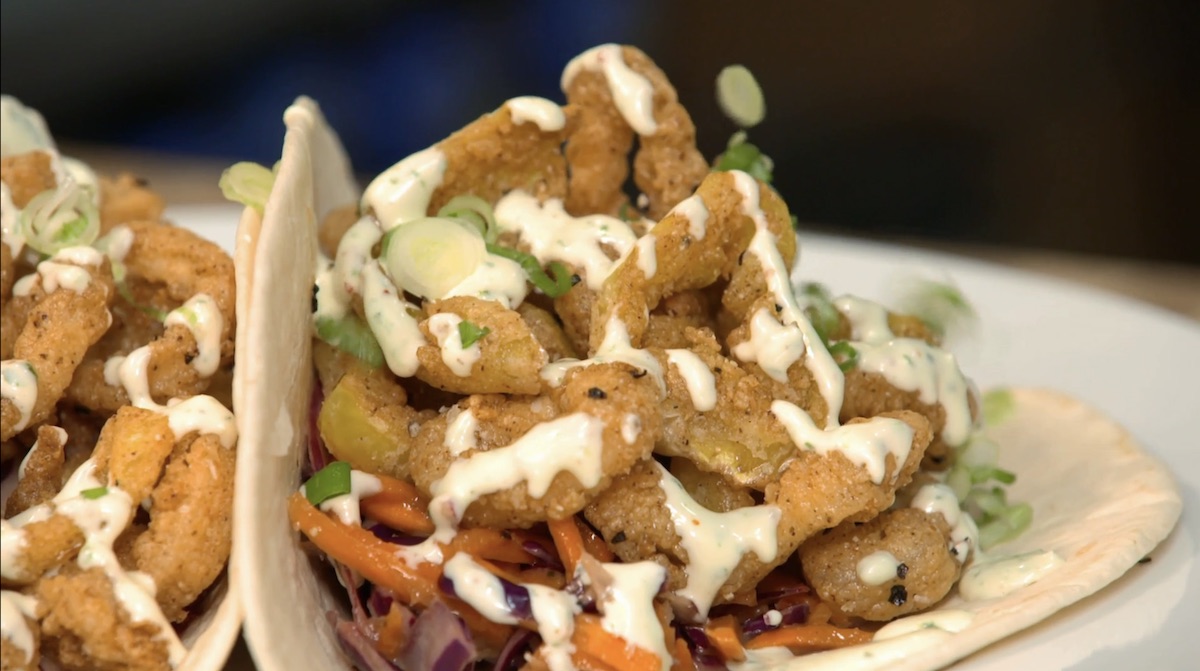 Crispy Fried Calamari Tacos – As Seen on Restaurant: Impossible
From the episode, "Virtually Impossible"
SERVES 4
YOU'LL NEED
FOR THE BUTTERMILK MARINATED CALAMARI
2 cups buttermilk
1 cup hot sauce
2 tbsp Cajun spice
2 tbsp smoked paprika
1 tsp salt
½ tsp pepper
1 lb raw calamari, cut into ½" rings
FOR THE SEASONED FLOUR
1 cup all-purpose flour
1 tsp garlic powder
½ tsp black pepper
1 tbsp Cajun Spice
2 tbsp kosher salt
1 tbsp black pepper
FOR THE PICKLED RED ONIONS
½ cup red wine vinegar
¼ cup sugar
1 tbsp honey
2 red onions, sliced
FOR THE COLE SLAW WITH CITRUS VINAIGRETTE
½ cup rice wine vinegar
2 tbsp lemon juice
1 tbsp lime juice
2 tbsp whole grain mustard
1 cup red cabbage, shredded
½ cup carrots, peeled and shredded
3 tbsp pickled red onions (from recipe above)
1 tsp chives, chopped
FOR THE SMOKED LIME CREMA
½ cup sour cream
¼ cup heavy cream
2 tbsp lime juice
1 tsp smoked paprika
Salt and pepper to taste
FOR THE TACOS
½ cup sliced pepperoncini peppers
8 flour tortillas
¼ cup scallions, sliced thin
MAKE IT
BUTTERMILK MARINATED CALIMARI
1) In a mixing bowl, add the buttermilk, hot sauce, Cajun spice, smoked paprika, salt and pepper.
2) Mix all ingredients together.
3) Place calamari in the marinade mixture and allow to marinate for at least 2 hours before cooking.
SEASONED FLOUR
1) In a large mixing bowl, add flour, garlic powder, black pepper, Cajun spice, kosher salt, and black pepper.
2) Mix all ingredients together and set aside.
PICKLED RED ONIONS
1) In a small sauce pot over medium heat, add the red wine vinegar, sugar, and honey.
2) Bring mixture to a boil.
3) Pour mixture over onions and cover.
4) Allow to cool.
COLE SLAW with CITRUS VINAIGRETTE
1) In a large mixing bowl, add rice wine vinegar, lemon juice, lime juice, and whole grain mustard.
2) Add the shredded cabbage, carrots, pickled red onions, and chives.
SMOKED LIME CREMA
1) In a large mixing bowl, add the sour cream, heavy cream, lime juice, and smoked paprika.
2) Mix well and season with salt and pepper to taste.
FINISH AND PLATE THE TACOS
1) Pre-heat a deep fryer to 350 degrees F.
2) In a medium sauté pan over medium-high heat, add flour tortillas and warm on both sides, remove from the pan and place on plate.
3) Add the coleslaw in the center of the tortillas.
4) Strain the marinated calamari and toss in the seasoned flour along with the sliced pepperoncini peppers
5) Place the floured calamari and pepperoncini's in the deep fryer and allow to cook for about 3 minutes or until calamari is golden brown in color.
6) Season fried calamari and pepperoncini's with salt and pepper and allow to rest for approximately 1 minute.
7) Place the fried calamari on top of the coleslaw, then dress the tacos with smoked lime crema, and scallions.