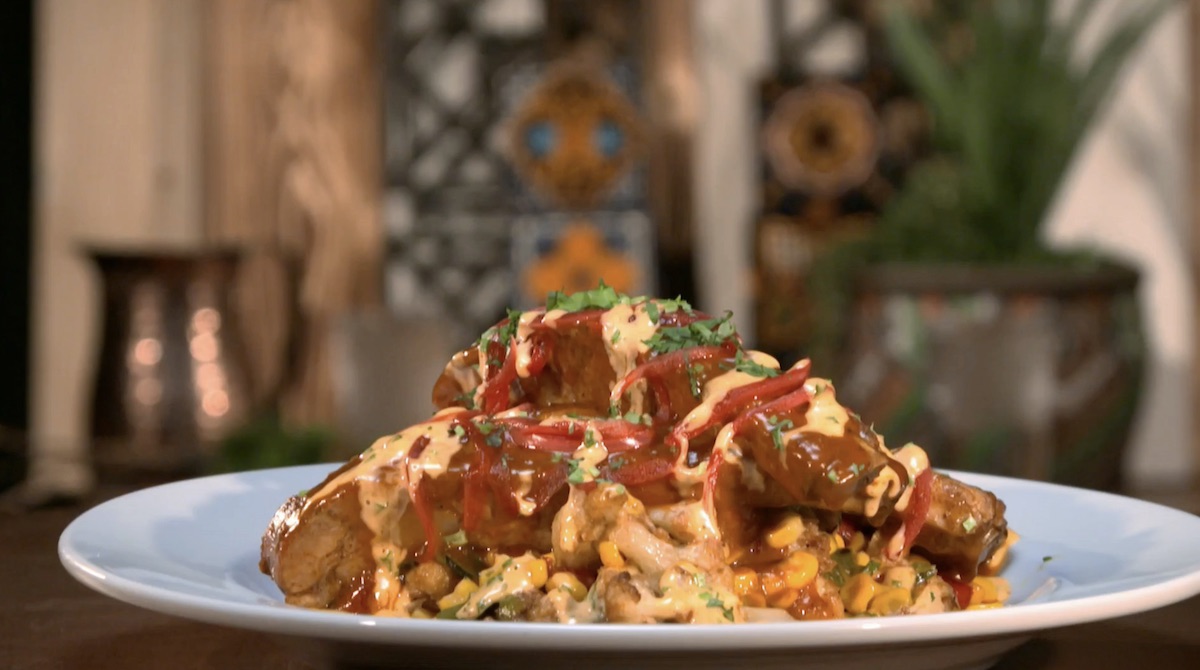 Cochinito Pork Spare Ribs – As Seen on Restaurant: Impossible
From the episode, "Virtually Impossible"
SERVES 4
YOU'LL NEED
FOR THE PORK SPARE RIBS
2 racks pork spare ribs
1/3 cup achiote paste
2 cloves garlic, minced
1 bunch scallions
3 tbsp fresh cilantro
1 tbsp dried oregano
1 tbsp ground cumin
½ tbsp paprika
½ cup orange juice
½ cup pineapple juice
¼ cup lime juice
5 banana leaves, store bought
FOR THE STREET CORN & CAULIFLOWER SALSA
2 tbsp grapeseed oil
1 cup cauliflower, cut into florets
½ white onion, diced
1 cup corn off the cob
1 red bell pepper, diced
1 jalapeno peppers, diced cut and seeded
2 tbsp fresh cilantro, rough chopped (reserve 1 tsp. for garnish)
2 tbsp scallions, chopped
Juice of 1 lime
Salt and pepper, to taste
FOR THE PICKLED RED ONIONS
½ cup red wine vinegar
¼ cup sugar
1 tbsp honey
2 red onions, sliced
FOR THE SPICY AIOLI
1 cup mayonnaise
½ cup Mexican style hot sauce
2 garlic cloves, minced
2 tbsp fresh cilantro, chopped
Salt and pepper to taste
MAKE IT
PORK SPARE RIBS
1) Pre-heat a grill to medium-high heat and an oven to 325.
2) In a blender, add achiote paste, garlic, scallions, cilantro, dried oregano, ground cumin, paprika, orange juice, pineapple juice, and lime juice.
3) Puree for 30 seconds until smooth.
4) Marinate the ribs 24 hours prior to cooking.
5) Remove the marinated ribs from mixture and set the marinade aside. Reserve the leftover marinade for the cooking directions below.
6) Season the marinated ribs liberally with salt and pepper.
7) Place the marinated seasoned ribs on the pre-heated grill for about 4 minutes on each side.
8) Remove ribs from grill and wrap in banana leaves and place wrapped ribs in a large roasting pan.
9) Pour the remaining left over rib marinate over the ribs in the roasting pan, then cover with aluminum foil and place in oven. Allow to cook for 3 hours or until ribs are tender.
Street Corn and Cauliflower Salsa
1) In a large skillet over medium-high heat, add the grapeseed oil and cauliflower florets.
2) Allow to cook for 3 to 4 minutes until cauliflower is cooked through.
3) Add onions and allow to cook for another 3 minutes.
4) Add the corn, red bell peppers, and jalapeno peppers. Allow to cook for approximately 3 minutes.
5) Add the scallions and cilantro and season with lime juice, salt and pepper.
PICKLED RED ONIONS
1) In a small sauce pot over medium heat, add the red wine vinegar, sugar, and honey.
2) Bring mixture to a boil.
3) Pour mixture over onions and cover. Allow to cool.
SPICY AIOLI
1) In a large mixing bowl, add mayonnaise, Mexican style hot sauce, garlic, cilantro, and season with salt and pepper to taste.
FINISH AND PLATING
1) Place the street corn and cauliflower salsa on the middle of a dinner plate.
2) Cut the cooked ribs in half.
3) Next, top the salsa with a half rack portion of ribs.
4) Garnish the ribs with pickled red onions, spicy aioli, and cilantro.