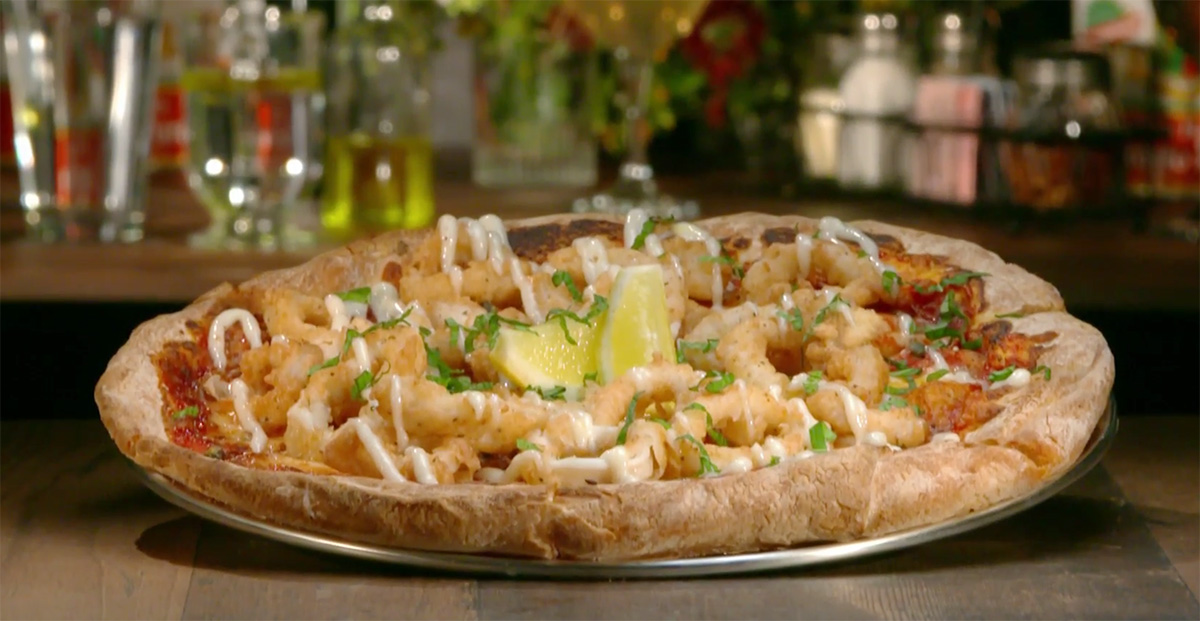 Crispy Calamari Pizza – As Seen on Restaurant: Impossible
From the episode, "Stuck in the Old School"
MAKES 4 PIZZAS
YOU'LL NEED
FOR THE DOUGH
5 ¼ cups bread flour
2 tbsp plus 1¼ tsp sugar
1 ¾ cups plus 2 Tbsp. cool water
¼ cup extra-virgin olive oil
1 tsp active dry yeast
2½ tsp fine sea salt
FOR THE SAUCE
12 oz canned plum tomatoes, puréed
3 cloves garlic, minced
1 tbsp oregano, chopped
1 bunch of basil, chopped
FOR THE GARLIC BLACK PEPPER AIOLI
1 cup mayonnaise
4 cloves garlic, minced
2 tbsp fresh lemon juice
1 tsp ground black pepper
2 tbsp Parmesan cheese, grated
FOR THE CALAMARI
8 oz calamari, cut into small rings
1 cup buttermilk
2 tbsp hot sauce
1 tbsp Cajun spice
3 tbsp corn starch
2 cups all-purpose flour
Oil, enough for deep frying
FOR THE TOPPINGS
2 tsp. chili flakes
2 tbsp capers
8 oz mozzarella cheese, grated
8 oz fontina cheese, grated
4 tbsp Parmesan cheese, grated
MAKE IT
DOUGH
1) Using a Kitchen Aid mixer with a dough hook ,mix all ingredients except yeast and salt. Once mixed, sprinkle with yeast.
2) Mix on low speed for 5 minutes or until everything is tacky, stopping to scrape sides of bowl as needed. Increase speed to medium-low; mix 4 minutes or until dough clings to dough hook. Add salt. Mix 5 minutes or until dough is soft, stretchy and resilient when poked.
3) Transfer dough to a clean work surface. Cut into 4 pieces (each about 8 oz). Mold the portions into tight formed balls. Squeeze each ball near bottom to eliminate any big air pockets. Gently roll on surface in a circular motion to create a smooth, tight ball. Place dough on a baking pan. Cover tightly with plastic wrap and refrigerate for at least 24 hours or up to 3 days. Remove from the refrigerator and rest covered at room temperature for 1 hour. After 1 hour, stretch the dough.
4) Using a rolling pin, roll the dough into a 12-inch circle, 1/8-inch thick.
5) Place dough into a 400-degree oven either on a pizza stone, or on a baking sheet. Cook for 5 minutes just until the dough is just cooked through.
6) Remove dough from the oven and allow to cool.
SAUCE
1) In a mixing bowl add crushed tomatoes, oregano, garlic, and basil. Set aside.
GARLIC AIOLI
1) In a mixing bowl add all ingredients. Incorporate together. Season with salt and pepper.
CALAMARI
1) In a mixing bowl add buttermilk, hot sauce, and Cajun spice.
2) In a separate mixing bowl, add all-purpose flour, corn starch, salt, and pepper.
3) Take the calamari from the buttermilk mixture, and dredge in the flour mixture and set aside.
PIZZA
1) Insert a pizza stone or a baking sheet into the oven and pre-heat to 400 degrees.
2) Pre-heat tabletop fryer or air fryer to 375 degrees F.
3) Add breaded calamari to fryer and cook for about 3 minutes. The calamari should be golden brown and crispy.
4) Spread pizza sauce on the par cooked pizza dough edge to edge. Top pizza with capers, chili flakes, mozzarella cheese, and fontina cheese.
5) Place pizza in the oven and allow to cook for approximately 5 minutes or until the pizza crust is light brown in color and crispy.
6) Finish with crispy calamari, garlic aioli, and grated Parmesan cheese. Cut pizzas into 6 slices and serve.