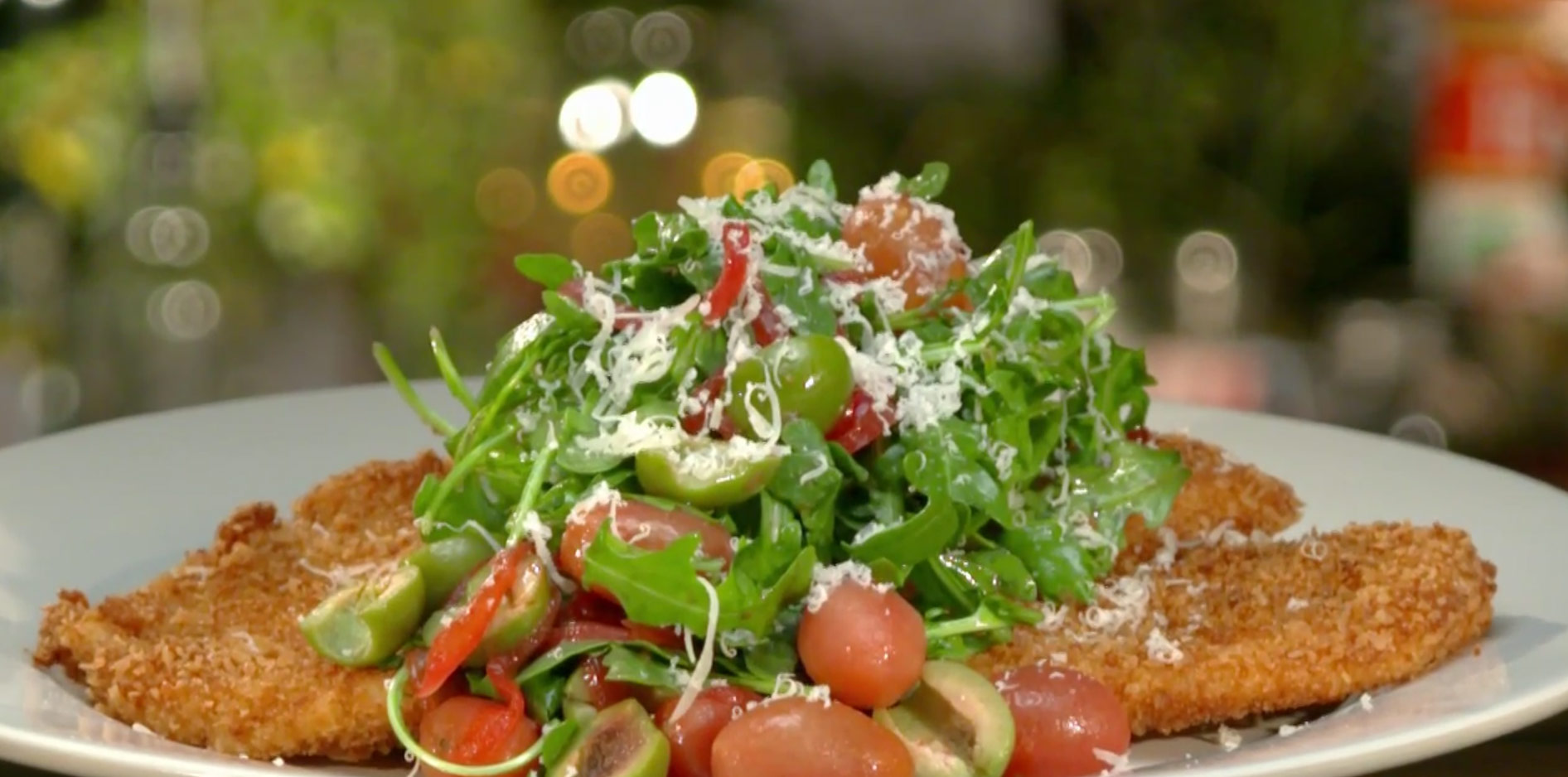 Chicken Milanese – As Seen on Restaurant: Impossible
From the episode, "Stuck in the Old School"
SERVES 4
YOU'LL NEED
FOR THE CHICKEN
4 boneless, skinless chicken breast portions (6 oz each)
1 cup all-purpose flour
1 tsp smoked paprika
2 tsp garlic powder
1 tsp onion powder
3 eggs, beaten
2 cups Panko breadcrumbs
1 cup Parmesan cheese, grated
Oil, enough for deep frying
FOR THE PICKLED RED ONIONS
2 red onions, sliced
1 cup red wine vinegar
1 cup distilled vinegar
1 cup granulated sugar
2 tbsp honey
FOR THE SALAD
1 cup arugula
8 oz cherry tomato, cut in half
¼ cup Castelvetrano olives, sliced
3 tbsp extra virgin olive
1 tbsp fresh lemon juice
2 tbsp Parmesan cheese
MAKE IT
CHICKEN
1) Place the chicken breast between two pieces of wax paper. Using the flat end of a meat mallet, pound it until it is ¼-inch in thickness.
2) In a mixing bowl, add flour, smoked paprika, garlic powder, onion powder, salt, and pepper.
3) In two separate bowls, add eggs in one and whisk together, and in the third mixing bowl, add Panko breadcrumbs and Parmesan cheese.
4) Place the pounded chicken in the seasoned flour, then the eggs, and the bread crumb and cheese mixture.
PICKLED RED ONIONS
1) In a small sauce pot add red wine vinegar, distilled vinegar, granulated sugar, and honey. Bring the mixture to a boil.
2) Add sliced onions to the vinegar mixture, and cover.
FINISH & PLATING
1) Pre-heat a tabletop fryer or an air fryer to 350 degrees.
2) Place the pounded chicken breast in the fryer and cook for about 8 minutes, or until the chicken breast is 165 degrees F.
3) In a mixing bowl add arugula, pickled red onions, olives, cherry tomatoes, extra virgin olive oil, and lemon juice.
4) Season with salt and pepper.
5) On a plate place fried chicken, then top fried chicken with arugula salad. Finish with grated Parmesan cheese.